With the exchange rate in their favour, the UK's visual-effects houses have never been in greater demand. But how is the sector adapting as Brexit looms and investment heads east?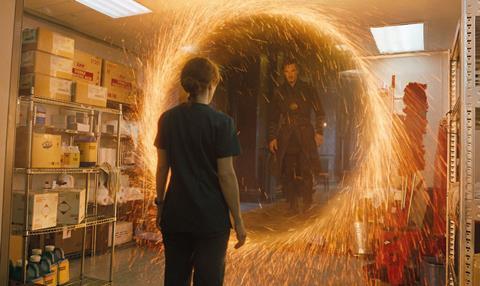 When the VFX houses from the UK routinely pick up the sector's big prizes, they are often competing with each other for the award.
Last year, Double Negative (D-Neg) and Milk took home the best visual-effects Oscar for Universal's Ex Machina, fending off Cinesite and ILM (London HQ for Star Wars: The Force Awakens).
The most buzz in the category this year is around Disney's The Jungle Book, for which MPC completed 85% of the work, Marvel's Doctor Strange, in which Framestore played a large hand, and Warner Bros' Fantastic Beasts And Where To Find Them, for which every sizeable UK VFX house contributed shots.
Not all the work on these projects was completed in London, however. The biggest houses farm out work to offices in different territories dependent on where studios want to locate post-production to maximise financial incentives.
Framestore, MPC and Cinesite, for example, operate substantial divisions in Montreal, Canada, which attracts post-production with a generous tax subsidy of around 40%. D-Neg and Cinesite also share shots with subsidiaries in Vancouver. Portions of The Jungle Book were routed to MPC's Bangalore, India wing.
"The scale, complexity and profile of work was unprecedented for us," says MPC CEO Mark Benson. "It will become a reference point for photoreal characters and sets."
Nor are these facilities necessarily UK companies. MPC is owned by French group Technicolor, and D-Neg by India's Prime Focus World. Framestore, meanwhile, is now 75% owned by Shanghai-listed Cultural Investment Holdings (the facility was previously majority owned by venture capitalists including Malaysia's sovereign wealth fund).
This does not matter too much when the heart of the creative operation tends to remain in London, but it does serve to highlight the global nature of the VFX industry, where facilities require offices in different time zones to operate round the clock. It is also symptomatic of a business that is increasingly looking eastwards.
"Twenty years ago, this was a North America-focused industry," says Framestore CEO William Sargent.
"Studios that then extended into Europe and Australia now think of themselves as truly global content producers. Southeast Asia is a significant and growing part of the market so we are just doing what our customers are doing and positioning the business for the next 20 years."
Indian or Chinese companies already own large US facilities Rhythm & Hues and Digital Domain, while producers based there are beginning to spend money with UK firms to obtain higher production values. Cinesite, Milk and Framestore are all working on Chinese features.
International workforce
The visual-effects business relies heavily on globe-trotting freelance talent.
"The quality of work the UK produces is a function of the multicultural influence of our talent," says Benson.
Some 40% of MPC's London staff are non-UK nationals.
"Any change in our ability to engage with talent on a global basis could represent an issue. As an industry, it is important we make that crystal-clear."
This concern reverberates across town in light of the UK's decision to leave the EU.
"UK facilities are staffed with many Europeans, particularly in animation, and if any kind of restriction is placed on being able to work here, it would have a big impact on our ability," says visual-effects supervisor Tim Burke.
"The talent pool will shrink enormously if that's the case," adds Adam Gascoyne, co-founder of Union FX. "For a small to mid-sized company like us, the cost of sorting out visas just adds another layer of difficulty."
At the same time, Canada is introducing legislation to cut red tape and make it even easier for VFX companies to recruit skilled foreign workers.
Milk CEO Will Cohen believes the creative industries as a whole should be voicing more alarm: "I would urge everybody to send a message to the government about the harm any new labour laws could do to the booming creative industries."
In October, trade body UK Screen merged with Animation UK to make a more forceful representation to the government.
"We need to employ the best of the best because we're working on the best of the best," says Neil Hatton, CEO of the newly formed UK Screen Alliance. "The UK needs to do more to cultivate homegrown talent schooled in art and science."
While the UK's exact deal with the EU remains the main cause for uncertainty, the devalued pound has pushed even more US investment toward UK shores. Studios can now buy VFX expertise 20%-30% cheaper than before the Brexit vote.
"The reality is that VFX across London is more vibrant than ever," reports Cohen. "We're not all trying to leap on the same thing and cut each other's throats to get it. We're all busy."
Cohen says Milk bids for projects almost every day of the year. This could be due to the cumulative effect of wider recognition for a facility that followed up its Oscar for Ex Machina with a Bafta for BBC TV show Jonathan Strange & Mr Norrell and a US Emmy for Sherlock.
"We are working with a Hollywood VFX supervisor on their first major TV series and having to talk them through the challenge of handling 4K," says Cohen. "In areas like this, TV VFX is technologically ahead of features [where 2K is standard]."
Not only is high-end drama, fuelled by HBO, Netflix and Amazon, creatively more ambitious, the budgets are rising too.
"Framestore has a very strong heritage in TV, having won 14 Emmys, so effectively we're going back to our roots," says Sargent of the decision to re-enter the TV market. The company's first new job was on National Geographic's Mars. "The high-end TV market is beginning to get the budget and ambition we are dealing with in film," he adds.
Like Milk, Union FX divides its work between film (Bridget Jones's Baby) and TV (Outlander, Mars). "We've seen a big increase in the amount of TV work without actively chasing it," notes Gascoyne. "TV surpasses film in some cases in terms of ambition. Certainly the expectation of audiences is higher."
Reality shift
Technicolor performs most of its television VFX out of Mr X in Toronto but bolstered its UK drama presence by partnering with boutique outfit Munky in October. Virtual Reality (VR), though, is where the group is really looking to drive new business. It invested millions of dollars in a research and development centre in Culver City, California, which divisions such as MPC can tap into.
"There's a fantastic opportunity to take assets from film or TV and repurpose them in immersive environments," says Benson.
MPC's VR projects include 20th Century Fox's The Martian. "The [R&D centre] enables us to be at the forefront of delivering the tools and forging new storytelling methods. We've only scratched the surface of what the medium will enable."
Milk is on the verge of revealing its first VR project - one that could lead to several more, hopes Cohen: "There are no standards, format wars are looming and the potential audience with headsets is currently limited but we see VR as something very exciting to be involved in."
Framestore runs a dedicated VR studio but Sargent is more pragmatic about its prospects. "VR is going to be slower than everyone is assuming," he says. "It's not cheap, it's time consuming, the only commissions are from marketing departments and without an audience it's difficult to get a return on investment."
Cinesite is eschewing VR entirely to focus on animation. The company is working on several productions, both as an animation service provider and also developing its own intellectual property. A slate deal with 3QU Media will see the release of its first collaboration, Charming, next spring; Gnome Alone, also for 3QU, is in production. A partnership with SPA Studios has produced the Christmas feature Klaus.
"We are trying to get an animated feature off the ground in London," reveals Cinesite MD Antony Hunt. "I envisage growth not just in VFX but as a media company."
Cinesite is arguably the largest independently owned VFX house in the world. Since a private equity-backed management buyout from Kodak in 2013, it has expanded into Canada to build animation and take on features work including Captain America: Civil War and Independence Day: Resurgence. "The Chinese keep knocking on our door but we're happy to continue to grow organically," Hunt adds.
Upcoming UK VFX projects
MPC
Pirates Of The Caribbean: Dead Men Tell No Tales (Disney)
Ghost In The Shell (Paramount)
The Dark Tower (Sony Pictures)
Alien: Covenant (20th Century Fox)
Blade Runner 2049 (Sony Pictures/Warner Bros)
Cinesite
Robin Hood: Origins (Lionsgate)
Mary Poppins Returns (Disney)
Logan (20th Century Fox)
Power Rangers (Lionsgate)
The Commuter (Studiocanal)
TV: Black Sails, series 4 (Starz); American Gods (Starz)
D-Neg
Blade Runner 2049 (Sony Pictures/Warner Bros)
Annihilation (Paramount)
Dunkirk (Warner Bros)
The Fate Of The Furious (Universal)
A Cure For Wellness (20th Century Fox)
Baby Driver (Sony Pictures)
Pacific Rim: Maelstrom (Warner Bros)
Wonder Woman (Warner Bros)
Life (Sony Pictures)
Justice League Part One (Warner Bros)
Framestore
Guardians Of The Galaxy Volume 2 (Disney)
Paddington 2 (Studiocanal)
Beauty And The Beast (Disney)
Milk
TV: Doctor Who, series 10 (BBC); Sherlock, series 4 (BBC); Decline And Fall (BBC)
Union FX
T2: Trainspotting (Sony Pictures)
Three Billboards Outside Ebbing, Missouri (Fox Searchlight)
My Cousin Rachel (Fox Searchlight)
The Snowman (Universal)
Victoria And Abdul (BBC Films/Working Title)