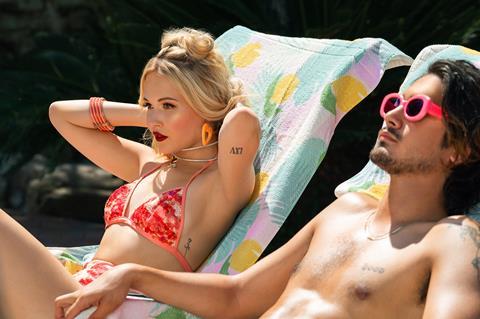 Indie film veteran Gregg Araki got a surprise when he pitched his first self-created TV series – a sex comedy every bit as out-there as Araki features like The Living End and Nowhere – to US premium cable network Starz.
Because instead of the requests he often hears in the feature world to tone down the action, "their attitude was 'Bring it on, that's what we want,'" Araki remembers. "We go in and pitch this very sexy show about promiscuity and open relationships and all this insane stuff, and they were like, 'Give us more.'"
The fact that Now Apocalypse – which screened at Sundance and starts on Lionsgate-owned Starz on March 10 – is unfiltered Araki is a mark of how the high-end television market is expanding.
Following four Los Angeles millennials (played by Avan Jogia, Kelli Berglund, Beau Mirchoff and Roxane Mesquida) as they explore dating-apps, sexual self-expression and the occasional alien encounter, the 10-episode half-hour series is wildly colourful, cheerfully raunchy and influenced by everything from Sex And The City to David Lynch.
Credited as a pioneer in the New Queer Cinema movement of the 1990s, Araki says he has wanted to do his own TV series for years. But directing episodes of recent shows including Red Oaks, Riverdale and 13 Reasons Why, he saw how much work was involved in creating and running a series. So, he decided, "the only way I would do it is if it was my dream show."
He wrote the entire series with Karley Sciortino, co-creator of Viceland channel documentary series Slutever and writer of Vogue.com's sex and relationships column. Sciortino contributed her years of research on sexuality, "a topic I find so interesting and really endless," she says, "because it's a huge part of what makes up our identity."
"My life has been research," Sciortino jokes. "Decades of slutty research culminating in one strange show."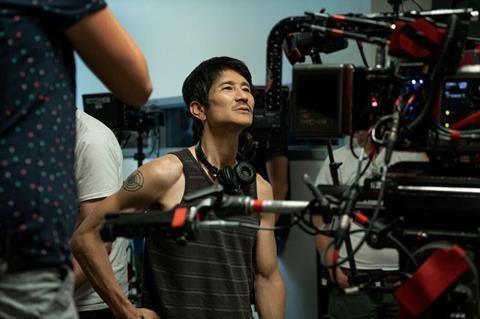 Teaming with Soderbergh
The project might never have gone further than a spec script if not for the support of Red Oaks co-creator Greg Jacobs and Jacobs' frequent collaborator Steven Soderbergh.
Indie film icon Soderbergh – a TV envelope-pusher himself with shows like The Knick and Mosaic – produced the series version of his feature The Girlfriend Experience for Starz.
That relationship provided a template for Now Apocalypse to find a home at the network, with Soderbergh and Jacobs joining Araki as executive producers.
"He has to promise these shows at a certain budget level but he has unprecedented creative freedom," says Araki of Soderbergh's relationship with Starz.
Araki says his experience in indie film allowed him to work within Starz's parameters for Now Apocalypse, which was cross-boarded (filmed out of sequence rather than episode-by-episode) and shot in a mere 40 days last summer on locations around its creator's home town of Los Angeles.
"I've been making indie movies for 30 years so I'm used to tight budgets and tight schedules," Araki says. "And having directed episodic TV for the last couple of years, I work super-fast and I really know what I want."
To ensure a consistent vision and tone, Araki broke with US TV industry practice and directed all 10 episodes himself, as well as acting as series showrunner.
Cultural resonance
Dealing with sex as frequently and unashamedly as the series does seems potentially tricky in the current cultural climate. But Araki insists that, "We really just did whatever we wanted. We had an awesome cast that really understood what we were trying to do, that we were not making a porno or trying to be titillating."
In what Araki sees as a cultural tendency to "make America repressive again", Now Apocalypse is timely.
"It's such a good time to put a show like this out there because it's really like a ray of light in the darkness," he says. "I think of it as being a very political show, but it's not political with a capital 'P,' it's not preachy. It's sexy fun, but there's a message in there, and it's actually kind of an intense message."
Though he and Sciortino are currently writing scripts for a potential second season (yet to be officially ordered by Starz), Araki insists he has not crossed over from film to TV for good.
"I'll always be an indie filmmaker," says Araki, while conceding that the indie boom of the 1990s has been superseded by the current age of the blockbuster.
"Cinema is in a very weird place right now," he says. "But TV is too. I never would have thought five years ago that I'd have a TV show like this. Because I don't think it could have been made five years ago. The good news is there's so much content being made, so that's great for filmmakers. For content creators it's a super exciting time."