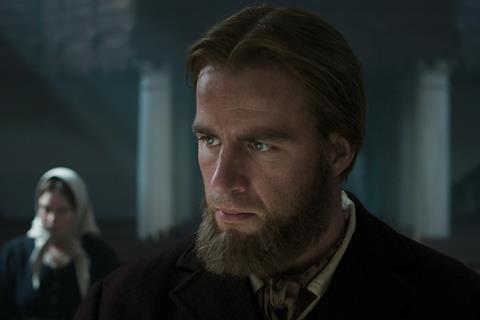 Estonia is one of Europe's most interesting emerging co-production territories. Buoyed by the success of the six films supported by last year's government-backed Estonia 100 film programme, created to celebrate the country's centenary, local producers are now putting together a wide array of productions aimed at an international market.
Veteran producer Ivo Felt of Allfilm is close to completing the finance on the English-language sci-fi thriller Gateway 6, which is set to star Olga Kurylenko It is being set up as a UK-Estonian-German coproduction. It will be the second feature by Tanel Toom who directed the national epic Truth And Justice, an Estonia 100 title which garnered a record-breaking 205,000 admissions at the Estonian box office this year. Its popularity could push local market share as high as 25% for 2019.
Felt says there is optimism across the local production sector due to the surge in local production, the performance of local films at the local box office and the private equity money now flowing into the industry.
"Estonia 100 was a really successful programme. It has shown local financiers and exhibitors that we are doing well," Felt says. "Being a small market, it is always more interesting for local financiers if they see a film could have some kind of potential abroad. Lots of films are coming up now and many of these are really audience-oriented and quite commercial projects. Film is very popular at the moment among Estonian audiences."
New sources of financing are flowing into the production sector as companies such as local exhibitor Apollo, through its Apollo Film Production arm, is starting to invest in production targeted at local audiences.
"The seed funding is still coming from the Estonian Film Institute but the difference over the past couple of years is that we have quite a bit of private funding. We didn't have it before the Estonia 100 programme," agrees Edith Sepp, CEO of the Estonian Film Institute. She cites the willingness of local distributors to support Estonian production. "That private capital is ready to invest in risky films is a huge game-changer in the Estonian market at the moment."
Like many smaller filmmaking countries, Estonia is always looking to co-produce. Regular partners include Baltic neighbours Finland, Latvia and Lithuania, and there are also co-production treaties with, among others, China, Israel, South Korea and Russia.
The country now has several experienced, well- connected producers with strong track records. One of the most prominent is Riina Sildos, founder of Amrion Productions. Her credits include The Class and I Was Here and the early films in the popular 'Lotte' animation franchise. Her international credentials were underlined earlier this year when one of Amrion's productions, Moonika Siimets' The Little Comrade, won the audience award at South Korea's Busan International Film Festival.
Sildos is now producing the family adventure Erik Stoneheart, which has been shooting in Luxembourg.
Producer Katrin Kissa also has a strong international reputation. Her new feature is The Last Ones directed by Veiko Õunpuu, which is likely to premiere at one of the big international festivals of 2020.
New sound stage
The opening of a new studio sound stage in Tallinn in 2022 will also help local producers. They will be able to secure work servicing the big international productions which should follow the example of Christopher Nolan's Tenet and shoot in Estonia. They should also be able to use the studios for their own projects rather than having to make do with converted warehouses or always shoot on location.
Meanwhile, the more production activity there, the better the local crews will become.
Underlying the strength of the sector is the variety of films with which local producers are involved. They include Sipsik, an Estonian-Danish feature animation produced by Kristel Tõldsep, Janno Jürjens' arthouse drama Rain which is produced by Kristjan Pütsep, while Martti Helde's Scandinavian Silence screened at the Karlovy Vary International Film Festival earlier this year.
Bigger commercial projects include 02, an espionage thriller set in 1939 pitting Estonia against the Soviet Union, which is being produced by Kris Taska of Taska Films and Esko Rips of Nafta Films.
Meanwhile, Estonia is also making feature-length animation aimed at adults as well as children including The Old Man Cartoon Movie from Bop Animation Studios.
Filmmakers do face some ongoing challenges. They express frustration at the lack of support available to Estonian broadcasters. Some feel such support should be made obligatory.
"We would expect maybe some more funding and support from broadcasters," says Felt. "But we need to face the fact Estonia is a very, very small market."