SCREEN SUBSCRIBERS: Tigerlily is celebrating its 15th anniversary this year and also has its two largest productions, Remainder and The Ones Below, both playing at LFF.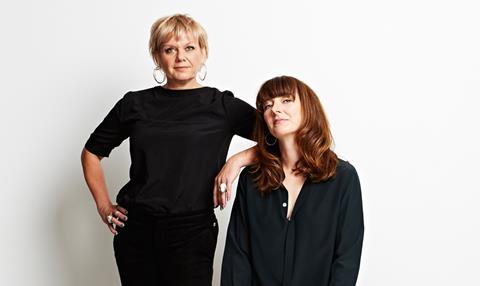 It's a big year for UK production company Tigerlily Films; the outfit is celebrating its 15th anniversary and also has its two largest productions, Omer Fast's Remainder and David Farr's The Ones Below, both playing at the BFI London Film Festival.
Tigerlily's founders Natasha Dack-Ojumu and Nikki Parrott are taking the 15-year mark as a time to rebrand for the future – they have changed the company's name from Tigerlily Films to Tigerlily Productions, and have set up three distinct arms for different areas of the business.
Dack-Ojumu says, "In these 15 years, we have worked across a whole range of projects. So now we've set up a film arm, a TV arm and a content arm. It's cleaner for people coming to the company."
Along with the rebranding is a new logo and a new website (tigerlilyproductions.com); they've been consulting with a mentor Debbie Manners from Keo Films as part of Nesta's Creative Business Mentor Network.
Dack-Ojumu and Parrott have been friends since 1993, when they met at the Royal College of Art, before they started the company together in 2000.
The beginnings were humble, as their first office was in a 'broom cupboard' sublet by Metro Tartan in Wardour Street. "We put in £100 each we have sustained ourselves over 15 years," Parrott says proudly. (They have since moved from Soho to Hackney offices.)
During the economic downturn around 2009, the company had to "downscale" on some overheads and staff. "It was hard but it was the right thing to do to keep the business going," Dack-Ojumu says.
Staying lean has allowed Tigerlily to work on its biggest productions to date, both selected for LFF.
The Ones Below is a relationship drama/thriller about two modern couples in London whose fates become "fatally intertwined." Clemence Poesy, Stephen Campbell Moore, Laura Birn and David Morrissey star. The film, which marks the feature debut of theatre veteran and Hanna screenwriter Farr, had its world premiere in Toronto's City to City: London strand last month. Parrott produced for Cuba Pictures in association with Tigerlily.
Remainder, the feature debut of visual artist Omer Fast that shot in London and Berlin, stars Tom Sturridge as a young man who recovers from an accident and tries to piece together his past from of fragmented memories. Dack-Ojumu produced, in co-production with Malte Grunert of Amusement Park Film and ZDF/Arte.
Forthcoming projects include The Lovers And The Despot, about a filmmaking couple kidnapped by Kim-Jong-il (the project is now in post); another feature film with Farr in development; multi-platform project 160 Characters – Text Me by Victoria Mapplebeck; Susanna Nichiarelli's Nico 1988, about the last years of the singer's life (that Italian co-production is on offer at this week's Production Finance Market); Brazilian co-production The Mayor of Sao Carlos, about a favela gang boss; plus a new project by Jamie Thraves.
The company's previous fiction features were Ben Hopkins' The Market, Xiaolu Guo's She A Chinese, Amit Gupta's Jadoo and the MTV project Transit.
Documentaries for TV or theatrical have included Hopkins' 37 Uses For A Dead Sheep, Jeanie Finlay's Goth Cruise, Matthew Barbato's Alexis Arquette – She's My Brother, Matt O'Casey's Plus Tubular Bells, Beadie Finzi's Only When I Dance, and Jacqui Morris' McCullin.
The 'content' banner represents their work across anything from news segments for TV (including a recent segment for BBC Newsnight about the experiences of older transgender people) to digital projects or branding work, to a recent foray into radio drama with Penny Woolcock's A Pact of Silence.
Working across platforms is key. Parrott says, "We are developing more feature films now, and we'll be very careful about who we work with on feature films. Our younger directors will probably start with more TV."
Dack-Ojumu says the fluidity to work between film and TV has changed since the company started. "Nobody wants to be in a box anymore. Look at Steven Soderbergh, coming out of film, working in TV, that's a strong indication."
Parrott agrees. "Our ethos is about amazing storytelling whether it's a radio play or a feature film or a documentary."
The company has become known for working with a dynamic mix of stories from diverse filmmakers ; supporting female filmmakers; making international connections; and being especially strong with subjects in music and dance.
Dack is proud of the company's eclecticism, and says that Tigerlily's signature is "powerful stories, sensitively told."
Dack says that part of the company's ethos is sharing knowledge they've learned in the last 15 years, and having an expanded 'family' of collaborators at Tigerily, some of whom started as interns and are now professional researchers or directors. "We need to help women coming up," Dack says. "I'm keen to share knowledge and demystify something like how you put a budget together."
Parrott adds, "It's the best job in the world, every day is slightly different. It's been a great 15 years and it will be another great 15 years."