Terry Gilliam has battled for 18 years to bring his vision of Miguel de Cervantes' Don Quixote to the screen. Screen caught up with the filmmaker and producer Amy Gilliam to discuss the hair-raising journey.
The only footage that saw cinemas from the disastrous, abandoned autumn 2000 shoot of Terry Gilliam's The Man Who Killed Don Quixote starring Johnny Depp was what appeared in Keith Fulton and Louis Pepe's 2002 documentary Lost In La Mancha. Flash-flooding of the Bardenas Reales desert location in Spanish Navarre and an actor (Jean Rochefort, playing Quixote) who was too impaired by a double-herniated disc and prostate infection to ride a horse were the main causes of one of the biggest insurance write-offs ($15m) in film history.
Traumatic as it was for him, this experience did not extinguish Gilliam's dream of one day making the film, with reports regularly surfacing of attempts to revive the production with Depp or other lead actors such as Ewan McGregor and Jack O'Connell, opposite John Hurt or Michael Palin as Don Quixote. The quest, so the joke went, seemed every bit as epic and misguided as the film's original inspiration, Miguel de Cervantes' 17th-century text Don Quixote and its ageing knight "tilting at windmills".
Sitting down in late April with Screen and his daughter Amy Gilliam — one of the film's five producers — at the London offices of creative agency Empire Design, the filmmaker is giddy at the prospect of being able to talk about a finished film, rather than an unrealised dream, and not even legal action by Portuguese producer Paulo Branco — a claim for ownership that delayed the title's announcement as the closing night of this year's Cannes Film Festival — can dampen his mood.
Evolving story
The Man Who Killed Don Quixote is based on a screenplay by Tony Grisoni (a previous collaborator on both Fear And Loathing In Las Vegas and Tideland) and Gilliam. In the original, Depp played an advertising executive who travels back in time to the 17th century, where he is mistaken by ageing knight Don Quixote for his squire Sancho Panza. As the years ticked by, Gilliam and Grisoni evolved a whole new conception for the storyline.
Gilliam reflected that he had already covered time travel, twice, with Time Bandits and 12 Monkeys. "I thought, 'Is this an old cliché?'" he says. "And we decided, actually it would be cheaper if we kept it in the modern world."
In the reconfigured story, Adam Driver plays Toby, a successful commercials director making an advert for an energy company in Spain, near the village where 10 years earlier he had shot his acclaimed student film using characters from Don Quixote. When he returns to the village, he realises he has created a life-changing situation there. "He's fucked people's lives up, basically," says Gilliam. The shoemaker (Jonathan Pryce) who had played Don Quixote in the original film now believes he really is the character; as per the original version, he mistakes Toby for Sancho Panza.
"What it has placed now is the power of movies over imagination, good and bad," says Gilliam, who was also inspired by his recollections of making Monty Python And The Holy Grail (1975) in the Scottish village of Doune. "We come up, rapacious filmmakers from the big city — the number of relationships that grew, marriages that collapsed, pregnancies that occurred," he recalls. "Filmmakers come into these stable worlds and things happen. I kept thinking, 'We kind of fucked up that village, in many ways.' Some benefited, but others did not."
Before any new version of The Man Who Killed Don Quixote could occur, rights needed to be secured from the insurance firm, which Jeremy Thomas and Recorded Picture Company (RPC) got in 2006. New attempts with various producers (notably Spain's Adrian Guerra and Denise O'Dell) and financiers followed, and Gilliam came close to making the film in 2015, when Amazon Studios came on board for North America. But producer O'Dell had budgeted the film at $19.1m (€15.9m), and the available finance remained $3.6m (€3m) short.
"I was determined that I was going to make it," reflects Gilliam. "I learned that I ignore reasonable, intelligent people who say, 'Move on.' I did move on. I made other films. But this has been my default position when I finish a project. It's back to this: how are we going to do it? It was so Sisyphean. You push it up to the top of the hill, and it rolls back. Most people are too smart to do what I did."
Enter Paulo Branco, who was introduced by Italian producer Gabriele Oricchio, for whom Gilliam had directed the 2011 short The Wholly Family. Gilliam met Branco for lunch in London in February 2016, and the director recalls the producer's opening gambit: "'Hello, my name is Paulo Branco. I've made over 275 films, and I've had more films in Competition in Cannes than any other producer.' You can see this guy had energy. He's an interesting character. He's very smart, he can be very charming. This is a guy who's hungry."
According to Gilliam, Branco convinced him that he could round up $19.3m (€16m) from Spain, Portugal, France and presales. "There wasn't a shadow of doubt in his mind that this was all possible," says Gilliam.
Strained relationships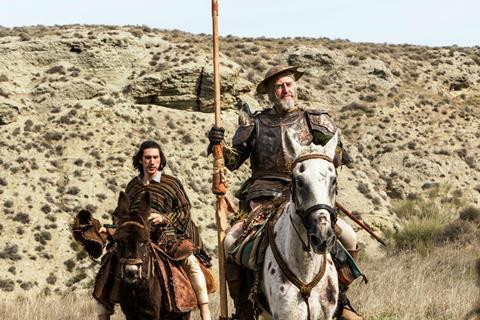 Gilliam next introduced Branco to Thomas, who still held the rights. By all accounts, the meeting did not go well, with Gilliam claiming that Branco seemed intent on asserting his authority over his fellow producer. "Jeremy said, 'Nobody has ever talked to me like that in my life,'" says Gilliam. "Paulo has done a million films. Jeremy's done half that number, but they're good films, famous and successful films. It was like Jeremy was a threat. It was bizarre."
Thomas and [Recorded Picture Company CEO] Peter Watson were discouraged. "They said, 'We can't work with this guy. Don't do it, Terry,'" he recalls. "They were trying other ways. I said, 'I have to start shooting this year. If I don't, I will go mad.'" Thomas and Watson relented, giving Branco a six-month option to pull the money together and start shooting the film.
What happened next is a matter of dispute, but, per the Gilliams, the promised finance failed to materialise and the plug was pulled on the film during pre-production while star Driver was on his way to the airport to fly to Lisbon for hair and make-up tests. (After Screen spoke to Gilliam, Branco continued to insist that distribution of the film was in violation of the rights of his Alfama Films, and held a press conference in Cannes after a Paris court refused to grant his request for an injunction to prevent the film screening as the festival's closing film.)
The Gilliams were back to square one. They could return to the previous budget model, but there remained that $3.6m (€3m) gap. It was then that fate intervened in the form of Italian-born, London-resident Alessandra Lo Savio and her firm Alacran Pictures. Lo Savio invited the Gilliams to her home to see if she could help close the gap — which she did to the tune of €3m. "She was the fairy godmother. She's an extraordinary woman," says Gilliam. Lo Savio and her sister and Alacran partner Giorgia Lo Savio have executive producer credits on the film.
Appropriately, given the rollercoaster ride of his Don Quixote journey, Gilliam left the meeting and immediately had problems with his vision. He attended hospital the next morning and was offered a surprise diagnosis: he had suffered a mild stroke. "So we got the money, and wait a minute, you're crippled now," exclaims Gilliam, who has made a full recovery. "You're half blind! Life is like that, folks."
Finally the project could proceed, and cameras started rolling in March 2017, with Driver, Pryce, Olga Kurylenko and Stellan Skarsgard. The production stayed loyal to the Spanish partners brought on by Branco, Tornasol, although, as Gilliam explains, they could have easily reverted to Denise O'Dell.
"It wouldn't be fair to just say, 'Alright, thanks, you've lost [money in pre-production on the aborted 2016 shoot], we're going back to Denise.' It just was not the thing to do, and that's why we stayed," he says.
Grégoire Melin at French financier and sales agency Kinology, long attached, produced the film with Amy Gilliam, Entre Chien Et Loup's Sébastien Delloye and Tornasol's Gerardo Herrero and Mariela Besuievsky. RPC's Thomas and Watson stayed on as executive producers, and Portugal's Ukbar Filmes served as co-producer. The film shot primarily in Spain, accessing the Navarre tax credit, with a couple of weeks apiece in the Canary Islands and Portugal — the latter an inheritance of the Branco association.
Despite a tight schedule, a peripatetic shoot moving constantly from location to location with no margin for error, and much reliance on weather due to the outdoor scenes, "We were incredibly lucky," says Gilliam. "We got away with it."
The director pauses, then launches into one final anecdote. "The only time it rained, and that's where nature has such a great sense of humour, it was the big night," he recalls. "We had 350 extras in these extraordinary costumes, we'd built this huge conical structure, and then every­thing is burnt at the end of the day, this great sacrifice. We're ready to do it, it's the most expensive part of the shoot, and then the rain belts down on us. We couldn't burn it. We had to do it the next night. That was the only time nature said, 'Watch this!'
"It got funnier," he adds. "To protect the stones of the cloisters, we had put sand down, and we had plastic under the sand, which was covering all the drainage. The rain came down, and the place began to flood. We're back to the rain storms, we're back to Las Bardenas! I was laughing because it was so absurd and almost perfect, that after 2000 being flooded out, it's happening again."