The Dig's journey to the screen began when John Preston's English historical novel was optioned in 2006. Screen talks to the filmmakers involved about the 15-year adventure bringing the story to life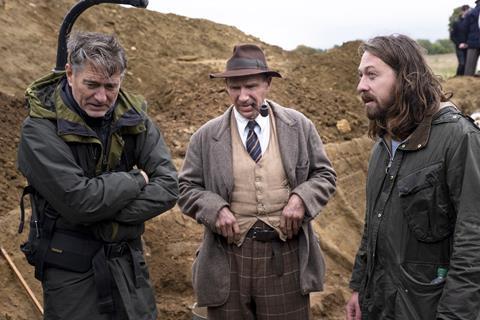 Formed in 1998, Clerkenwell Films has built a reputation as a TV company making hit series such as Misfits and The End Of The F***ing World, but until The Dig had never made a feature film intended for cinema release. And it might never have done so had it not been for Ellie Wood, who — as the company's head of development at the time — brought in an advance proof of John Preston's novel about the discovery of a 27-metre Anglo-Saxon burial ship in mounds at Sutton Hoo, Suffolk, in southern England, on the eve of the Second World War. The sixth and seventh-century treasures are considered among the most important English archaeological finds of modern times.
The book, released in 2007, is told through the voices of three participants: landowner Edith Pretty, self-taught excavator Basil Brown and Peggy Piggott, who joined the archaeological team and was Preston's aunt. Clerken­well Films founder and CEO Murray Ferguson enthusiastically agreed to option the material and develop it as a feature film. "It felt that this story was more likely to find a home in cinema than on TV," says Ferguson.
"I just knew it had to be a film," adds Wood. "It was to do with the fact it was set over a finite few weeks, the impending war, the heat of the summer, the Suffolk skies and the depth of thethematics. It had to be seen in one hit. The Remains Of The Day was always my reference."
Clerkenwell took the project to Christine Langan at BBC Films, who agreed to finance development of the screenplay. After a false start with a first writer, Langan agreed to a second period of development, this time with screenwriter Moira Buffini (Tamara Drewe), who signed on in 2012. Langan also recommended, given Clerkenwell's inexperience in the film space, that they team up with another producer — Gabrielle Tana of Magnolia Mae Films (The Duchess, Philomena). "Although we had confidence about the production process, the world of movies and development and finance is a whole different set of relationships," explains Ferguson. "We were happy to embrace that suggestion and get Gaby on board."
Meanwhile, Buffini was tussling with the adaptation. "When I adapt something, I do a faithful dramatisation of all the major scenes in the book," she explains. "That's always my first draft. I meticulously dramatise what's there, and that always throws up the problems of, 'What isn't there?' and, 'What needs to be there?', and how different it has to be when it's a film."
One challenge to overcome was that the novel's narrators "stayed very much in their own world — there's much less interaction between them than there is in the film", notes Buffini.
In April 2014, Screen International reported that Cate Blanchett was circling the role of Pretty in a version to be directed by Denmark's Susanne Bier, eyeing a late-2014 shoot. By that time, Wood had exited Clerken­well, but remained on board as a producer.
It was Wood who introduced the production to the director who would eventually take The Dig across the finish line: Simon Stone, an Australian theatre and opera director who had made one feature film (2015's The Daughter, inspired by Henrik Ibsen's The Wild Duck) but is better known for his innovative version of Federico Garcia Lorca's Yerma at London's Young Vic theatre, starring Billie Piper, and for his work with Ivo van Hove's Internationaal Theater Amsterdam.
Stone, with a reputation for creating fresh, contemporary stories from classic texts for the stage, was not an obvious choice — but, explains Wood, "What John and I never wanted it to be was a sort of stereotypical heritage period piece. With Simon, you just knew he was never going to do that. Also I knew actors were desperate to work with him."
But nor was The Dig an obvious choice for Stone. "I was surprised that I found the script so captivating," he says, adding: "It sneaks up on you as a series of multi-layered, thematic, heartrending moments. I really felt the subtlety and compelling nature of how it unravelled those layers."
Chasing a greenlight
By this time, Pathé Films had boarded, and Nicole Kidman was attached to play Pretty. The issue, explains Tana, remained the fact "we knew it could not be made for a certain amount of money, which is [the number] people were saying the market could bear". Creating the mounds, the scale of the production and the time needed for the shoot were the challenges. "It wasn't that much more, but it was just that little bit more" than the market could support, adds Tana.
However, when Pathé dropped out and Amazon Studios boarded, the film was finally ready to go into pre-production, with Ralph Fiennes — who had enjoyed a long creative partnership with Tana on films including Coriolanus, The Invisible Woman and The White Crow — as Brown, alongside Lily James as Piggott, plus Kidman. BBC Films exited, and it might be easy to assume The Dig did not chime with the taste of Rose Garnett, who arrived as director of the broadcaster's film arm in 2017, following Langan's 2016 departure.
But that was not the case, says Tana: "Rose was so excited to be working with Simon." And despite Garnett's reputation for edgy fare, "She's got a very astute commercial sensibility too." Tana explains that Amazon Studios did not want a broadcaster to be involved as a producer and financier, and BBC Films (which rebranded as BBC Film in 2020) graciously stepped aside. "It was all about not standing in the way of getting the film made," says Tana.
It was at this time, in the words of Buffini, that "two very big wheels of the cart fell off". Amazon pulled out during pre-production and Kidman exited.
Stone explains the latter event. "The reason Nicole dropped out was because she had become busier and busier that year. The Undoing shoot kept getting delayed a little bit, she had to do reshoots on Bombshell, and she wanted to do The Prom with Ryan Murphy. All of this stuff had come up suddenly. And to keep her in the film, we were already going to be really juggling schedules."
Kidman did "the gentlewomanly thing", which was to let go of the role — but now the film was rushing towards production with no financier and no lead actress. Enter Carey Mulligan, who at thetime was on holiday in the US with her family.
"Carey read the script within two hours," say Stone. "And then we were on the phone within an hour after that. And then she was on a plane within 24 hours with her family from Los Angeles to come back for fittings."
After Amazon pulled out, Clerkenwell stepped back from the film ("It's not our business to take that level of risk, paying people on a weekly basis with no guarantees," says Ferguson), but Tana battled on, and was able to save the film when Netflix agreed to fully fund. "If it wasn't for the tenacity of Gaby Tana," says Buffini, "we wouldn't have got it made. Hats off, all credit to Gaby."
Tana credits Netflix executives Chan Phung (now at Fox Searchlight) and Sean Berney for the quick greenlight decision. The Dig will now be receiving only limited theatrical play — but that is more because of cinema closures with the Covid-19 pandemic than Netflix's intention.
Meanwhile, Ferguson has achieved his first producer credit on a theatrical feature (alongside fellow producers Tana, Wood and Magnolia Mae's Carolyn Marks Blackwood) more than 20 years after setting up his company, and just as he has exited following Clerkenwell's sale to BBC Studios. The film is also Wood's first producer credit.
"It was torturous at times, and the various permutations and the length of time it took to finally get it across the line was quite an experience to go through," reflects Ferguson. "It did make me wonder how anybody can run a film business in this country, if this was the usual experience. In the meantime, we're driving a very successful television business, so it was easy for us to continue down the road. But yes, it was quite an eye-opener."