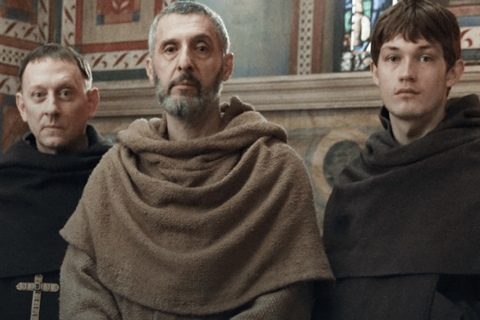 Leading Italian TV production companies Palomar, best known for the Montalbano series, and 11 Marzo, whose credits include These Days, have teamed with Germany's Tele Munchen Group (TMG) and Italian public broadcaster RAI Fiction to adapt Umberto Eco's 1980 novel The Name Of The Rose into an eight-part English-language historical drama series set in 1327.
The murder mystery is set in a Benedictine abbey as a Franciscan monk, played by John Turturro, and his young novice start investigating a series of murders that brings them into a direct confrontation with the Catholic Church. Rupert Everett co-stars and the supporting cast includes Sebastian Koch, Fabrizio Bentivoglio and Greta Scarano.
The series is an example of Palomar's growing international film and TV ambitions. Already in 2019 the company has formed an alliance with French TV production giant Mediawan and won the Silver Bear for best screenplay for Claudio Giovannesi's feature Pirhanas at the Berlinale. Palomar is also the Italian partner on the UK-Italian comedy Made In Italy, starring Liam Neeson and produced by Pippa Cross's CrossDay Productions, which is now in pre-production.
TMG has sold The Name Of The Rose around the world and it is now airing in Italy on RAI. It is the third Italian-originated, internationally-focused TV project for the broadcaster following I Medici and My Brilliant Friend.
All of the eight episodes have been directed by Giacomo Battiato who shot the series at Rome's Cinecittà studios and at locations around Germany and Italy last year.
Producers Tinni Andreatta (director of Rai Fiction), Matteo Levi (CEO of 11 Marzo) and Nicola Serra (general manager of Palomar), talk about the international potential of the story, the decision to shoot in English and why they believe television is firmly a producers' medium.
How did the project come together?
Matteo Levi: "The initial spark came from screenwriter Andrea Porporati who thought of acquiring the rights of the book, which had just become available. We courted both the editor and Umberto Eco himself, but it was the possible involvement of Rai, for which Umberto Eco had a soft spot having himself worked for it in the past and being a fan of its productions, that really made it work for everybody. Plus Eco really wanted an Italian company to be in control of the project."
Tinni Andreatta: "Our task was to tackle the European cultural matrix of the story and to produce a mini-series that spoke a global cinematographic language without losing its Italian DNA. That is why we cast actors who come from the same country as their characters, in order not to lose the diversity of the book."
Nicola Serra: "Palomar jumped on board when the script was nearly completed and collaborated on the whole production and post-production."
Have you introduced a 21st century take on the material?
NS: "It's amazing how the book already embodied all of the modern conflicts in a very appealing plot."
TA: "In 1980 Eco already spoke of religious tolerance, of persecuting whoever has ideas different from ours, of the power of culture and of the importance of accessing culture. William, the lead, represents the reason while Bernardo the inquisitor uses fear to maintain power. As you see we just needed to be very faithful to the book."
ML: "It's no wonder though. Many major TV series come from books and that is because even a mediocre book still possesses a profundity of thought that helps the development of a series."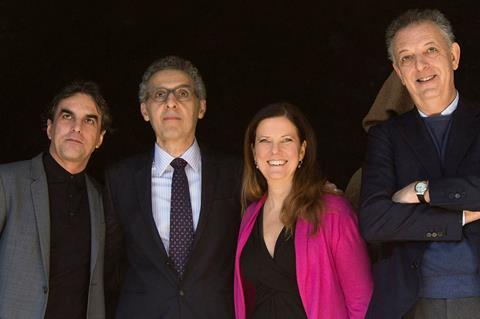 Is producing a film or TV series becoming easier than ever given all the new incentives for production, the number of international companies looking to co-produce, and the growth in the streamers and broadcasters hungry for content? Has choosing an intellectual property to adapt has become the crucial part of producing?
NS: "No, I don't think so. It's true competition for big properties is harder than ever, but I think once rights are secured the path to the finished product is harder than it seems, at least if you want to maintain high quality standards. It needs experience and care in doses that are not easily available on the market."
TA: "Producing today is more complex than it used to be, because ambitions are bigger and the global arena is the one in which everybody wants to compete. Financially it may be simpler to start a production, but that is only a part of the job. TV is not like cinema, it's more producer driven than auteur driven, and the dialectic with the broadcaster, which has its editorial line, is crucial."
NS: " There's more awareness from the audience now, therefore a bigger inclination towards risky and challenging productions. This gives more freedom of movement to the producer."
You chose to shoot in English even though TV audiences seem happy to read subtitles, as witnessed by the success of Gomorrah and My Brilliant Friend which were even subtitled even for their national audience. Why English?
TA: "Language has a crucial value only in a limited number of cases. It happens with dialect, because it has a strong link to the cultural identity of the characters. In many other cases though it doesn't influence the authenticity. We chose English because it's the koiné of our days, like Latin in 1327. We could have shot in Latin but really I don't think it would have brought any added value."