Jason Isaacs is earning some of the best reviews of his career in Mass, Fran Kranz's intimate drama about grief and forgiveness. Screen talks to him about the change-of-pace role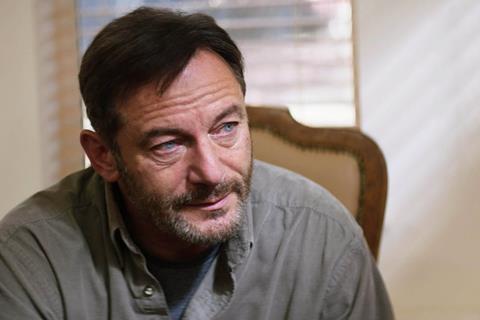 When Jason Isaacs first heard about Mass, the feature writing and directing debut of Fran Kranz, he had plenty of reasons to be sceptical. The film is largely a single conversation between two couples in a rural Idaho church meeting room discussing a tragedy that has impacted all their lives.
"I thought, 'Well that's a fucking terrible idea,'" recalls Isaacs. "You know? It doesn't sound to me like it can make a movie, it's four people in a room talking. And the guy making it is a young actor and he's never made anything before."
But then he read Kranz's screenplay. "I felt… I suddenly heard the birds tweeting and I saw the sun and I felt alive. And I thought, 'Wow, I still don't know if it's a film. And I don't know if I can do what's required as an actor. I just don't know if I can strip everything away and be real enough, honest enough to have this happen to me.'" But he knew he was definitely interested.
Isaacs was already in Los Angeles shooting another project, and met Kranz in a Starbucks — but with little expectation that it would lead to a role. "I had no idea if it could ever happen or any other actors would sign up, and obviously there wasn't going to be money involved. But I meet people all the time for films that are never going to happen. I'm always saying to my agents, 'Just tell me anything interesting, any people who are interesting, any ideas that are interesting.' They're the best days of my working life — [meeting for] lunches and stuff like that."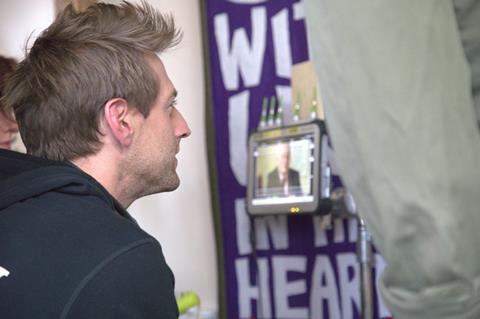 In Mass, Isaacs and Martha Plimpton play Jay and Gail, a married couple who lost their teenage son in a high-school mass shooting six years before. Now, for the first time, they are meeting Linda (Ann Dowd) and Richard (Reed Birney), the parents of the boy who killed him. They have been brought together by a restorative justice non-profit, and each character has different aims and expectations of the meeting.
For Isaacs, Mass is a film that "is interested in the human condition and how we get over hatred, how you get over division, how it's possible to move forward". Shooting over a brisk 14 days in November 2019 in Idaho, the low-budget film's theme felt especially relevant to the divided America of Trump's presidency ("there was so much blame in the air, we were choking on it"), and it remains so today. "This is a film about how blame poisons you," explains Isaacs.
In his non-professional life, the Liverpool-born, London-based actor works with charities including the British Red Cross and Hope Not Hate. "I come across a lot of hatred, and a lot of people whose lives might have been destroyed had they not reached for something better in themselves," he says. "It's incredibly inspirational, and very rarely does that overlap with professional work. This just seemed to be something I couldn't walk away from."
But Isaacs is also keen to emphasise the elements that make Mass compelling for audiences in the moment, as well as those giving them food for thought afterwards: "Once in a blue moon, projects come along that seem to be both entertaining, gripping, suspenseful and also have something to offer the world."
Isaacs found the process thoroughly immersive, shooting up to 12 pages per day and with long takes running up to 20 minutes. "I don't remember there even being cameras," he says, adding that director Kranz stayed out of sight in an adjacent room during filming. "We had this very intense, emotional, intimate, transformational experience — the four us — for two weeks."
Since the shoot was in rural Idaho, the actors also spent every evening together, remaining immersed in the project — and Isaacs kept his US accent for the duration. "On the last day when I dropped my accent, Martha, Reed and Ann looked absolutely betrayed, like some undercover cop had just outed themself. I felt so embarrassed; we'd been so intimate but I'd been doing it in a fake accent."
Hopeful outcome
Isaacs is proud of the outcome, and has appreciated the experience of watching Mass with audiences since its premiere at Sundance in January. "People are kind of devastated and then hopeful, and light breaks through the clouds and they feel like they've been through something," he says of the film, which Bleecker Street released in the US in October. "I'm wary of overhyping something that I'm in because it feels narcissistic and inappropriate. But it's nothing like anything else I've ever been in."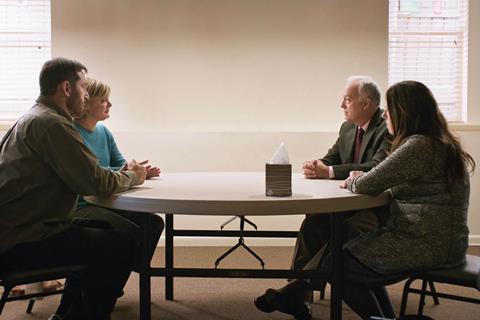 Mass offers a change of pace for an actor best known as the villainous Lucius Malfoy in the Harry Potter films, larger-than-life performances such as Captain Hook in PJ Hogan's Peter Pan, and high-impact supporting roles such as Field Marshal Zhukov in The Death Of Stalin — and who has yet to be nominated for an Oscar or Bafta film award.
"I don't know why he [Kranz] was interested in me," says Isaacs, who adds that, to be fair, his past roles do also encompass "much more low-key, naturalistic" performances. The actor's screen credits now exceed 120 in total, and he has a small glut of films and TV shows arriving around now or in 2022, including Second World War drama Operation Mincemeat (playing an admiral opposed to the bold wartime deception celebrated in the film); Mrs Harris Goes To Paris with Lesley Manville ("I am a charming, vaguely roguish character"); the 1970s-set Spinning Gold, about the founding of record label Casablanca; and CBS medical TV series Good Sam (playing a surgeon). Also upcoming is Iain Softley's The Dead Spit Of Kelly, which is ready to go — but "it's a film; you know it's financed when you're on set and someone says, 'Action.'"
The actor also mixes it up with narrating documentaries and video-game voice work. "Partly I love doing voices because I'm not going to get cast as Superman and Batman, but I can play them in video games. I try to give myself some variation, and I love doing voices."
Best of all for Isaacs, his prolific working life plunges him into a rich variety of experience. For Good Sam, he shadowed a heart surgeon ("fascinating, phenomenal"). For Mass, "I get to research restorative justice meetings, I get to think about and meet people who have overcome the most extraordinary things that would embitter many people and yet have managed to turn them into something positive. It's an honour that people let you into their lives."