The Spanish film-maker, who has the Jurassic World sequel next, discusses blending reality with fantasy elements in his third feature.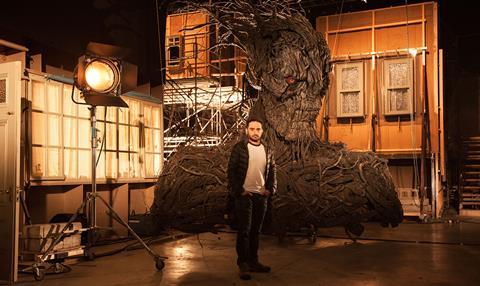 Ten years ago, Spanish filmmaker Juan Antonio Bayona, known as J.A. Bayona, was directing music videos and commercials in his hometown of Barcelona. Now, having quickly risen up the ranks, he is currently in pre-production on the follow-up to Jurassic World.
Bayona's career took a turn when debut screenwriter Sergio G. Sanchez asked if he would direct his script for The Orphanage. With Guillermo Del Toro coming on board as executive producer to help get the film made, The Orphanage went on to win seven Goya Awards, along with international acclaim and box-office success.
Bayona followed that with the English-language disaster film The Impossible starring Ewan McGregor and Naomi Watts. His latest A Monster Calls premiered at the Toronto International Film Festival and is playing at the BFI London Film Festival this week. The film returns to a focus on childhood, mixing reality and fantasy elements in its tale of a young boy trying to cope with his mother's ordeal as a woman suffering from cancer. With a cast including Liam Neeson, Felicity Jones and Sigourney Weaver, the film displays Bayona's capabilities as a director capable of storytelling that is both visually stunning and emotive.
Bayona spoke to Screen about making A Monster Calls and transitioning to Hollywood's big leagues.
What was the hook for you to make a film based on Patrick Ness' award-winning novel?
I saw this as a powerful and important story to tell as a movie – an adventure that anyone can relate to. I find it fascinating how stories work. For me, the perfect comparison is when you have a dream and someone tells you the meaning. I need to more or less tell a story like that – figure out what is behind the stories and what makes things work. I felt passionate about the book and was curious to start researching, and figure out how I could adapt it. I began to read up on works of mythology from experts such as Joseph Campbell. I wanted to do it justice, but I also knew it would be an even bigger challenge than The Impossible.
When did you first start the research process?
I started to work on this two and a half years ago. I was finishing the promotional tour for The Impossible and about to shoot the first two episodes of [Showtime/Sky series] Penny Dreadful. That's when I met Patrick [Ness, author of the award-winning novel], and we decided to make this together.
When you first started working with Patrick, could you visually see how the monster would be brought to cinematic life?
It was such a complicated story. Finding the tone, and figuring out how we would tell the story was the first challenge. We didn't want to make a melodrama. And that was hard because there were so many different subject matters, with reality layers like Conor's diverging relationships with his mother and his grandmother, and then the fantasy layers like a 2D and 3D 40-foot-high monster. Everything had to be integrated, and we knew that would be difficult. It was something we had not done before.
You are clear about not wanting to solely rely on computer-created images. What was the process of creating the film's monster?
We allied ourselves with King Kong – the giant paw that grabs Conor out of his bedroom, the massive foot he touches, the huge head outside his window – they are all real, including handcrafting work. There is nothing that can't be done now in visual effects, so I believe it engages audiences more when you go back to how things were done in the first generations of moviemaking. It means better interaction for the actors, too. The more we had something that looked like fantasy, the less interesting it was for me. Ultimately, we returned to something close to Jim Kay's iconic drawings in the book.
The animatronic on-set monster and his moving parts were done with special make-up effects by [Pan's Labyrinth Oscar winners] Montse Ribé and David Martí with their company DDT. Over a three-month period, over 30 artists and four hydraulics specialists created head and shoulders, arms and hands, and feet. First the head was sculpted and then we made a mold, copied it and painted it. The head, shoulders, foot, arms, and branches are basically all foam. We had to carve, burn, shape, paint, and provide texture to make all the parts of the monster look tree-like. The challenge was to make it look real but with very basic materials. We did about 200 drawings of the monster.
You stayed true to the book in keeping a mainly British cast.
Yes, I wanted to stay true to the book as much as possible. We shot the film in a village near Manchester for four weeks, it was just like the book, and then we moved to Barcelona for 15 weeks. Sigourney Weaver was the only actor that was not British. She was a name that was mentioned to us very early on, and we were over-excited. We had a meeting with her, and felt she was the perfect person.
But for Conor – that was a very long process. I worked with casting director Shaheen Baig who I worked with on The Impossible. We saw around 1000 kids, most of them on tape. And then I saw around 200 kids. We narrowed it down to five and Lewis [MacDougall, who also starred in Pan] was obviously the best.
Is it intentional that this project has similar themes to your first film, The Orphanage, which also has a big focus on fantasy?
I actually consider this the final film in an accidental trilogy. A Monster Calls was the perfect film to complete this trilogy. It has things in common, like the relationship between the mother and son. There are similar scenes that keep turning up in my movies, they are just told from different perspectives. To me, it's interesting to use fantasy to understand reality. I was very attracted to that idea, how our journey as film-makers is parallel to what Conor goes through. He needs to tell the truth and he tells the truth by storytelling.
How much did advice did Guillermo del Toro offer on this film?
I first worked with him when I went to LA to show him The Orphanage. Since then, I always show him the edits of my films, and he always gives me advice. For this, he had interesting ideas in terms of story structure. I feel very comfortable working with him.
How does it feel to be joining a huge tentpole franchise like Jurassic World?
Every time I do a film it's a big challenge. But yes, this is a big movie in terms of its scale. I have never done such a big movie. It's my first movie in Hollywood – I am excited. The people that have worked on these movies I greatly admire, and I grew up watching their movies. So it's nice to be working with them, and to be able to breathe new life to their stories.
Colin Trevorrow, who directed Jurassic World, is involved in the sequel as executive producer. How closely are you working together?
He has a a vision of the entire trilogy. It is very exciting that he likes my movies and wants to bring me on board. I have the impression they want me there to take care of the baby and that is very flattering. But it's always tricky to find the balance to what they expect, and then to do something different. I can't talk about new ideas – I am excited to talk about it, but I can't talk about it yet. Technology is always moving forward so every time there is a new movie, technology is even better. There will be surprises for sure.
You have often mentioned how much you respect the work of Steven Spielberg, the godfather of the Jurassic franchise. How much will you be working with him on this film?
I really like how serious he takes childhood. He is one of the best directors depicting childhood in movies. I feel the same. I have completed three movies, and like him, I have focused a lot on the struggles of growing up. I remember first meeting him at the Golden Globes when I was there for The Impossible. So the fact we are regularly together now for Jurassic is exciting.