Jane is not the first documentary made about Jane Goodall and her work with chimpanzees in Tanzania — but it is surely the most artful.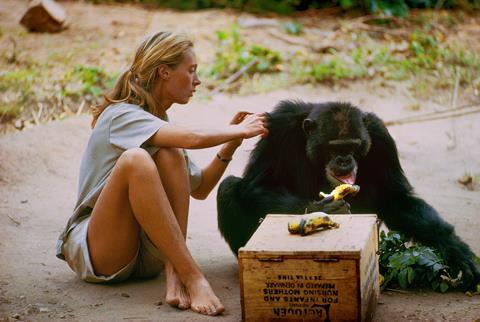 National Geographic's decision to hire intrepid documentarian Brett Morgen to compile never-before-seen archive footage of primatologist and conservationist Jane Goodall was a complete surprise to the director himself.
"If someone had asked me to watch a Jane Goodall doc, I would have thought, 'Haven't I seen this at some point?' And furthermore, why would they hire someone like me?" said Morgen, who is known for his work on documentaries including the Oscar-nominated On The Ropes (1999), co-directed with Nanette Burstein, about three young boxers and their coach; the film adaptation of producer Robert Evans' colourful memoir The Kid Stays In The Picture (2002); and multiple Emmy nominee Cobain: Montage Of Heck (2015), detailing the life of Nirvana frontman Kurt Cobain.
Goodall, who was appointed a Dame by the Queen in 2004, added: "I'd heard that National Geographic wanted to make another documentary and I thought, 'Oh no, not another one, there have been so many.'"
Miss Goodall And The Wild Chimpanzees (1965) marked the start of National Geographic's association with the primatologist — the film was shot in 16mm by her first husband, Dutch videographer Hugo van Lawick, in the early 1960s — and continued with 1984's Among The Wild Chimpanzees. Goodall had been aware that an extensive amount of additional archive material existed, shot at the start of her career in northwestern Tanzania, but had "forgotten all about it".
Morgen signed on to direct Jane after National Geographic granted him final cut, and after he glimpsed van Lawick's beautifully preserved footage. This also coincided with Tim Pastore joining the channel as president of original programming and production. Keen to give the network a rebranding, Pastore wanted to extend its "bread and butter" into the festival and theatrical space.
"I kept joking [to National Geographic] that this will be the most expensive show they make, and they just nodded their heads," recalls Morgen, who adds that the network fully supported his more expensive requests, including an extended post-production schedule accommodating a lengthy sound mix and colour grade, plus the hiring of renowned composer Philip Glass.
Production challenges
Once Morgen and his assistant sifted through the 140 hours of footage, along with 55 hours of audio recordings provided by the Jane Goodall Institute, they had the unenviable task of attempting to create synchronised chimpanzee sounds. "There were no two consecutive shots that originated from the same camera reel," explains Morgen. "The dream soon became a nightmare. There were over 160 chimpanzees that lived in the Gombe National Park at the time. Let's just say the chimps don't wear any name tags."
Beginning in August 2015, the director's scaled-back team spent 15 arduous months organising the footage. Morgen then travelled to Goodall's home in Dar es Salaam, Tanzania.
"She wasn't rude, but she was straight to the point," recalls Morgen about his first meeting with the anthropologist, who spends 300 days a year on the road speaking at conferences and universities. Granted just two days to film the interviews, Morgen nudged her instinctive focus away from nature and chimpanzees by showing Goodall the archive sequence where she and van Lawick fall in love. "I had three minutes of footage she had never seen. And you could see it happening to her, the look on her face. From then on, she became much warmer."
"It took me back in a very real way to the best days of my life," says Goodall. "Other documentaries are more carefully edited and designed to show various parts of the story, but this one showed things as they were. It was quite moving."
Morgen wanted to create an immersive experience through the colour grade and sound design. The filmmaker is known for incorporating diverse visual styles, such as photo animation in The Kid Stays In The Picture and the motion-capture animation combined with archive material in Chicago 10. But he opted for a subtler approach with Jane, crafting long montage sequences and tweaking the colour of van Lawick's pristine footage to appear as if it were shot in different climates.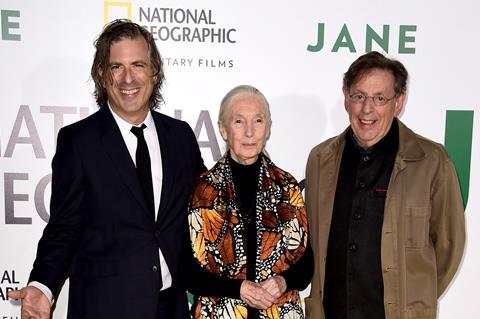 Morgen opted to omit narration, and employed techniques in the audio mix and score to intensify the audience's experience "as if they were in Gombe in the early 1960s with Jane". He built a 7.1 mix stage in his office for use by sound editor Joshua Paul Johnson and Beauty And The Beast sound designer Warren Shaw.
Morgen had long harboured an ambition to create what he calls "a cinematic opera", and felt this was the right project to do so. "In my mind, Jane was always going to be able to play at the Metropolitan Opera House. I think of this as an operatic score for Jane Goodall — it's just that we also have images," he says.
There were only two names on the composer wishlist: Brian Eno and Philip Glass. And because Eno does not score to picture, that just left Glass. Morgen initially used the composer's music from The Hours as his temp score, and was concerned Glass's actual composition might be too cold. His concerns temporarily receded when Morgen received Glass's first five cues, which he describes as "amazing". He recounts the composer emphasising that he could tell him if score elements were not to his liking, upon which Morgen quipped: "Believe me, we will have a time where that comes up."
Thereafter, Morgen rejected Glass's cue numbers six to 31. "I think he thought it was going to be a two-month process, and it ended up being six months," he says. "We had to keep remaking the film once Philip was on board. I wanted all the cuts to dance, and the chimps to move and sound in synch with the music. We had to have another complete pass of the film that took three months. But it needed it — if you're cutting on the beat for 30 minutes and then three minutes you're not, it's heavily noticeable to the viewer."
Positive impact
Asked about the film's relevance in today's troubled times, Morgen replies that the film's message about "following your dreams, and a love story about a woman and her work and her family, is something audiences need right now".
Adds Goodall: "People want something positive to focus on. It's a grim time — think of the Trump administration. [UK prime minister] Theresa May couldn't care less about the environment as far as I can tell — she is looking to start fracking again; it's the same in Australia. And there's war, there's violence and there's abuse.
"I hope the film is going to show people how it was and how beautiful the world was back then — not just Gombe, but the Serengeti [where the film is also partially set] — and that it's worth fighting to preserve what's left, and to try and restore some that's gone. I also hope people come away thinking about maternal behaviour and our human evolution, and what can we do as individuals to make the world better for our children and theirs."