Actress, singer and fashion icon Janelle Monáe is the standout star of Knives Out sequel Glass Onion — and a force to be reckoned with. She tells Screen about her ambition to be a creative power in the film industry.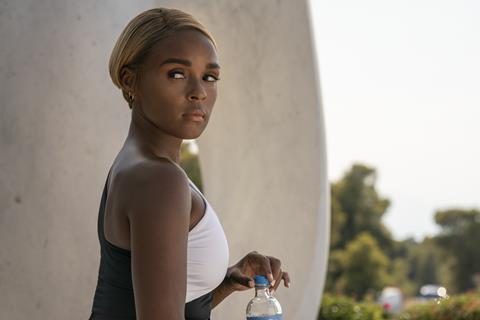 Few individuals have had a more memorable introduction to the awards season rollercoaster than Janelle Monáe, the US singer- turned -actress who saw the first two films in which she appeared — Barry Jenkins' Moonlight and Theodore Melfi's Hidden Figures — both score nominations for 2017's best picture Oscar. Even more memorable was how Moonlight wound up winning the coveted accolade — after an envelope mix-up that has gone down in awards-show history.
The final minutes of the ceremony saw the teams for La La Land and Moonlight crowded onto the stage together, with the controversy rather overshadowing the indie drama's upset win. But the peculiar circumstances did not seem to dishearten Monáe, who in the film played Teresa — the drug dealer's girlfriend who acts as a surrogate mother to child protagonist Chiron. The actress could be seen behind Jenkins and Moonlight's producer Adele Romanski, raising ecstatic fists towards the heavens and shaking her head in bewilderment.
"Honestly, it felt like The Twilight Zone," says Monáe of what was — at least before the Will Smith/Chris Rock altercation from the 2022 ceremony — the craziest thing ever to occur on Oscar night. "I was like, 'What world are we in?' It was like a glitch in the Matrix, if you will. But I'm happy Barry got to take it home. He and Tarell [Alvin McCraney, author of the play on which Moonlight was based] made such a personal film, so it made me proud to be a part of that moment."
Monáe was back at the Academy Awards in 2020 to open that ceremony with a special reworked version of her song 'Come Alive'. ("I'm so proud to stand here as a Black queer artist telling stories," she declared during her performance.) And the 37-year-old could be back there again if her work in Glass Onion: A Knives Out Mystery finds favour with voters, her role in Rian Johnson's sequel to his 2019 whodunnit emerging as both its key player and moral conscience.
To disclose more would be a disservice to Johnson's meticulously calibrated mystery, in which Daniel Craig's returning sleuth is called on to find a killer on a sun-soaked Greek island. Yet it is fair to say Monáe more than holds her own amid a starry ensemble, her tech entrepreneur Andi proving to have at least as many layers as the film's titular vegetable.
"I had so much fun getting into character," she says. "There were lots of twists and turns and layers to peel back. The relationships Andi has with the other characters [Edward Norton's billionaire philanthropist, Kate Hudson's model turned fashion designer and Dave Bautista's gun-toting YouTuber among them] are very mysterious. Getting into her mind, her spirit and her heart took a lot of dedication, nuance and talking with Rian."
That the name Andi is a contraction of Cassandra points to the character's function as a teller of inconvenient truths that Norton's Miles Bron, and the friends he has gathered at his private retreat, would prefer not to hear. If there is tension on screen, though, it was the exact opposite off it. "Rian set the tone for the cast to feel like a family," says the actress.
"We hung out and did our own murder-mystery parties. Because of Covid, we couldn't go many places so we were forced to be in each other's faces," Monáe says of the shoot, which took place in Greece and Serbia between June and September 2021. "But we had fun moments, and the time we spent together made our scenes on screen feel organic and honest and true."
The original Knives Out was an unexpected hit that breathed new life into its genre, received Oscar and Bafta nods for Johnson's screenplay and took a robust $311m at the global box office. Yet there was still surprise when Netflix forked out a reported $450m for a couple of sequels, the first of which will be launched on the platform on December 23 after one week of theatrical release in late November.
Speaking to Screen during the BFI London Film Festival in October, Monáe was upbeat about its prospects. "My hope is that people will go to the movies, and then want to watch it again with their family and loved ones," she says. "We all need a good time, and it's a fun ride that crosses generations."
Individual style
For a performer who has only been acting professionally since 2014, Monáe has racked up an impressive list of collaborators that includes notable directors such as Robert Zemeckis (2018's Welcome To Marwen), Kasi Lemmons (2019's Harriet) and Julie Taymor (2020's The Glorias). She has also had her own Amazon Prime TV series, taking over from Julia Roberts in the second season of psychological thriller Homecoming (2020). To most, however, she is best known as a recording artist whose musical output — three studio albums and counting — has earned her eight Grammy nominations to date.
In fashion, too, Monáe has made a mark with a signature black-and-white, tuxedo-inspired aesthetic she once dubbed her uniform. ("My mother was a janitor, my stepfather worked at the post office and my father was a trash man," she said in 2012. "They all wore uniforms, and that's why I stand here today in my black and white.")
"It's all storytelling," she says of her distinctive couture, which on the day she speaks to Screen includes a crimson-striped cravat and an outsized grey felt bowler. "But there are plenty of times I just want to take the make-up off, put on a sweatshirt and crawl under the covers. That's orgasmic for me."
How much time she will have for such luxuries of leisure is a moot point, especially given her stated ambition to blur the lines between what have so far been largely separate pursuits. "I absolutely want to write, direct, star in and do the music for a film," she declares.
"The music side and the films side are always talking to each other. I have worked with some great directors and I've been super-focused on watching their processes — how they interact with the cast, problem-solve and troubleshoot. Music and films complement each other, and my hope is that I can combine them — sooner rather than later."