In Bombshell, entrenched power withers under the glare of brave disclosure as three women challenge Fox News boss Roger Ailes and win. Jay Roach tells Screen why making the movie proved therapeutic.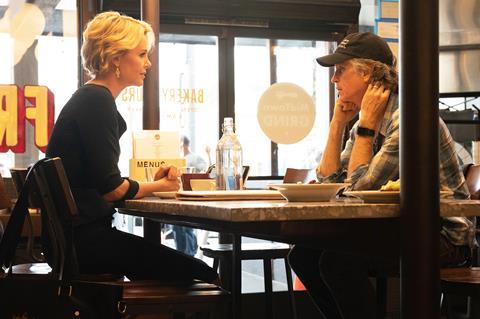 Jay Roach insists there was nothing calculated about switching from comedies such as the Austin Powers and Meet The Parents franchises that defined his earlier career to the more recent, politically charged stories Game Change, Recount and now Bombshell.
"I've always loved making comedies but I had been interested in serious drama before the comedies ― I got a lucky break with Mike Myers and that was such a blast," notes Roach, who also produces Bombshell alongside Denver and Delilah Productions' Charlize Theron, Beth Kono and AJ Dix, Bron Studios' Aaron L Gilbert, Lighthouse Management & Media's Margaret Riley and the film's screenwriter Charles Randolph. "The stories I've always been drawn to are those that work on lots of levels ― personal, psychological, internal dramas that say something about the times we live in."
Timely subject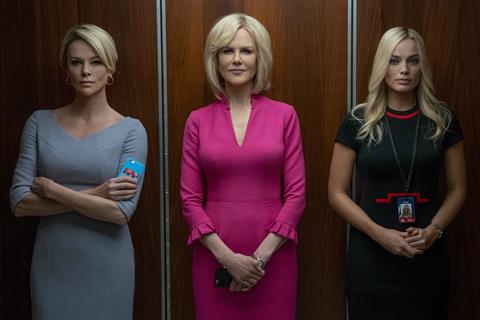 There can be no denying Bombshell, which Lionsgate releases in a handful of New York and Los Angeles theatres in the US on December 13 (it expands on December 20) and opens in the UK on January 17 through Lionsgate UK, is of its time. Roach and Theron had been trying to get a project off the ground a few years ago when, in spring 2018, she handed him the screenplay by Randolph (The Big Short) about the decision in 2016 by Fox News anchor Megyn Kelly to follow in the footsteps of her colleague Gretchen Carlson and publicly accuse their boss, Roger Ailes, of sexual harassment.
"I was kind of riveted by the story," recalls Roach, who agreed to direct and be one of the producers alongside Theron, who stars as Kelly. "It felt like an unpredictable, surprising way to tell a story about women taking on powerful men in a very unlikely place." The story also concerns NDAs ― the non-disclosure agreements Carlson and many other women signed that have become a national talking point in the US as the #MeToo movement rolls on, even more so now NBCUniversal has told its female employees they can ignore their NDAs and speak about their sexual harassment experiences.
"The timing of our film was coincidental," says Roach. "At the end of our movie, Gretchen Carlson is told by her lawyers she would be muzzled and she said, 'Maybe…' — we did not know that would be one of the main talking points in our culture when the movie came out. That feels like we had tapped into something."
Randolph's rounded characters intrigued Roach. "Whatever political persuasion the characters have, I'm always looking for what makes them who they are, like I did with LBJ [in All The Way] or John McCain [in Game Change]," says Roach. "We are all a mixture of instincts ― noble, some self-interest, selfishness and, in Roger Ailes' case, predatory. I thought Megyn in particular was very interesting. I'd met her at one of those White House correspondents dinners and thought she was [impressive]. Charlize said in public recently she found she was surprised how much she had in common with her, and when I pictured the overlap of Megyn inhabiting Charlize and vice versa, I knew I wanted to see that."
Roach and Theron did their research, talking to around 20 women who had ties to the network, many of whom, like Carlson, were bound by NDAs. When filming began in Los Angeles in October 2018, the director recalls being repeatedly impressed by how his stars Theron, Nicole Kidman (Carlson) and Margot Robbie (the fictitious Kayla Pospisil) supported each other, asked questions and pushed themselves into dark places.
"When Gretchen was fired and chose to sue, it was a frightening choice because she did not know whether she would have any support and if women would come forward ― and they didn't for a couple of weeks. I was completely caught up in her choice, her jumping off the cliff. And then what it was like to be alone and wondering if anyone would speak up, until Megyn did. I was surprised how suspenseful that felt as I pictured those two weeks and that was the story that worked for us. I didn't see it as a thriller originally until I imagined how those women were pitted against each other."
The now-notorious sequence where Kayla enters the office of Ailes (played by John Lithgow) and is asked to lift up her skirt for the old man's edification was representative of conversations and anecdotes the producers had pieced together from the interviews. Roach recalls it was "one the most dramatic, traumatic, excruciating scenes". He filled in for a crew member who was away that day and operated the third camera himself, making sure cast and crew got through it in as few takes as possible.
But tough as it was, the film­maker knew those few minutes were an essential part of the story. "If you only heard about what happened in that scene, you would never understand the soul-crushing humiliation of it. And you wouldn't understand the grooming process Roger would put these women through by being so warm and mentor-like and funny with them. He would take them just past the line of what they would consider appropriate and once he got them to do that, they were in his clutches and he knew he could get them to go further the next time."
Tragic loyalty
In another standout sequence, the three central women find themselves cooped up in an elevator, aware of each other, yet incapable of communicating. "You know they could all support each other, but they don't and it's so tragic ― it's part of the 'Cult of Roger' ― you had to show him loyalty and you couldn't tell anybody what you were going through."
Roach says telling stories like Bombshell are "partly therapeutic because we all feel like we're going through an anxiety dream in our country". That comment leads inevitably to the man sitting in the White House with the nuclear codes. Roach attended the GOP convention a few years back while researching Donald Trump's election campaign, but is still looking for the angle. "We haven't quite figured it out. Like everybody else, I would very much like to do something about the whistle­blower [in the Ukraine scandal]… It may be a few years before anybody knows what the most important stories about Trump are going to be."
For now, he is working on a feature about the fatal anti-Vietnam protest at Kent State University in 1970 when the Ohio National Guard killed four students. He is developing it with ShivHans Pictures and Tina Fey's company Little Stranger, and will shop it around the studios soon.
And he is keen to collaborate further with Theron, whom he describes as the force of nature who led the team into battle on Bombshell. "I will do Atomic Blonde 2, 3, 4 and 5 if she wants," he says with a laugh. "I want to direct everything she does. I want her to be in every film I do. I might lose my nice-guy reputation over this."