SCREEN SUBSCRIBERS: On the day of Je Suis Charlie's release in France, co-directors Daniel and Emmanuel Leconte discuss their doc about Charlie Hebdo's survivors and the recent Paris atrocities.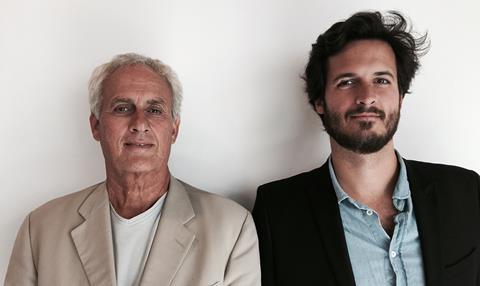 In the wake of Paris's most recent terrorist atrocities in November which left 132 people dead, film-makers Daniel and Emmanuel Leconte bring Charlie Hebdo back into the spotlight with a documentary charting last January's chilling events at the French satirical publication.
Being released in French cinemas today (December 16) following its premiere at the Toronto International Film Festival (Sept 10-20), Je Suis Charlie - named after the slogan coined by the organisation's art director - takes audiences behind the scenes into the seven days between the horrifying attack where 12 people were murdered by Islamic extremists and the publication of their January 14 issue, which sold over seven million copies.
Screen sat down with the father-and-son directing team, along with Charlie Hebdo cartoonist/publishing director Laurent "Riss" Sourisseau and finance director Éric Fottorino, to discuss question like: "When does freedom of speech go too far?"
"Everybody has a different sense of humour. You decide what you want to laugh at. It's a choice," says Sourisseau. "We use 'second-degree humour' – humour that is not straightforward, at times subtle or other times unconventional – something that is typical to France. We realise not everyone may understand this type of humour, but we can't stop being who we are just because it doesn't make sense to everyone."
Daniel Leconte adds: "There are a lot of nuances [in Charlie Hebdo] that you wouldn't get in the global media. No one is under obligation to buy the newspaper. But if our critics did read the newspaper, they would understand there is more subtext to the cartoons. They would also see that all political and social topics are addressed - Catholicism, politics… it's not just Islam."
When asked if the film is being released too soon after both incidents, Agathe Valentin, head of sales at Pyramide Films, says, "It's important for us to release the film. Postponing it wouldn't change anything."
Daniel Leconte adds that there is no "right time" to release the film. "The November 13 attacks are a follow-up to those of last January," he says. "The only difference is that now everyone knows the Islamic State doesn't just target a few groups of French society such as Charlie Hebdo, Jewish people, the police; they target all of the French population without distinction. We even know, since the San Bernardino attack in California, that all Americans are targeted as well, and beyond that; it's the whole civilisation."
"Terrorists are fighting a war that targets all kinds of freedom. And if you think about it, freedom of speech allows all other types of freedom to exist."
Je Suis Charlie: The Film
Following on from Daniel Leconte's 2008 documentary It's Hard Being Loved By Jerks, which chronicled the trial between several French Islamic groups (including the Grand Mosque of Paris) and Charlie Hebdo for the reprinting of drawings parodying Muhammad, the director, along with his son Emmanuel, made a decision directly following the attacks to document the immediate response of the surviving staff, as well as provide insight into the company's core etymology.
"When the killers left the Charlie Hebdo building, they shouted, 'We killed Charlie!' and 'The Prophet is avenged!'," recalls Daniel. "This film, for me, is to give the answer, 'No, Charlie is still alive.'"
The Lecontes quickly assembled a production team to pull together unseen archive footage from their previous documentary, in addition to coordinating interviews with key staff members in the week after the shootings - a period when the publication decided to trudge onward and complete the next edition.
"It's Hard Being Loved By Jerks was very analytical, tackling racism, criticism and the law," says Emmanuel. "It was important for us to carefully work with emotion this time."
Sourisseau admits that when the Lecontes first approached him, he thought it was too soon. "But after we discussed how the documentary would play out, I decided it was the right time," he says. "Because as time passes, the less we want to think about it. I couldn't have said now what I did then. And this gives us something physical to encapsulate the memories of the deceased, and what we all felt at the time."
Other staff members who opened up to the camera include cartoonist Corinne 'Coco' Rey, who boldly details her experience of being forced – with an assault rifle pointed at her head – to let French-Algerian brothers Cherif and Said Kouachi into the building. Fottorino recalls his dog laying on top of his face in an effort to protect him and cartoonist Rénald 'Luz' Luzier recounts drawing the iconic January 14 cover image.
"Looking back, I realise how important it was to talk about it, to get it out of our heads. It was like a release," says Fottorino.
"It was important to give an answer fast," adds Daniel Leconte. "To not only help the survivors heal, but to inform the world Charlie Hebdo was not going anywhere."
Mounting a defense
In addition to interviews, which were filmed in Charlie Hebdo's temporary office at Libération, the film is made up of archive footage showing candid interviews with some of thetragic day's victims, among them cartoonist/editor-in-chief Stephane 'Charb' Charbonnier and cartoonists Jean 'Cabu' Cabut and Bernard 'Tignous' Verlhac.
"I remember telling my dad, 'We have all this archive footage just sitting there. We have to use it. We have to keep the memories going'," says Emmanuel. "When you watch the interviews, it's extremely striking the way they talk. It's like they are talking to us today, like a premonition, like they knew something was going to happen."
"There is a simplicity in what they had to say, commenting as artists on the crazy world we live in," he continues. "They take things from a different approach, analysing the controversy of the cartoon - the pros and cons, how it related to topical news. Most of all, they had humour. They were passionate about sharing their ideas."
"The main point is [that] people were killed for sharing ideas, for being artists, for reflecting on the news. It's just not right," says Daniel, noting that several notable French politicians including François Hollande, Nicolas Sarkozy and François Bayrou supported Charlie Hebdo in the 2007 trial, enabling them to win the case.
When referencing the protest by over 200 acclaimed writers (including Joyce Carol Oates, Peter Carey and Michael Ondaatje) to their PEN Award in New York last May, Sourisseau responds, "Most of the time when people criticise, they just look at one cartoon. What Charlie does is much broader and more complicated than that. Many people abroad have only discovered Charlie in the last year. They don't realise we have been around for the last 25 years; that we address racism and social issues from all sides.
"Why does making fun of something mean you are a racist? It's a binary way of looking at the world, which is saddening. When you look at statistics shared by Le Monde last year, the number of Charlie covers and illustrations pertaining to Islam was under ten percent. Charlie makes fun of everything."
Rebuilding the newspaper has helped give them a feeling of control over their lives, admits Sourisseau. "Continuing under such circumstances has given us an even greater importance to our work. It's now or never that we fight the battle of extremism. Back in the 1990s, we were the first to send out a petition to dissolve the far-right movement in France. We will continue to push for what we believe in."
Within months of moving into a new office, Sourisseau shrugs off any lingering fears: "They have shot at us, they have firebombed us, and they have taken us to court. It's not a question of being scared; it's a question about what is at stake and what the liberties are for France, and for the rest of the world."
Je Suis Charlie was part funded by the Lecontes and Canal Plus, and will follow the French release with releases in Switzerland on January 6 and Germany and Austria on January 7. Pyramide is handling international sales, and is also the French distributor. Cartoonist Corinne 'Coco' Rey designed the film poster.