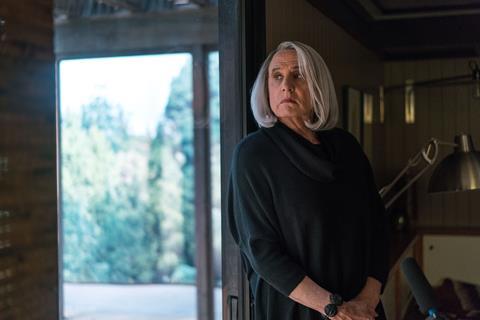 Award-winning actor Jeffrey Tambor, who enjoyed success with The Larry Sanders Show and Arrested Development, has seen his career soar even higher with his portrayal of transgender woman Maura Pfefferman on the Amazon series Transparent, which enters its fourth season on September 22.
Tambor has once again been nominated for an Emmy for the role that has already earned him two Emmys and one Golden Globe.
His casting was one of the first decisions made on the show created by Jill Soloway and produced by Amazon Studios and Picrow.
The selection of a straight actor to play a transgender character initially sparked a backlash from the transgender community. Since then, Tambor says, he has been told he is an ally.
The actor talks to Elbert Wyche about Trump's America, how he discovered the role that has garnered him back-to-back Emmy wins, and the effect the show has had on the transgender community.
How did the role come to you and what made you say yes?
I literally got off of a plane coming to do a talk show called The Talk. My agent told me about a role someone was interested in me for, for a show called Transparent. I got into the car and was about eight pages in when I said, 'I'm in.' I met Jill Soloway the following day and poor Jill couldn't get a word in edgewise. I had not read anything quite like that; so authentic, so beautiful. I was aware of Jill and her movie Afternoon Delight, and I loved the way she directs and her writing. Basically, I threw myself at her.
What was it about those first eight pages that grabbed you?
There was something about the family that told me she got it right. They sound right. I'm a Jewish boy from San Francisco, the son of Barney and Eileen Tambor, and I thought it sounded like a west coast Jewish family. You go on gut, and my gut repeatedly told me to follow this.
How do you decide what projects you want to take on?
I've been very lucky. I have a nice trifecta, The Larry Sanders Show, then Arrested Development and now Transparent. There's just something in your gut. The best piece of advice I ever got was work with people who get you and who you get. When you get that feeling you gotta go. This is what I've always wanted to do as an actor. I believe in comedy. I think it's healthy, I think it's vital, I think it's Darwinian and all three shows that I'm talking about are satires. And I think you're better after watching this. You're certainly better after watching Transparent. People come up to me and they talk to me about their families and their life. So, we're hitting people on some level.
What evidence have you seen that Transparent has had an effect specifically on the trans community?
I've been told, yes. I'm an ally. In the last two seasons I've had the opportunity to teach an acting workshop at the LGBT centre here in Los Angeles. The level of transgender talent in this town is remarkable. I get good feedback, and people thanking me. More to the point, extolling the virtues of the show. I also get parents telling me how the show has helped them with problem-solving in their homes. So, I think we're doing something. I think people trust us; that we're not didactically wagging our finger. I think these are accurate representations of people who are trying to find authentic lives. That's not to say I won't get the odd tweet where somebody will say something nasty, but it's minor.
When did you feel that the initial backlash over your hiring died down, and that the audience fully accepted you in the role?
I'm the actor who stood up there and said I would be happy to be the last cisgender actor to take on a transgender role. You can't get more basic than that. We just had a viewing the other day and everything is very positive. There were a couple of people who took me to task and I listened to them and I understood it. I'm sure there's some of that still going on, but that's fine. As long as there's a discussion. That's all I want. I want it on the table. I'm an ally, and ally implies action. Were that casting to take place now, I don't know that it would happen. But, it took place four years ago and I think the casting is genuine and it's changed my life.
The cast and crew issued a statement opposing president Trump's transgender military ban back in July. Did that moment unify the cast even more than you all already were?
There wouldn't be a question about it. Why wouldn't we unify over such a thing? I will tell you that it has emboldened me to go to work. It makes me have more pride in Season Four. For me it's, 'You said that, now we're going to say this.' I couldn't be more proud.
What interests you when you're not working?
I just wrote a book, Are You Anybody?, and that almost killed me. I would have to say, I have four little ones at home – ages 12,10 and two seven-year-olds. They not only interest me, they consume me.
Will the events in Season Four of Transparent directly address some of the current political discourse?
There's no doubt that the Pfeffermans are living in 2017. Let me say this: the Pfeffermans all witnessed the election. It's not the top layer, but it is in there. I think it's in every show right now. I can tell when people are driving, everybody's under this. It's just the subtext of being alive right now.