Screen spoke to the British uber-producer about 46 years of Cannes adventures.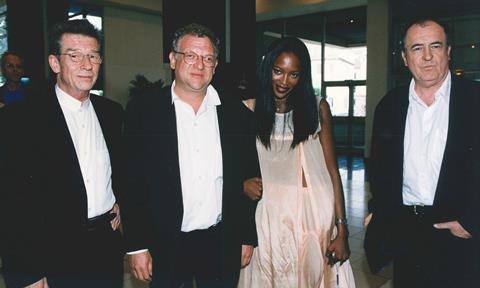 Few living producers are more synonymous with the world's most revered festival than Jeremy Thomas, Oscar-winning producer of The Last Emperor, who has screened 15 films in Official Selection.
"I have a magnet pulling me there," beams the Recorded Picture Company founder, who first attended in 1971 when he was just 21.
Almost 40 years since he met his Merry Christmas Mr Lawrence director Nagisa Oshima at the festival, Thomas is back on the Croisette alongside another Japanese filmmaker: Takashi Miike, whose Blade Of The Immortal screens out of Competition.
Indeed, he wouldn't be anywhere else, having driven to the festival every year since he first fell in love with it, only missing an edition for the birth of this son or when one of his films has been shooting.
"I went to my first Cannes in a mini, paying my way with borrowed money and credit cards," he recalls. "I saw on that first visit to Cannes that it was to be something very important to me. I wanted to be a part of it."
"When in the mid-70s I attended with a film I had edited we took the reels down in the back of the mini and we spent our time trying to raise money for the next film."
"By then I was beginning to understand Cannes, that it was a place where cinema could breathe."
"What some people still don't understand about the festival is that it is first and foremost a French film festival", he urges, "in the same way that Berlin is a German film festival and Venice is an Italian film festival. Each festival reflects its own national culture and what cinema means to that culture. France has very specific tastes and has very specific qualities and ideas about cinema."
But Thomas, who heralds from British film lineage, knows that as much as it is a celebration of art and aesthetics, Cannes also hosts its fair share of fakery.
"Cutting through the noise is a craft," says the HanWay Films founder with seriousness. "You have to be disciplined. There are many casualties in Cannes; it's a very easy place to party too hard, for example. The best salesmen are down on the Croisette at six in the morning and in bed at 10pm."
Thomas himself has been caught in the Croisette cross hairs. Twice he was at the centre of jury infamy, first when he sat on the fiesty 1987 Competition jury, which contentiously awarded the Palme d'Or to Maurice Pialat's booed Under The Sun Of Satan.
"It was very bad," recalls Thomas, whose fellow jurors included Russian maverick Elem Klimov, auteur directors Jerzy Skolimowski and Norman Mailer.
"People were very passionate about it. Not one of those jury members was a pushover. Klimov was very tough."
In 1996, Thomas found himself in the eye of another storm when David Cronenberg's Crash, on which he was an executive-producer, caused a major stir.
Jury president Francis Ford Coppola made his disapproval of the film public, and UK critic Alexander Walker stomped out of the film's press conference before describing it as "beyond the bounds of depravity" in the headline of his UK newspaper column. The film was subsequently banned by the London borough of Westminster.
"I've been eaten up and spat out," says Thomas, who cites the critical savaging of the Johnny Depp-directed The Brave as another challenging moment.
But for the uber-producer – who once got a film fully financed at the stroke of a pen at the festival (Francis Bouygues signed a $40m cheque for Thomas and Bernardo Bertolucci's Little Buddha there and then) - the highs have outduelled the lows.
Thomas long ago graduated from minis and seedy hotels on the outskirts of the town to faster vehicles and a long-time suite at the Carlton, passed on to him by the renowned French businessman and producer Serge Silberman, known for his collaborations with Luis Bunuel and Akira Kurosawa.
Ultimately it is the movies which are most memorable, however.
"I remember seeing Breaking The Waves and just being absolutely blown away by the film. Dead Man was another. There's no more powerful screening in the world than a Palais screening".
If "giant figures" such as Oshima, Kurosawa, Godard and Satyajit Ray are among the auteurs of yesteryear that Thomas remembers most fondly, Tarantino and the Coens are among those he cites as still capable of delivering that "great cinematic event" at the festival, where for all its vulgar trappings, the importance and magic still endure.
"If you're in the business, you've got to be there," he concludes, "and you need to respect the real affection for rigorousness and selectivity about films, which is uniquely Cannes. It's something unattainable. You can't buy it."