Inspired by his time as a wedding photographer, Nadav Lapid has transformed the complex feelings he has about love, intimacy and marriage into a 40-minute feature. Melanie Goodfellow reports.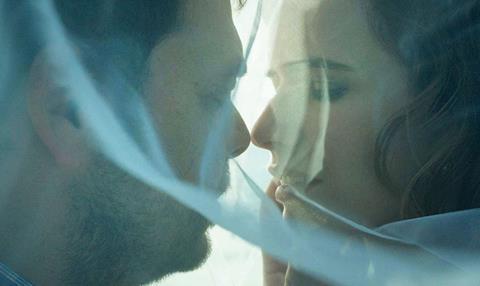 From The Diary Of A Wedding Photographer has its roots in Nadav Lapid's experience supplementing his income while a student at Sam Spiegel Film & Television School in Jerusalem.
Showcased at Jerusalem Film Festival on July 8 as a special screening, the medium-length dark comedy-drama made its world premiere in Critics' Week at Cannes in May, and won plaudits for its portrayal of a jaded wedding photographer as he captures the big day of two couples against the backdrop of the dunes and Roman ruins in the coastal town of Caesarea.
Behind the facade of the romantic beach setting, beautiful brides in white dresses and grooms in smart suits, all is not well as neither bride really wants to tie the knot. The photographer, himself grappling with concepts of love and intimacy, becomes a disruptive, subversive — murderous even — third wheel.
"He is supposed to be 'eternalising' the love of the couple but ends up deconstructing it," says Lapid of his protagonist. "The camera glorifies and de-glorifies their love. At the same time, the photographer is also haunted by inner desires and doubts and a longing for a certain intimacy."
Ohad Knoller, best known internationally for his performance in Yossi & Jagger, about two soldiers who fall in love while stationed on the border with Lebanon, plays the photographer opposite rising actors Naama Preis and Alin Levy. The latter is a former reality TV star now carving out a career on the big screen.
Shunning labels
France's Cahiers Du Cinéma called From The Diary Of A Wedding Photographer "the most-impossible-to-classify film" in Cannes this year. Lapid relishes this response: "People were laughing, then they would stop laughing, or laugh and not know why. A lot of people were shaken. I like the fact people came out with things digging into their minds and souls without being able to pinpoint what exactly."
The film is inspired by Lapid's questioning of the symbolism and meaning of weddings, provoked by his own experiences behind the camera capturing couples as they celebrated their marriage.
"I shot something like 600 to 700 films over a three-and-a-half year period. It was intense," he recalls. "In the beginning it wasn't so bad, but over time I began to develop a horrible aversion and hostility to this ceremony, and I couldn't distinguish between the couples and the weddings.
"The only way I could shoot a wedding was by downing four or five whiskies. That's one advantage of weddings, there's always a free open bar. I developed my own ritual… as soon as the official ceremony was completed, I would rush to the bar."
A decade later, From The Diary Of A Wedding Photographer is "a declaration of war against the industry of love and the institutionalisation of love", according to Lapid. At the same time it explores "love, intimacy, loneliness and anti-loneliness", he explains.
Running to just 40 minutes, From The Diary Of A Wedding Photographer is a low-budget production that was conceived and shot over an 18-month period. Lapid and producer Osnat Handelsman-Keren of Tel Aviv-based Pie Films, who also produced Lapid's The Kindergarten Teacher, decided to pull together the medium-length work while the director waited for finance to come through on his next feature-length project.
"Making movies has become a long and institutional process. The idea of doing something more spontaneous like this appealed to me," says Lapid. "It's the closest I could get to being a rock star in the sense you have an idea and a year later you're on stage with your new song.
"I even like the idea that commercially it has a problematic duration. For me, it was like a short novel, a reflection, a poem… although it looks like the process was very quick, I guess I've actually been preparing for this movie half my life."
His new project has the working title Micro Robert and is about a young Israeli man getting to grips with life in Paris. Casting has begun, with shooting set to start next year. Paris-based Les Films des Tournelles is producing.