Tom Grater talks to Ariel Richter, the festival's new director of Israeli competitions and industry days.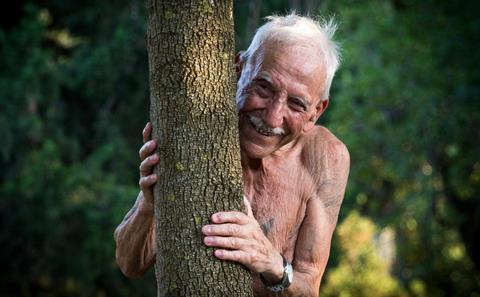 This year's crop of short films playing in competition in Jerusalem range from the story of an 18-year-old Jewish boy who mysteriously turns into an Arab overnight to an artistic depiction of a family of donkeys making their way through the Arava desert.
The level of submissions this year may be slightly down on 2016's bumper figure of 220, but the significant number (202) still represents a hike on the years before the festival became a gateway to the Academy Awards.
This is the third year that the overall winner from the Jerusalem shorts programme will automatically be entered into consideration for the Oscar shorlist, and the festival's new director of Israeli competitions and industry days, Ariel Richter, believes this has helped to attract a higher quality of films.
"A lot of Israeli filmmakers now realise that attending the Oscars with a short film isn't impossible," says Richter, who is programming his first year at the festival after taking over from Erez Barenholtz.
Richter himself produced short documentary The Mute's House (Beit Ha'Ilemet), which last October reached the Oscar shortlist of 10, but missed out on a nomination.
That followed Israeli live-action short Aya, which was Oscar-nominated in 2015.
"A lot of people want to submit to Jerusalem because of those films," says Richter, who also highlights that the country's national film bodies are putting more support into short films. "The film funds realise there's an advantage in supporting short films, particularly from independent directors who already have names in international communities."
Shorts are also an important gateway for emerging filmmakers, says Richter. "Israeli filmmakers are very well practised in the art of short films," he says. "It's very hard to get feature films made in a country like Israel, but they are given the opportunity by the film funds and by private investors to keep practising their craft by making shorts."
Short support
One example of this approach is David Volach, whose feature drama My Father My Lord won a jury award at the 2007 Tribeca Film Festival. He hasn't made a feature since, but in Jerusalem is presenting a new short film, Donkeys In The Holy Land, a conceptual film depicting a family of donkeys making their way through the desert.
The increased importance of shorts to jobbing Israeli filmmakers is represented in the make-up of this year's 20-strong selection, which features seven films from independent sources (ie, not from the country's film schools), up one from last year.
The shorts selection in Jerusalem is once again impressively representative gender-wise, belying the trend of male-directed films dominating festival programmes across the globe. Last year, female directors made for a majority of the competition, and this year nine of the 20 titles are from women filmmakers.
Subjects explored in the crop of shorts include a documentary portrait of a 92-year-old Second World War veteran, the story of a teen confronted with his father's homosexuality and an animated look at the life of an elementary school pupil in Israel.
With no deliberate overarching theme to this year's selection, Richter notes that he and his programming team were focused on "films that tell a good story and have a good structure" which also cover "as wide a span of social and filmmaking variety" as possible.
Last year's festival awards for the short film competition were also dominated by women, with three of the four prizes going to female directors, including Alamork Marsha Davidian, who scooped the strand's top prize, the Van Leer award, for Facing The Wall.
This year, the number of awards has been scaled back to three (there will be no director award). The prize for the live-action short award winner has been doubled to $5,700 (ils20,000), while awards for the best short documentary and best short animation will each be worth ils10,000 ($2,900), up from $2,300 (ils8,000) last year.
The wider festival will also once again include screenings of this year's Oscar live-action and animation shorts nominees, as well as the 2016 European Film Academy short film award nominees.
ISRAELI SHORT FILM COMPETITION 2017
Portrait Of My Family In My Thirteenth Year (16 mins)
Dir Omri Dekel-Kadosh,
Sam Spiegel Film & Television School
Omri is trying to direct a scene recreating the day his dog died. The attempt becomes complicated when Omri's father remembers the events differently.
Keren Or (A Ray Of Light) (30 mins)
Dir Lihi Sabag,
Ma'aleh School of Television, Film & the Arts
Teenage Michal is a single mother raising her baby daughter, Keren-Or. She wrestles with insurmountable obstacles in an effort to provide a good life for her child.
Omar (13 mins)
Dirs Noa Gottesman and Asaf Schwartz, Steve Tisch School of Film & Television
Eighteen-year-old Omer wakes up one day with a thick beard and discovers that he has turned into Omar, an Arab. This impossible situation forces Omar to keep his new identity undercover.
Clal (5 mins)
Dir Mor Messeri,
Bezalel Academy of Arts & Design
A woman walks into the Clal Center building in Jerusalem in search of a toilet; there, a series of encounters sweep her into an awakening experience.
The Unknown Soldier (8 mins)
Dir Efim Garboy,
Steve Tisch School of Film & Television
An intimate investigation of Second World War Soviet veteran, 92-year-old Newsak Weis, or as he prefers just Uncle Nusya. The mission is to discover a real person under the armour of medals.
Out (18 mins)
Dir Uri Shachter, Sapir Academic College
The identity of a young teenager is compromised by the announcement of his father's homosexuality.
Donkeys In The Holy Land (5 mins)
Dir David Volach, Golden Cinema Production
A family of donkeys makes its way through the Arava desert. But they are not alone.
The Bride's Tree (18 mins)
Dir Shadi Habib Allah,
Sam Spiegel Film & Television School
A 12-year-old boy is put in charge of watching over a 400-year-old tree. Life in the village unfolds beneath the tree, where the reality of living close to the Separation Wall is mixed with stories of loss and love.
The Caregiver (12 mins)
Dir Ruthy Pribar, Goecha La Films
After a short home-leave in India, Raj returns to his 85-year-old employer only to find out he's been replaced by a Filipina caregiver named Joy. But Raj won't back down without a fight.
Block 13 (25 mins)
Dir Ofir Peretz,
Steve Tisch School of Film & Television
On Yom Kippur eve, the holiest night of the Hebrew year, a religious Jewish boy sets out on a journey to restore his waning faith in God.
The Revolution (14 mins)
Dir Daniel Susz, Minshar School for Art
Rebellious rich kid Tubi is getting ready to host a neighbourhood meet-up with his idol, a socialist politician. When his father tries to take over the event, Tubi must hit the streets and win over the community's support.
Nothing Happens (12 mins)
Dirs Uri and Michelle Kranot,
Tin Drum Animation
Nothing Happens offers a new way of looking. It is about spectatorship – about watching and being watched.
Everlasting Mom (14 mins)
Dir Elinor Nechemya, Grisha Films
A daughter's fantasy of her mother, elusively portrayed at her own magical house and garden.
Shmama (20 mins)
Dir Miki Polonski, KM Productions
Leah works as a hotel maid during the day while Meital, her daughter, sings in the hotel's lobby at night. They live trapped in their relationship, surrounded by the Dead Sea.
One More Experiment (15 mins)
Dir Sergey Vlasov, independent
In the near future, when all actors are computer-animated and human actors are unemployed, an ageing actor comes to a booth where a computer directs his monologue reading.
A Perfect Day For Swimming (21 mins)
Dir Shira Porat,
Steve Tisch School of Film & Television
A story of separation between a mother and her beloved daughter, who leaves the familial home to move in with her new boyfriend.
Hadarim (5 mins)
Dir Shlomi Yosef,
Bezalel Academy of Arts & Design
This short experimental animated documentary depicts, through the eyes of a seven-year-old pupil, the strange and grotesque routine of elementary school in Israel.
Extraction (10 mins)
Dir Liron Barchat,
Sam Spiegel Film & Television School
Efrat goes to the dentist to undergo a tooth extraction. The appointment becomes unpredictable as she is swept into a fantasy.
Close The Shutters (5 mins)
Dir Ynon Lan,
Bezalel Academy of Arts & Design
A young man tries to hold on to the image of his sick grandfather by piecing together fragments of memories.
Stranger Of The Dunes (22 mins)
Dir Tamar Baruch,
Golden Cinema Production
An Eritrean refugee emerges from the desert to a small rural community in the Arava region. He yearns to belong but holds on to the memory of the lover he left behind.