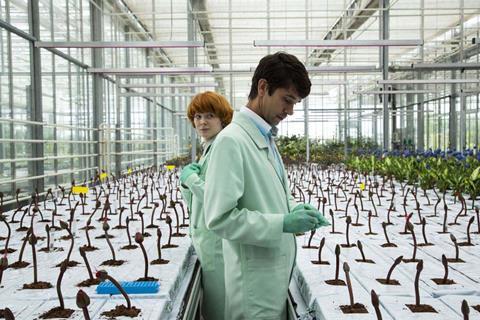 Inspired by Frankenstein and The Stepford Wives, Austrian director Jessica Hausner was interested in making a film probing the ambiguity of science. "Humans have always made inventions and every invention has been a threat because it was new," she explains. "That's what we do, we go one step further and we think we can improve everything but then we find out we did not improve anything!"
Hausner laughs at this and promises there is a lot of comedy in her fifth feature Little Joe, her first to screen in Competition after three of her previous films (Amour Fou, Hotel and Lovely Rita) were selected for Un Certain Regard. (Lourdes screened at Venice.) Emily Beecham plays a scientist who creates a genetically-engineered plant that seems to cause changes in other living creatures. Ben Whishaw co-stars.
Little Joe is the first English-language film for the German-speaking director. "For me genre films are English-speaking films," she explains. "And this film plays with genre, the psycho-thriller, the mystery thriller. In English, the sentences can be very short but still very precise, very simple and subtle. German, for example, is a very complicated language."
Writing with Geraldine Bajard with whom she has worked on all her films since Lourdes, Hausner wrote most of the script first in German, apart from some English dialogue, and it was then translated into English. She says she embraced any sense of dislocation she may have felt from not working in her native language.
"During the shooting I tried to imagine it was not my film and I was just a spectator in the cinema and what would I think of it?" she reveals. "It helped me to find a more distant point of view."
Hausner is a director who likes to do a lot of takes. "Everything is choreographed very precisely, the movement of the camera, the movement of the actors, the rhythm," she says of how she works on set. "Everything has a strong, even slightly artificial style. We shoot a lot until everything is perfect, like a dance. What I need is actors who stay with their natural impulse [as] there has to be some tension, they have to hold against it. At some point you think you lose your authenticity but at some point you gain it back and that's the interesting point."
Hausner produced the film through her Vienna-based Coop 99 with regular partner Philippe Bober of Germany's Essential Filmroduktion. (Bober's Coproduction Office is handling world rights.) They contacted a few people they knew in the UK with whom to partner. "Bertrand Faivre [of The Bureau] was among the first to answer immediately. He knew my previous films and he knew what he was buying. It was an arthouse film, not a super-commercial film."
Now Hausner has to get through the premiere. "I cannot say I look forward to it. It's like being naked," she admits. "The first time in the cinema with an audience you don't know is the first moment I can see if the film works, if it's fluent, if it's interesting.
She once did change a film after its premiere. "With Hotel we changed the ending after its premiere in Cannes. It's after that I started to work with Geraldine as I thought I have to improve my method of letting the audience in. That's not easy to do."