UK actor recalls fighting ex-cons during intense film shoot.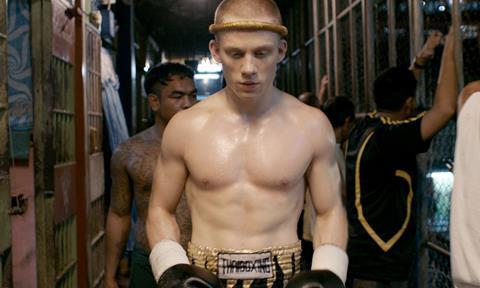 The year 2017 could be Joe Cole's breakthrough in film.
The UK actor has made a name for himself in TV with a role in the long-running BBC series Peaky Blinders, as well as having parts in the Chiwetel Ejiofor-starring crime thriller remake Secret In Their Eyes and Jeremy Saulnier's Green Room.
This year, he stars alongside Kirstin Dunst in thriller Woodshock, has a role in Dreamworks' PTSD drama Thank You For Your Service, and leads Kim Nguyen's drone drama Eye On Juliet.
While a combination of all of those roles are likely to see Cole catapulted further into the mainstream, the part that has him the most excited is his lead role in Jean-Stéphane Sauvaire's Muay Thai boxing film A Prayer Before Dawn, which premieres today (May 19) in Cannes as a Midnight Screening.
"The story was incredible, but the main thing was Jean-Stéphane [Sauvaire]," recalls the actor on taking up the role. "He wanted authenticity. He didn't want any actors aside from me, he wanted guys who had spent many years in jail, who knew the inside of a prison better than the inside of their homes."
The low-budget, guerrilla-style shoot took place largely in an abandoned prison in Thailand. Cole found himself working alongside a cohort of ex-cons – as well as Thai actor Vithaya Pansringarm who has credits including Only God Forgives – many of whom had been locked up for serious offences. "One guy killed three people, he became a champion Muay Thai fighter in prison and subsequently got an early release," says Cole.
The nature of the filming, which involved brutally long takes and 18-hour days, combined with the low budget meant that there was little escaping authenticity. "Every punch and kick had to connected. You don't get stunt doubles, you don't get time to rehearse," reveals Cole.
The final sequence was shot in a real working prison in front of 2,500 inmates. "They put a boxing ring in the middle of the prison and I had to go toe-to-toe with a pro Thai boxer. It was a case of knocking seven shades of shit out of each other and just hoping that you wouldn't get knocked out," reveals Cole, who says he feels privileged to have been through such an unusual shoot, "99.9% of actors wont experience what I got to experience."
"I don't think it would have passed the board of control in the UK and the US, but it was a ride," Cole jokes.
Looking forward, Cole, who has to-date been very selective of the roles he takes on, intends to keep things that way. "I want to do diverse, challenging projects that I can immerse myself in. Otherwise, I'm quite happy to potter around South London and work on my own materials," comments Cole, who notes that he wants to branch out into working on his own projects in the future.
While he is currently filming season five of Peaky Blinders, Cole reveals that his preference is to do more cinema, "I prefer films. The reason being that there's more opportunity for creativity through acting and directing. TV is a writers' medium, there's less opportunity to go different ways with it."
HanWay has international rights to A Prayer Before Dawn, A24 will distribute in the US and Altitude will distribute in the UK.