Indonesian filmmaker Joko Anwar on his new film A Copy Of My Mind.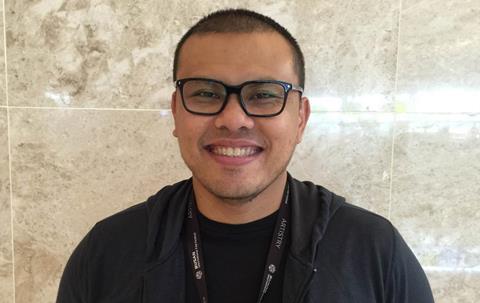 In recent years, Indonesian filmmaker Joko Anwar has been known for mind-bending thrillers and horror films such as The Forbidden Door (2009) and Modus Anamoli (2012). But he's returned to romance and even veers into political drama with A Copy Of My Mind, which premiered in Venice and plays in Busan's A Window On Asian Cinema section.
Set in contemporary Jakarta, the film begins by tracing the love story between a young woman working as a beautician and a young man who subtitles pirate DVDs for a living, including a collection of gay porn. They appear to have both found their soulmate, but when the woman steals a DVD from a client, they get mixed up in a case of political corruption that places them in serious danger. The young couple is played by actress Tara Basro, who also stars in Anwar's upcoming HBO series Halfworlds, and Chicco Jerikho, a big TV star in Indonesia who moved into films last year.
Anwar says he was inspired to make the film in January 2014 in the run-up to Indonesia's presidential elections. "The past three years have been a worrying period for Indonesia in terms of how polarised our people have become," Anwar explains. "It was made worse by the campaigns launched by some of the parties. It hurt the ability of Indonesians to think logically. It also crippled them, not just in the way they think about politics, but also in their day-to-day lives."
The election was held in July 2014, when Joko Widodo beat former general Prabowo Subianto at the polls, but Anwar says the backlash since the change of regime has been just as disturbing as the period before the election. With all this in mind, he wanted to make a film that could be regarded as a "time capsule" of contemporary Indonesia.
"I didn't want to make a statement – just lay down the facts," says Anwar. "The best way to involve the audience in this kind of story is to create interesting characters – and I thought it was relevant to portray people from a lower socio-economic background, because these are the people who suffer most when their leaders are corrupt. But these are also people who don't usually have any direct contact with political situations, so the next challenge was how to bring these two worlds together. That's why we've gone with an almost cinema verite style – it had to feel very realistic."
Anwar's production company Lo-Fi Flicks – co-founded with producers Tia Hasibuan and Uwie Balfas – shot the film on an ultra-low budget over 10 days, using private finance and the $10,000 prize money that Korea's CJ Entertainment awarded the project at Busan's Asian Project Market in 2014. CJ is also handling international sales on the project and looking at the possibility of a Korean release.
"We wanted to shoot quickly to retain the authenticity but we did extensive preparation," Anwar explains. "Tara would go into salons observing how they do their work, then I would film her while she was still in character and we'd review the footage together. I also did that with Chicco and the other cast. Then we started shooting very fast so it felt more organic. Some scenes were carefully scripted and for the others we improvised the dialogue."
When it came to locations, the production decided to shoot first and ask permission later. Although in the case of one major location – a pirate DVD store and factory – the crew filmed in secret and decided it was better not to ask. "Rumour has it that the cash running through that place is close to $500,000 every day, yet its next door to a police station, so there's also a rumour that they're paying off the police," Anwar says. "We got caught one day, but luckily the guy who grabbed me came from my village, so I talked to him in his language and he let me go."
The film is CJ's first in Indonesia, but won't be the last, as the Korean studio is moving into Bahasa-language production, in the same way it has entered local-language production in China, Thailand and Vietnam. Kini Kim, the company's executive vice president and head of international sales & distribution, says that the Indonesian film market reminds him of Korea when the local industry started to boom in the late 1990s.
"We see parallels between Joko and Bong Joon-ho – he also started out with arthouse films but has a commercial sensibility," says Kim. "Actually, we don't want to make distinctions between arthouse and commercial. We just want to discover good filmmakers and good stories and help them to flourish."
CJ already has several other Indonesian films from other directors lined up and is talking to Anwar and his partners in Lo-Fi Flicks about future projects. There will be plenty to choose from – Anwar is planning a "Copy" trilogy, with installments entitled A Copy Of My Soul and A Copy Of My Heart. He is also developing an action drama Eksekutors, about young people killing off politicians "in a fun way". "We also want to produce work from new filmmakers," says Anwar. "The idea is to produce quality films that audiences really want to see."