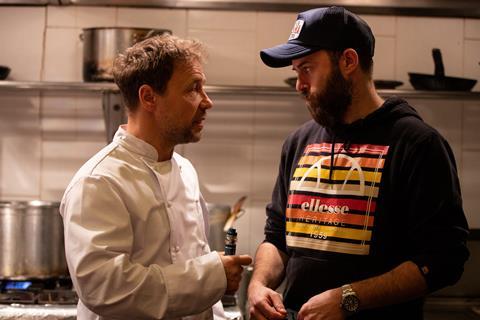 Philip Barantini's Boiling Point is based on a 2019 BIFA-nominated short, with both versions starring Stephen Graham and shot in one take. The feature will world premiere in the International Competition of this year's Karlovy Vary film festival (August 20-28).
Graham plays a head chef during a busy and eventful service at his restaurant, with Jason Flemyng, Vinette Robinson, Ray Panthaki and Hannah Walters co-starring. It is produced by Hester Ruoff's Burton Fox Films and Bart Ruspoli's Ascendant Films. Paris-based sales agent Charades are handling sales. The film will be released in the UK via Vertigo on November 19.
Barantini began his career as an actor, appearing in Band Of Brothers, Ned Kelly and – most recently – Chernobyl. Moving into directing and writing, he made several shorts before his 2020 feature debut, crime drama Villain starring Craig Fairbrass and Robert Glenister. He will make his debut as a TV director with forthcoming BBC drama The Responder starring Martin Freeman
How did Boiling Point develop?
Philip Barantini: I'd had the idea to set something in the world of hospitality for a long time, especially in a restaurant kitchen. It's an area that's incredibly ripe for exploration. So many different types of people work in these places, and so many more travel through and use them. I sat with that as an ambition for a while, and as I moved into directing it suddenly felt possible. [Boiling Point co-writer] James Cummings and I had wanted to write something together for a while, and very quickly worked out the bones of the story.
Had you previous personal experience of the restaurant world?
As much as I wanted to live off my acting career, it wasn't quite enough and I needed to earn a living on the side. So, for 12 years I worked in kitchens, up from the bottom to being a head chef. Along that way I personally witnessed the sorts of people and situations and drama you see in our movie, and really a whole lot more than that. So, when you're looking at our characters, a lot of the time you're seeing a sort of amalgamation of people I personally knew, or even parts of myself and how I felt working in that industry.
How did the short morph into feature?
It was part of the strategy from the beginning that the short film would serve as a sort of springboard into a feature version. We had thrown the idea around of starting the feature with the short, and then diving into the head chef's recovery, but that never really clicked with all of us. Then, in the middle of shooting my first feature – Villain – I literally sat up in bed, my mind racing: I realised we should do this in one take.
This offered the opportunity to flesh out characters we didn't get to really see in the short, where the camera never leaves Stephen. But here, we both really wanted to explore other slices of life in the restaurant, like injecting a bit of history between the head and sous chef, to go into the different sort of world you get in the front of house, and ultimately to test our head chef in ways we couldn't before. To do this, switching character focus meant that all camera movements needed to be motivated by actions on screen; the camera was never allowed to float off on its own.
We'd had some pushback from our finance options about the decision to write the feature as we did the short – with room left for improvisation of the dialogue in workshops. Bart Ruspoli, who also produced Villain, had confidence in my vision and had our backs through the whole process, pushing us to write in our own style. After Hester Ruoff also came aboard as a producer, all the wheels were in motion.
What were the technical challenges of shooting in one take?
I looked at the list of one-shot features and at the time it was less than 30 films long in the history of cinema, which makes you think: "Okay this has got to be really hard or really stupid, right?" But thinking about the film as doing the 20-minute short just over four times in a row, it felt doable.
In the short, Matthew [Lewis, cinematographer] had an easy-rig on his back and held the camera out front, but we couldn't do that for a 90-minute feature because it was just too heavy. So, we partnered up with Canning24, and they came up with this setup where they mounted the body of a Sony Venice on the back of an easy rig, with the lens and sensor hanging down in front to distribute the weight better. It meant we really could do the entire film in one go.
Additionally, the location really defined the film. We spent a while looking for that. Eventually, we went with Jones & Sons in Dalston as they really allowed us the flexibility to make the film we wanted there. We toyed with the idea of changing the signage of the restaurant, but as the owner of the place – Andy Jones – is one of my closest friends, we decided to name Stephen's character after him instead.
Can you expand a little more on the casting of Stephen Graham?
I've known Stephen since we met on Band Of Brothers all those years ago. He is perfect for Andy. The pain he could bring to the character… he's just a master of realism. We had talked about Andy and the world he lives in and immediately Stephen was incredibly excited and he got it straight away. He could barely boil an egg at the start, but we had some of the best chefs in the country show him the ropes, at least on the dishes he'd be making on screen.
As much as Boiling Point is a character study of a man under pressure, it's also a snapshot of modern London life.
I was very conscious of the way we were presenting London and that it needed to feel authentic. That mix of people from all walks of life was really a reflection of how things are when you step into a restaurant in London. It IS diverse, and that needed to feel true and real – it's part of why our workshop approach with the cast was so important, as it allowed each individual actor to bring something from their own experiences to these characters.
As a white male director, I personally feel a duty to tell diverse stories like this as that movement needs to come from everyone and everywhere. It's what I want to be doing on all my future films. My production company, Three Little Birds – founded with Sara Sehdev and Samantha Beddoe – along with Stephen [Graham] and Hannah [Walters'] company, Matriarch, are both dedicated to this idea.
Are you excited about the film being seen by a live audience in Karlovy Vary, especially after the events of the past year?
As we finished filming in March 2020, and faced being shut down halfway through filming due to the lockdown, I've felt this anticipation for what feels like forever now. We had our cast and crew screening in August 2020, but only now are cinemas ready to have us again.