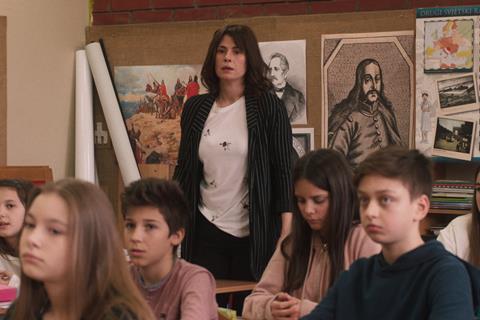 Set to have its World Premiere in International Competition at the 55th edition of the Karlovy Vary film festival (August 20-28), Croatian feature The Staffroom focuses on the social dynamics of the staff of an ordinary school. It follows Anamarija (Marina Redžepovic), who starts a new job as a school counsellor only to find herself caught up in world of petty cliques and power struggles between both teachers and parents.
The Staffroom sees Croatian filmmaker Sonja Tarokić make her debut feature after a number of shorts including On Shaky Ground (2014) which screened at Rotterdam and won best Croatian short at the Zagreb Film Festival.
The film is produced by Zagreb-based outfit Kinorama, who previously co-produced this year's Berlinale Golden Bear winner Bad Luck Banging Or Loony Porn. The associate producer is France's KinoElektron, with New Europe Film Sales handling sales.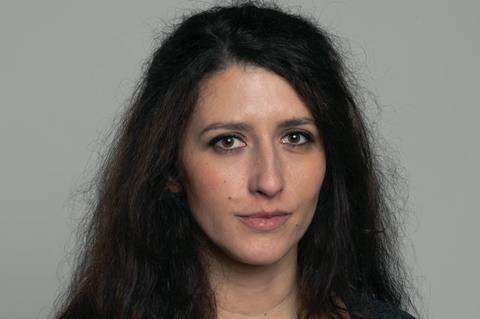 Why did you decide to concentrate on the relationships between the staff, rather than pupils?
Sonja Tarokić: I don't think I've ever seen another film that had this kind of focus. Every story that uses the educational system as the backdrop becomes immediately political in the greater sense, because it always portrays some kind of a social paradigm. I had this idea about focusing on the staffroom as a way to explore the deeper emotional turmoil that occurs when feeling stuck in any kind of a closed community.
Educational workers usually stay within the same school their entire lives, but unlike any other profession, their job has the bigger responsibility of transferring our values to the next generation. That is why I believed this story could translate as very universal, but at the same time bear the historical symbolism of an inherited defeatist attitude that has always surrounded me in my own life experiences.
Did you do lots of research into schools and the work of teachers?
I talked to a lot of people, read hundreds of pages on forums, and everywhere I looked the stories had the same themes underlining them: hierarchy problems, feelings of anxiety, and a sense that this world was too complex to decide on a singular opinion as the truest one, or to judge a certain problem just from one side. [After coming up with the story] I would meet with teachers and counsellors again and ask them very specific questions to work out the details of a certain scene, or a certain storyline.
Tell us about casting Marina Redžepovic and Nives Ivanković, who plays the school's headteacher and makes an engaging antagonist for Anamarij
I met Marina when I was 19 years old and she was a French Literature student who wanted to pursue acting. She soon became something of a muse for an entire generation as people loved her because of her vulnerability and humour. She had a lot of empathy for her characters, but also for the directors she worked with. We became great friends and made several short films together. This film was written for her, I knew she had this "big role" in her. She could definitely embody someone as naive and sweet, but also as warm and strong-minded as Anamarija.
On the other hand, Nives Ivanković is a famous actress in Croatia, someone I had a lot to learn from. She has very strong energy on screen and is one of the rare people who can portray true authority and even project fear. I really needed her for this role. But in real life, Nives is extremely funny and warm and somewhat of a femme-fatale.
Did you allow room for improvisation amongst the cast?
Actually, the film was quite rigidly structured. One of the hardest things of working on this script was to create a sense of nonchalant talking, and yet through that gradually create conflicts of quite distinct characters. We would carefully go through those nuances of reactions and smirks, and tried to do it with empathy and humour for every one of the characters. However, that's when improvisation actually kicked in, through rehearsals and repetitions, when our actors did something beautifully unexpected, or added their own flavour to the dialogue.
There are many ensemble scenes in this film and different actors work differently. Some of them could always jump in and create something extra. Nives is definitely the front-runner in this matter. She really knows her character inside and out, but for her all the improvisation needs to happen during rehearsals. Once we're on set, that's when everything needs to go smoothly. Others, on the other hand, need to act in the moment.
How difficult is it to get a debut feature film off the ground in your native Croatia?
It is always a matter of finances. No matter if it is a debut feature or not, we all need all the help we can get from outside sources. What happens with debut filmmakers is that we have the least amount of money and the highest expectations set for ourselves, because we all see it as this unique opportunity to get out there with our own film language we've been treasuring inside. That is why we call in all the favours on this first project, knowing the second feature will be that much harder to pull off.
But at the same time, on the national level, the Croatian Audiovisual Centre has done an incredible job for the past ten years of nurturing all of its film's developmental phases and helping young filmmakers attend international workshops.
What are you working on next?
I am drawn to personal stories of middle-class people and emotions that emerge from living within a certain community. What inspires me the most right now is the Croatian coast where people live between desert-like winters and horribly overcrowded summers catering to tourists. I want to write a personal revenge story of a woman trying to deal with her past and use this kind of life as the backdrop. But unlike The Staffroom where I portrayed the idea of a community as the greatest burden, I want to explore the way people can become each other's biggest allies in difficult times.