After more than a decade in Hollywood, Kate Beckinsale's return to a the UK indie scene with Love & Friendship has made her a contender.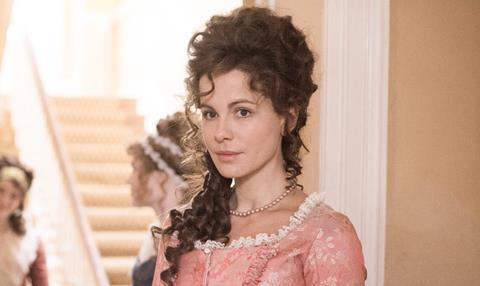 Kate Beckinsale sees Love & Friendship, Whit Stillman's adaptation of a Jane Austen novella in which she plays the devious, conniving and thoroughly likeable Lady Susan, as a return to her acting roots. It comes after a series of blockbuster roles in films including fantasy action series Underworld, sci-fi remake Total Recall and vampire thriller Van Helsing.
"I started in independent British film-making," she recalls. "When I began working outside of England, what I kept running into was, 'She's very British and delicate, she doesn't have much edge.'"
The actress remembers that Underworld, which grossed $95m worldwide in 2003, felt like "an extreme departure from my comfort zone", but the success of the series led her to be pigeonholed as a "female Jackie Chan", an experience she describes as a "schizophrenic feeling".
Despite this, Beckinsale is staunchly defensive of her career choices to date. She recently filmed the fourth entry in the Underworld franchise - Underworld: Blood Wars, set to be released in early 2017 - and she believes those films have had a positive impact on the industry. "When we were making the first Underworld, the only female action heroes were Sigourney Weaver and Linda Hamilton; there hadn't been one for a while. Now you have The Hunger Games etc. I feel like I had a small part in moving that dial," she says.
Returning to the UK indie scene with the adaptation of Austen's epistolary text Lady Susan, about a young widow seeking a suitably wealthy husband for her daughter, was, Beckinsale says, "a relief", adding that the film was more akin to what she "grew up doing".
Her first two film roles were in Shakespeare adaptations: Kenneth Branagh's Much Ado About Nothing and Gabriel Axel's Royal Deceit, a reworking of Hamlet. In 1998, Stillman cast the young actress in The Last Days Of Disco, his third film as a director, about a pair of 20-somethings living in Manhattan. She starred opposite Chloe Sevigny, who Stillman also brought to Love & Friendship.
Working on that film left a lasting impression on Beckinsale, who was impressed by the director's ability to create interesting female characters with real depth. "A man who has an appreciation for complicated women in the film industry is a golden unicorn," she comments dryly. "I've been lucky enough to hang out in the unicorn pasture twice; I want to make sure he doesn't go years between films again."
Attractive proposition
When Stillman approached Beckinsale with the script for Love & Friendship, after having her in mind when writing the screenplay, she instantly found the prospect appealing. "Whit is a master at writing difficult women that you're secretly rooting for, and that made me really want to do it," she says. "It's nice to play a character that has intelligence and wit; unfortunately those parts don't grow on trees for women."
There was, however, no denying the challenging nature of both the material and the shoot. Beckinsale notes that Lady Susan "was an incredibly dialogue-heavy role" and that the 26 days scheduled to shoot the movie "wasn't long at all".
The sheer length of the script would have been daunting, had it not been for the lyrical nature of Stillman's dialogue. "It's verbose but it's beautiful, it has to be sung," she says. "I had to let it unfold with its natural rhythm; it's required to be effortless and organic." An additional challenge was to be found in Stillman's reflexive directing style.
"Quite often you'd come into work in the morning and find that he'd jigsawed your speech into a totally different shape," she recalls, though she adds that Stillman "is amazing in the moment" and that his spontaneity represents his greatest strength as a film-maker.
After premiering at Sundance in January and being released by Curzon Artificial Eye in the UK in May - and in the US the following month by Amazon Studios - Love & Friendship has proven a hit, grossing more than $19m worldwide from a $2.9m production budget. Is this now an era in which female-driven comedies are perceived as bankable prospects? Beckinsale thinks so, although she has some reservations.
"The needle has moved," she says. "Bridesmaids was a watershed moment. But now everyone just wants to make female comedies that make tonnes of money, it's coming from a cynical perspective."
Beckinsale places belief in "well-made films that are well-acted and directed". But she thinks variety is the key to a healthy industry: "It's important that everybody is represented."