Revered in her native South Korea, Yuh-Jung Youn is earning accolades for her first US role in immigrant drama Minari. Jean Noh speaks to the actress about her 50-year screen career.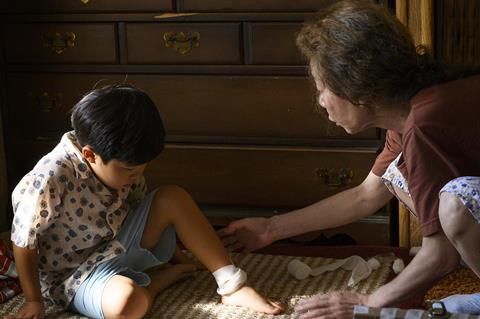 A film and television legend whose career spans more than five decades, actress Yuh-Jung Youn is a household name in South Korea, and has been seen in Cannes titles such as Im Sang-soo's The Housemaid (2010) and Hong Sangsoo's In Another Country (2012). But she made her US feature film debut only last year in Minari, director Lee Isaac Chung's Korean-American immigrant drama that won the US dramatic competition grand jury prize and audience award at Sundance 2020.
In Minari, Youn portrays an unconventional grandmother who doesn't cook, uses foul language with a wicked sense of humour, and seems indifferent to her grandchildren. But although her disgruntled grandson does not initially apprehend, she actually has a deeply perceptive love and understanding of them. Tipped for a busy awards season, Youn has already picked up the Los Angeles Film Critics Association's supporting actress prize and a nomination for best actress at the Gotham Awards among others.
She first met Korean-American director Chung at the 2018 Busan International Film Festival through a producer friend. Chung had brought students he was teaching at the University of Utah to the festival, where they wanted to have a Q&A with an actress who could speak with them in English. (Youn sighs at the memory of the language designation, although her English is proficient enough to conduct this interview predominantly in it, only making the occasional comment in her native Korean.)
"He asked about my first film, Woman Of Fire. I was shocked with his young age that he knew about the director and my movie and had actually watched it. I was very impressed," she says, referring to her 1971 film debut in director Kim Ki-young's twisted classic.
She won best actress accolades at Korea's top two awards ceremonies — the Blue Dragon and Grand Bell — as well as at the Sitges film festival for the title, and filmmakers such as Martin Scorsese and Bong Joon Ho have praised Kim's features including The Housemaid and Insect Woman (Youn's second film with the director) so perhaps it should not have been such a surprise. But in fact Chung's even younger students turned out to be more interested in asking about her reality cooking show, Youn's Kitchen, in which she goes with a small band of actors to run pop-up restaurants in unexpected places. She is currently working on the third season of the award-winning series.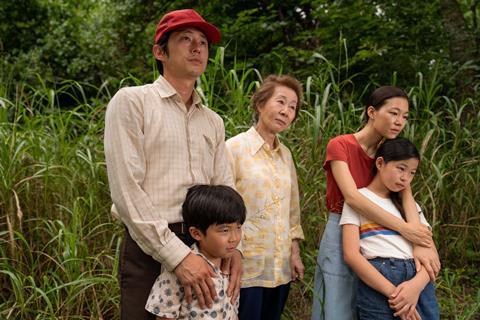 Later on, Youn was surprised to discover that as well as being a professor, Chung was also a filmmaker when the same friend who had introduced them sent her the script for Minari. In the middle of reading it, Youn phoned her to ask if it was based on Chung's life. Hearing the affirmative, she agreed to be in it. "Because it was very realistic to me and very touching. So I said, 'Okay, I'll do it.' Then later on [during the production], all the surprising, not-happy surprises came," she says, laughing.
Used to working on Korean sets where a certain level of consideration and respect are accorded to an actress of her seniority, Youn found herself scheduled for shooting straight through the first five days of the low-budget production. (The film is produced by Plan B Entertainment and distributed by A24 in the US.)
"On the first day, every set is just chaos because it's the first day and everything is not going right. The air conditioning went off the first day — in the middle of the summer in Tulsa, with the humidity!" she recalls. "And we were shooting with all of the crew in the trailer, and I was the first one [of the actors] to be on that first set in all that mess.
"So I told myself, 'Okay, I have to finish this part. I'm not going to say anything. I will just do it. There is no use to complain or discuss,'" she continues. "Maybe if I didn't like the director and had no respect for him, I could have said something [like], 'I don't need this movie.' But I didn't."
Chung had already earned an "A+" from Youn when they discussed her role. She was sure it was a portrait of his own grandmother, but he told her to "just play whatever you feel like" to make it her own. He got an "A++" from her when she saw how "very genuine and very calm" he was in the middle of the chaos of the first day and how "smart and wise" he was directing then-seven-year-old Alan Kim, who plays her grandson.
Wonder woman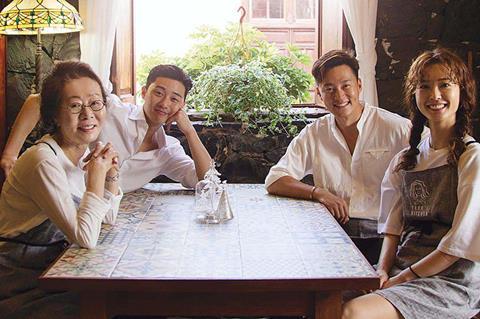 From her early days, Youn was noted for being a bright and diligent actress, able to quickly memorise and deliver pages of dialogue to the point that scriptwriters leaned heavily on her for productions that shot on tight turnarounds. A well-known story recounts that at one point while filming the popular 1990s TV series What Is Love, Youn was so sick the director wanted to send her home, but she was in every one of the 132 pages that needed to be shot that day. She got through them all in one take, with no mistakes, and promptly passed out.
While confirming the story, Youn protests she can't memorise lines the way she used to: "I'm 73 and a half!"
She started working part-time at Tongyang Broadcasting Company in 1966 as a freshman at Hanyang University in Seoul, majoring in Korean literature and loath to ask her single mother, a school nurse on a tight budget, for tuition. Her career took off quickly with awards, high-rated TV series and box-office hits, and she dropped out of college as her star soared. But before a decade was up, she prematurely retired when she moved to the US with fiancé Jo Young Nam, a popular singer at the time. They were married and had two sons there. Their divorce, after roughly a decade, was a catalyst for Youn.
"It affected me a lot," she says. "Getting a divorce with two children is not a pleasant thing. Of my lifetime experiences of tragic moments, my father passed away when I was 10. At the time, I didn't know it was very tragic because what would a child know? But this, it hit me badly. I was just [a shadow of] myself."
Youn returned to acting "to feed my two boys. My friends would say, 'You have such a big name, why do you have to take such a small part?' I've got to take it — I need to eat! So that experience made me a real actress," she says.
Youn has played roles in more than 80 TV series — including as a supporting character in the Wachowskis' Netflix series Sense8 — and nearly 30 features, picking up myriad awards along the way. "I like new or different things," she says. "And I'm brave enough to take a chance. That is why I accepted Minari as a challenge. And because nobody knows me in America, so I will start as a beginner."