Composer Justin Hurwitz and songwriting team Benj Pasek and Justin Paul describe the intense process of writing the music and songs of 'La La Land'.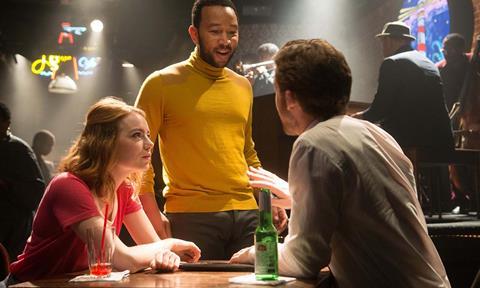 Music lies at the Technicolor heart of Damien Chazelle's dreamy, jazz-infused La La Land. The director worked with composer Justin Hurwitz to draft the music and melodies alongside the development of the script back in 2010, right after their first collaboration, the 2009 musical Guy And Madeline On A Park Bench, which Chazelle made as his thesis film at Harvard Film School.
"By early 2012, we had already written a lot of the music for La La Land, but we couldn't get it financed," says Hurwitz. "We were advised by producers it would be easier to make Whiplash first."
Following the success of the feature-film version at Sundance Film Festival in 2013 - Whiplash had begun life as a short film - the industry welcomed Chazelle, with producers and financiers asking what he was working on next.
"The timings were perfect," says Hurwitz (pictured with Gosling, below). "We had a script, we had producers, we had a whole package ready to go."
By 2014, the melodies were near finished after an intensive period during which Hurwitz would send hundreds of piano tracks to Chazelle, who whittled them down to 20 with a long list of notes, allowing the duo to next hire lyricists.
Thanks to a timely connection in which New York-based songwriters Pasek and Paul (Benj Pasek and Justin Paul) were convinced by their manager to "just happen to be in LA", a dinner was arranged with Chazelle and Hurwitz where they hit it off via their mutual love of musicals.
The Tony and Emmy-nominated songwriting team first penned the melancholy track City Of Stars, sung by Ryan Gosling's character Sebastian as he ponders his first date with Emma Stone's Mia.
The song is one of two from the La La Land soundtrack, along with Audition (The Fools Who Dream), nominated for an Oscar.
"We tried to capture the emotions Damien talked about when describing what he wanted the movie to look and feel like," says Pasek. "Luckily for us, it was a conversation Justin and Damien wanted us to continue."
The pair undertook a huge number of rewrites, requiring frequent trips back and forth to Los Angeles, with final sign-off often happening after "hashing it out" musically in a room with executive music producer Marius De Vries and Hurwitz. The songwriting process took approximately a year.
"We always try to serve what the characters are going through emotionally. That's our background from the world of theatre," Pasek explains.
"But unlike theatre, [in film] you can't get audience feedback and amend the lyrics after each performance," says Paul. "Also different for us was working solely on the lyrics rather than the music. That was dictated by Damien and Justin. In theatre, we are used to working from a blank canvas."
Hurwitz was concerned the duo would find this process constraining, but picks out their work as one of his biggest pleasures of the process.
"I was impressed how they had only several syllables to work with, but could write so much story," he says.
John Legend, who stars in La La Land as pop star Keith, contributed to the music and lyrics for up-tempo song Start A Fire. In a departure from the rest of the film's music, it was created in an informal environment where Legend, his writing partner Angelique Cinelu, De Vries and Hurwitz sat in a room with a piano, tried a few things, and within a few hours the song was recorded.
By the time filming was underway, most of Hurwitz, Pasek and Paul's work was complete.
But minor adjustments were made, such as working with choreographer Mandy Moore (whose credits include Silver Linings Playbook and American Hustle) to extend certain melodies, or tweaking the tempo as dance moves were either slower or faster when dictated by performing on a hill in the song A Lovely Night.
"A film composer typically only has to think about the music," says Hurwitz. "To also think about a musical number's physicality is another thing altogether."
When Gosling and Stone came to film their numbers, Pasek and Paul held their collective breath, unsure how the actors would bring their lyrics to life.
"We did our best to create these songs, but to see them enhanced in such a creative way, and then the brilliant interpretation Emma and Ryan brought to the songs, is beyond our wildest imagination," says Pasek.
Stone and Gosling sweated it out with Moore for eight weeks in choreography training, and both worked intensively with a vocalist, ultimately singing City Of Stars and Audition live on set to keep them in the moment.
Gosling's piano-playing was also authentic, with the actor spending six days a week in lessons.
"The work Ryan did learning to play piano is absurdly great. I can't get over it," says Hurwitz. "It was one of the surprises of the film to see how much he could accomplish."
He also credits Stone with her level of commitment to the acting, singing and dance training. "Both were spectacular."
College beginnings
Hurwitz and Chazelle met as roommates at Harvard in 2003. Guy And Madeline On A Park Bench, a docu-style feature, was a collaboration shot over three years at the university, and made using its resources, including the crew and 16mm cameras with black-and-white film stock.
Hurwitz scraped together a budget to go to Bratislava where he worked with the Bratislava Symphony Orchestra in scoring the entire film in just four hours (Eastern Europe is becoming the go-to place for filmmakers on a budget looking for accomplished musicians that are cheaper than in New York, Los Angeles or London).
Unsurprisingly, Hurwitz describes the process as daunting. But it also enhanced his passion for musicals and lush film scoring.
"The juxtaposition of the grounded with the fanciful," is how Hurwitz puts it.
At Harvard, Chazelle first showed Jacques Demy's The Umbrellas Of Cherbourg to Hurwitz. The film has played a major role in firing Hurwitz's musical passion, with the composer citing it as his most watched film of the past 10 years.
"The film has so much colour and is constructed of simple yet emotional stories," he says. "And the music - I adore his unforgettable melodies. He is one of the greatest orchestrators ever."
Hurwitz is a classically trained pianist, having begun his musical career aged just six.
But it was from Demy's films that he learned to marry improvised jazz sounds from rhythm instruments such as the piano, bass and drums with a large-scale orchestra. This technique can be heard in La La Land's score, recorded with Los Angeles-based musicians at Sony Studios, on the same stage where MGM's Singin' In The Rain was recorded.
"As brilliant as Damien is, Justin is on an almost different level of being a savant genius," says La La Land producer Fred Berger.
Hurwitz describes the experience as "a blast", but it also left him deprived of sleep - the preparation involved working with a 95-piece orchestra as well as a choir. Rather than record each section separately, which makes it easier for composers to edit, he decided to risk recording all the musical elements at the same time to give the score a more authentic feel.
"La La Land is a very romantic movie but there is also a sense of melancholy," says Hurwitz. "There is the exhilaration of love and there is haunting heartbreak, so all those shadings had to be realistically woven into it."