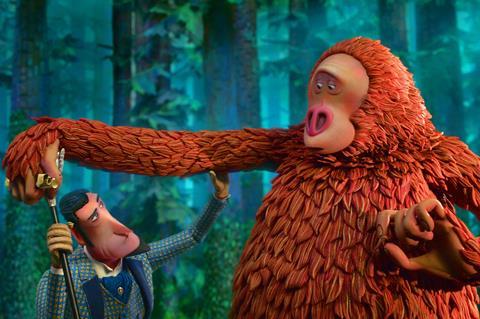 Two years of production in the bag and several months of post nearing an end, Missing Link writer-director Chris Butler, producer Arianne Sutner and the heads of department at Laika Studios are applying the finishing touches to the animation studio's fifth film ahead of the US launch on April 12 through United Artists Releasing.
The wizards at Travis Knight's captivating studio in Portland, Oregon, recently took a couple of days to show press around the place. President and CEO Knight was barely around during production as he was occupied with directing duties on Transformers spin-off Bumblebee, and for the first time it will not be Focus Features but United Artists Releasing that distributes the film in the US, yet an atmosphere of contentment and quiet industry pervades.
"It's definitely our most ambitious to date and biggest in scope," says Butler as he cues up 25 minutes of footage from the film, essentially a Victorian Era globe-trotting action-adventure that the British head of story at Laika (who directed Laika's 2012 release ParaNorman and shared an animation Oscar nod the following year) first thought up 15 years ago.
"I thought it could be cool to make an Indiana Jones in stop motion," he says. "It's a little bit Indiana Jones, a little big Sherlock Holmes, a little bit Ray Harryhausen." Scope is the name of the game on Missing Link, in which an eight-foot tall shaggy beast known as Link (voiced by Zach Galifianakis) stumbles out of the Pacific NorthWest and enlists the support of adventurer Sir Lionel Frost (Hugh Jackman) to travel to Shangri-La and find his yeti ancestors. Along the way they are aided and abetted by a vibrant cast of characters, among them Sir Lionel's feisty old flame, Adelina Fortnight (Zoe Saldana).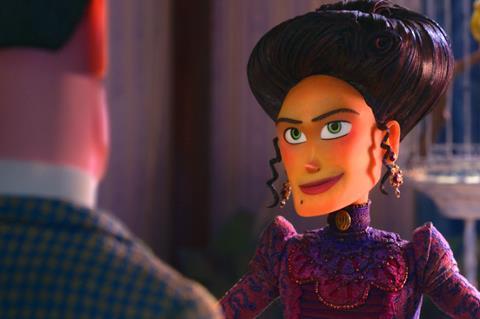 Laika films are known for not pulling their emotional punches, for not being afraid of straying toward the dark side of the human experience. Yet this one, insists Sutner, who shared an animation Oscar nomination with Knight in 2017 for Kubo And The Two Strings, has an upbeat message. "We want to leave audience members with a sense of boundless optimism."
Speak to the heads of department (HOD) at Laika and they will tell you Missing Link is the most ambitious of all Laika films so far. There are more facial expressions, more locations, better technology, bigger sets and more of them than anything in the first four films. There were approximately 90 sets ranging from a large forest clearing to miniature interiors of a gentlemen's club and Frost's residence in London, to scenes straight out of the Wild West, an ocean liner, and a staggering yeti temple inspired by Himalayan architecture and Jainism that took four months to build.
At the peak of production there were roughly 450 people on the sets. Missing Link used about 130,000 sq ft of stage space at Laika, which accommodates around 260,000 sq ft of stage space in total, and occupied about 50,000 sq ft more than Kubo.
Victorian etchings, textile designs influenced costumes
Some things are off limits. Visitors are not allowed to photograph in several places (including the yeti temple interior), and Laika staff are under strict instructions not to divulge anything about the mysterious Film Six, work on which has already begun.
No matter. There is plenty about Missing Link to discuss and admire, starting with costume designer Deborah Cook's exquisitely detailed outfits for her tiny customers, a fashion-forward bunch sporting silk embroidered waistcoats and pantaloons, provocatively coloured in peppermint, fuchsia and the like, and digitally stitched to the shape of each wearer's body so that every crease, sag and middle-aged bulge is pre-made.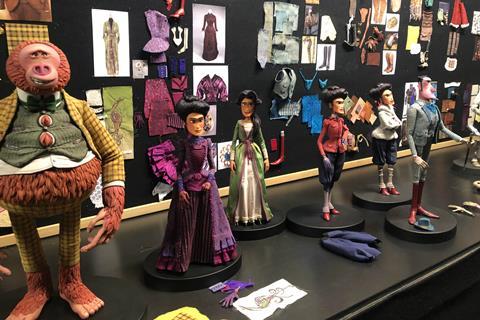 Cook, a Costume Designers Guild Awards nominees in 2017 for Kubo and a Visual Effects Society Awards nominee in 2010 for Coraline, was motivated by a kaleidoscope of influences. Victorian etchings, anaglypta textured wall coverings, macramé, William Morris textile designs, Jacobean embroidery, Durham quilting, and Henri Rousseau all played into her overall vision, and the result is a dazzling array of costumes that includes different sizes of items like Sir Lionel's gloves for close-up shots.
Before the Laika team can put Link, Sir Lionel, Adelina and the rest of the cast of Missing Link into their threads, the puppet aces have to build the characters. Puppet fabrication supervisor John Carney explains it takes about nine months to take a character from paper to camera-ready "hero" puppet. Once the hard work on the prototype is over, replicas take several weeks to make.
Inside each body is an "armature" – a physical infrastructure comprising up to 250 components including specially manufactured screws, and devices that allow parts of the body to expand and contract, for example. A foam shell cloaks the armature and is itself covered by a hand-painted outer layer. In the case of Link, the exterior comprises more than 1,000 separate fur tiles made mostly from silicone and a pourable plastic to avoid the "boil and crawl" effect, which Laika HOD's have noticed can make movement beneath the outer layer appear unnatural. The Link puppet stands roughly one foot tall and weighs around six pounds.
Carney notes without too much irony that Laika houses a puppet hospital to fix wires and joints. Keeping the stars in proper working order is a serious business as filming takes its toll when the animators twist and turn and bend and stretch the life out of their wee charges. At the time of the visit there were something like 14 "individuals" receiving treatment at the hospital.
After the shoot, the puppets and other props are dispatched to "Siberia". The large storage facility is, staff say, reminiscent of the cavernous warehouse scene at the end of Raiders Of The Lost Ark. Besides an event in Portland, there has been talk of a national and international tour of Laika's ever-expanding universe of characters, but so far that's all.
Pioneering 3D printing of faces
At the start of the tour, Butler noted that the big leap on this film was facial animation. "We took it far further than we've ever done before. Everything was bespoke – all the faces were animated to the shot." And so it seems only right that the science of working on a Laika film truly comes into focus when director of rapid prototype Brian McLean offers a whistle-stop tour of 3D printing. The Oscar-nominated, Annie-winning veteran sculptor and model-maker won a scientific and engineering Oscar plaque in 2016 for pioneering the use of 3D printers in stop motion animated characters.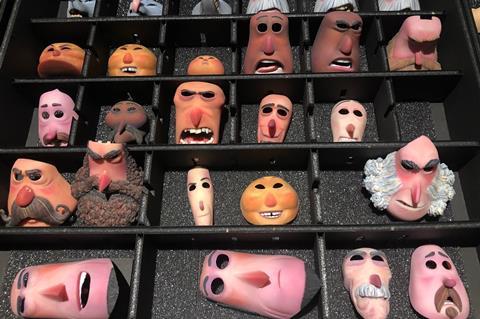 All the faces on Laika characters are 3D-printed and attached to the puppets by magnets. Laika has been at the cutting edge of 3D printing since it adopted the technology in 2006 on Coraline. McLean and his cohorts are working with their third different printer model now, a full-colour resin piece of kit that resembles a tanning machine. It takes about two hours to print Sir Lionel's face, and a little longer to print a row of about seven or eight.
There are approminately 18million voxels (the 3D equivalent of a pixel) of colour on every cubic centimetre of face. McLean assures visitors the technology is about as advanced as it gets for now, and enabled the team to print more than 106,000 facial expressions for Missing Link. They printed 20,000 on Coraline. Animtors stab the eyes and eyelids with an X-ACTO blade to move them into the desired expression for each shot.
Director of practical effects Oliver Jones, who was part of the Oscar-nominated VFX team on Kubo that includes McLean, Steve Emerson and Brad Schiff, supervises the animation rigging. When a scene calls for a character to dangle from a ladder over the side of a ship, or hang on to a rope for dear life, Jones and his team ensure the puppet is positioned just so, ready for the animators and cameras.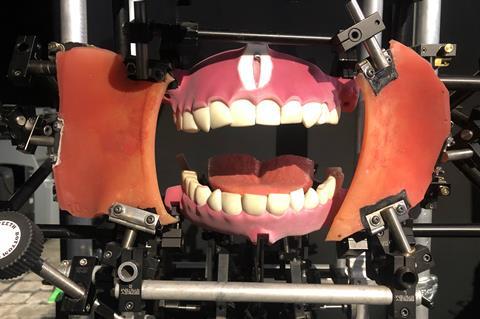 The team typically rigs about two shots a day. Stop-motion animation is laborious, back-breaking work only for the most patient purveyors of perfectionism – animators aim to deliver 4.3 seconds of film a week – yet employees all seem to genuinely love what they do, servicing each other's needs and moving the process along in a utilitarian sort of way. "Everything the rigging department produces gets eliminated from the final product," says Jones, "which is a shame sometimes, but actually quite liberating because you get to turn things out without approval and without too much iteration."
Supervising production designer Nelson Lowry won an Annie Award in 2017 for his work on Kubo and has worked on Wes Anderson's Fantastic Mr. Fox, Tim Burton's The Corpse Bride, and Danny Boyle's Sunshine, among others.
Lowry brought to life the vivid colour palette that Butler wanted to infuse the entire world of Missing Link. Sketches pinned to walls and work stations are realised in intricate sets of blue-green forests, Wild West saloons and shacks in browns and ochre, the black-and-white design of the gentlemen's club that echoes their conformist mindset, in contrast to the rich fuchsia, lilac and orange of Sir Lionel's study.
Unprecedented number of locations
Again, the scale was unprecedented on Missing Link and Lowry recalls reading through the screenplay for the first time. "In most films you return to places you've established," he says. "[In Missing Link] there's only once scene they go back to. Every time I turned the page I was like, 'Okaaaay.' There are about 60 locations, so a new location about every four or five minutes." For him, the biggest challenge was creating the Himalayas. "I had to figure out scale in a way I'd never done before."
Laika uses a Canon EOS 5D – an advanced digital SLR camera and not what one might expect on a film set – to shoot the images as the animators bring the puppets to life. Once an animator comes on to a set, every prop has to be glued or stuck down so nothing is out of place as they arrange the characters for the shot, break, make tiny adjustments, and go again. Over and over again. For 4.3 seconds of film a week.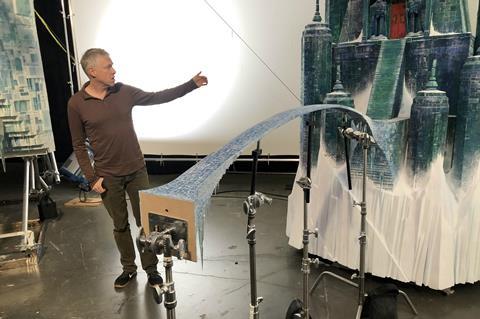 The level of detail is deeply engrossing. The animators are nowhere to be seen and have presumably worked their magic as Missing Link is just about ready to be unleashed on the world through United Artists Releasing in the US, and the independent international distributors who licensed distribution rights from AGC International.
VFX supervisor Steve Emerson rounds out the tour, and explains that although Laika likes to do as much in-camera work as possible, he and his team digitally created the yeti temple guards and created the temple ceiling, among other accomplishments. More standard work involves removing rigging, as Jones explained earlier, as well as green screens, and reflected green light.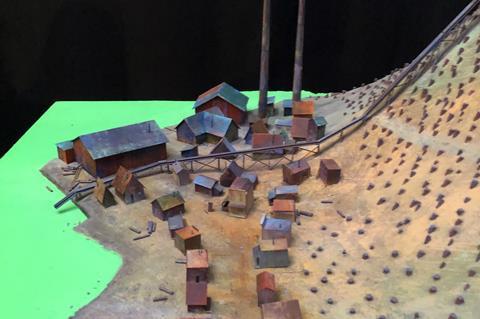 There were 1,486 effects shots on the film, some 150-200 more than there were on Kubo. Emerson has worked on the Matrix films and won the Visual Effects Society Award for outstanding visual effects in an animated feature for Kubo. Yet he respects the source material of the world in which he operates at Laika. "The foundation of this stuff is physical."
*Missing Link opens in the US on April 12, and in the UK on April 5 through Lionsgate UK.