Laura Dern has scooped Oscar and Bafta nominations for her role as the steely divorce lawyer in Marriage Story — while also impressing as the nurturing mother in Little Women. Screen talks to her about a year of radical contrasts.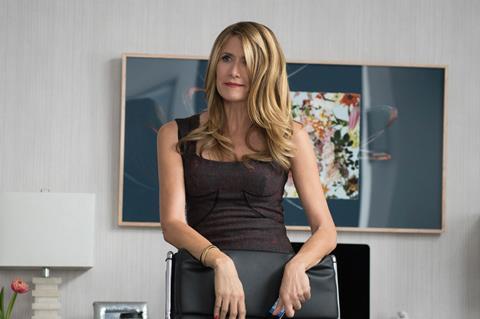 Laura Dern has had a very good year. Besides the return of hit HBO series Big Little Lies, in which she co-stars with Reese Witherspoon and Nicole Kidman, there were stellar supporting roles as Marmee March in Greta Gerwig's Little Women adaptation and as a tough divorce attorney in Noah Baumbach's bittersweet Netflix drama Marriage Story, for which she won a Golden Globe and has been nominated for both Bafta and Academy awards (the latter of which is her third nomination).
Marriage Story recounts the divorce of theatre director Charlie (Adam Driver) and his actress wife Nicole (Scarlett Johansson) and the battle for custody of their son. The script began as a series of dinners between Baumbach and his actors. "It was a good year-and-a-half of conversations," reveals Dern. "And I remember the night he said, 'I want to tell a love story through the lens of divorce.' I laughed and I was in awe at the same time. It was months later, as we all shared our experiences, our longings, our heartbreaks and our parenting struggles that he started to solidify characters and asked me would I want to play the divorce lawyer. And I couldn't ask for something more fun as an actor."
There has been speculation that Nora was based on Laura Wasser, the Los Angeles lawyer who represented Jennifer Jason Leigh in her divorce from Baumbach. "It's a combination of people and also the character of the business of divorce itself," notes Dern, who has experienced it both as a child — when her parents, actors Bruce Dern and Diane Ladd, split — and as an adult. "The lawyer you referred to and a couple of other LA-based lawyers were incredibly generous and sat with us, advised us, and suggested things that were very influential. Noah wanted to create the antagonist as this individual who steps in and changes the entire trajectory of how you thought you would do it."
For Dern, the key to Nora was in Baumbach's description of her wardrobe. "You would think it's always the word but it isn't, you can fall in love with the screenplay but it isn't necessarily the key to the character for you. But with Noah it is. Noah writing 'she flips off her shiny, red high-heel Louis Vuitton shoes' and you know so much about that woman. The way she curls up on the couch to be [Nicole's] best friend and listens to her story. Also I found it really interesting to dive into the physicality of a woman who is one of the few in her business to be given a seat at the table."
On the surface, Nora appears to have much in common with Renata, the character Dern plays on Big Little Lies — another powerful, well-heeled woman — but Dern feels they are radically different. "Renata is desperate for friends and so cares what other people think. Nora Fanshaw doesn't give a shit what anybody thinks. She just wants to win, and has absolutely no consideration for anyone else's opinion, including her clients."
Family values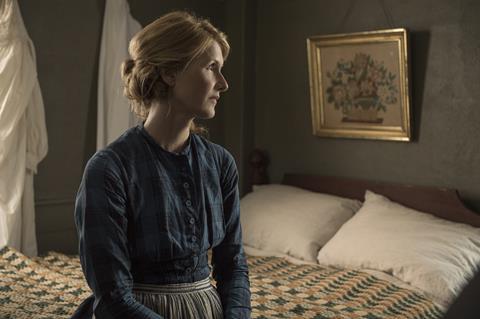 The character is a far cry from Marmee March, the matriarch of Little Women and the epitome of warmth, compassion and selflessness. Did Dern ever find herself playing mum to her on-screen daughters off camera? "I would love to say I became their confidante, and I was, of course, maternal to all of them," she reflects. "I think the energy of that whole time was me as friend, as guide, as sister, as mother. We all played all roles, and I include Timmy [Chalamet] in that, Greta, Amy [Pascal] our producer, we really did create a family. Saoirse [Ronan] and I probably spent the most time together because there was a specific depth to that mother-daughter relationship, but I had such equal love for Florence [Pugh] and Emma [Watson] and Eliza [Scanlen]. I'm definitely Saoirse's other mother. And Saoirse is definitely my other mother."
Dern shot Little Women and Marriage Story back-to-back, experiencing both halves of the Gerwig/Baumbach creative partnership in quick succession. How did they compare? "I feel so moved that in both collaborations the writing is the god, because they are so meticulous and love language so much, so differently. Noah is so flawless and inventive and tells you everything you need to know on the page. And with Greta, it's about taking someone else's words and finding a modern, raw, messy rhythm to that language that was really revolutionary."
Dern made her acting debut aged seven opposite her mother in Martin Scorsese's Alice Doesn't Live Here Anymore and has rarely stopped working, although the last few years have marked something of a renaissance. "I was raised by actors, so when I had my babies, I was like, 'I am going to pray that I can take some time and be with my children and my family and do this in a way my mother wasn't afforded the opportunity to do,'" explains Dern.
"And with that comes a bit of building back [up] of the work. I've never been more excited about acting. And it's an amazing time for complicated female characters in film and tele­vision. I did this show on HBO, Enlightened [2011-13], and there was no Fleabag, no Veep, there was Sopranos and Curb Your Enthusiasm.
"Women weren't really given that kind of room and it felt difficult to push boundaries. Now it's everywhere, the storytelling is incredible, and female filmmakers are making complicated, beautiful movies about women and men."
A roaring success
While Dern has the Baftas and Academy Awards in her immediate future (in the same supporting actress categories as her Little Women co-star Pugh), there is also the matter of the third Jurassic World film that will reunite her with original Jurassic Park co-stars Sam Neill and Jeff Goldblum. She is, understandably, excited by the prospect. "I really am. I am very excited about the ideas they have, speaking to [Jurassic World 3 director] Colin [Trevorrow] and Steven Spielberg. Sam and Jeff and I are jumping on the phone together [soon] to start talking about it all. It's crazy and wonderful."