Dir. Catherine Corsini. France. 2009. 90 mins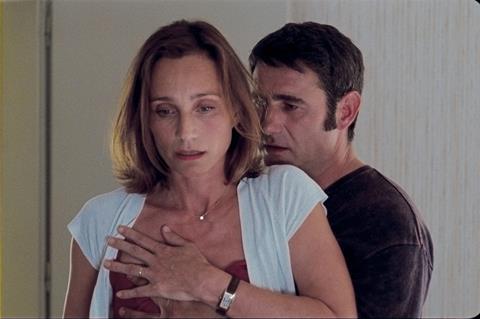 Leaving (Partir) tells one of the oldest stories in the world as a married woman leaves her husband for the arms of another man. The consequences of her infidelity are less conventional and more intriguing as the aggrieved husband retaliates with a concerted campaign of economic warfare designed to destroy their lives. The combination of the material, a classy cast, sunny locations and passionate sex scenes should make this a very exportable French melodrama especially in territories where it can exploit the welcoming afterglow of Kristin Scott Thomas's tour de force in I've Loved You So Long.
We seem to be witnessing the prime of Kristin Scott Thomas
Scott Thomas stars as Suzanne, married for twenty years to physician Samuel (Yvan Attal) and mother of two grown children. There are already intimations of her discontent; she is longing to return to work and constantly appears aloof and distracted at family events. When hunky Spanish handyman Ivan (Sergi Lopez) arrives to build an office for her it is only a matter of time before we slip into a predictable Lady Chatterley scenario.
Less predictable is the way in which Suzanne seizes the chance to create a new life for herself and the manner in which the influential Samuel vents his fury by freezing bank accounts, blocking employment opportunities and doing everything in his power to attack their happiness.
We know that Leaving is destined to end in tragedy. An opening sequence follows Suzanne waking from bed in the middle of the night before we hear a shotgun and the screen fades to black. The story then unfolds from six months earlier and there is a sense that writer/director Catherine Corsini is entering classic Claude Chabrol territory, delving beneath the calm surface of bourgeois life to uncover the dangerous currents that lurk beneath.
There is an unfussy elegance to Corsini's direction as she builds a steady intensity through a succession of brief sequences and strong performances. We really believe in an attraction between Suzanne and Ivan that is economically conveyed in lingering glances, secret smiles and meaningful pauses.
The twist of fate that obliges them to spend more time together is believable as is Suzanne's desire to escape a perfectly comfortable but entirely stifling existence.
Credibility is sustained as we see Suzanne's increasingly reckless behaviour as a reaction to the intransigence of her husband and the desperation of her circumstances. There is little fat in a trim running time that only really short-changes the husband, whose villainy remains his chief defining characteristic.
Sergi Lopez is well cast as the Spanish sex object. He has the rugged masculinity that the role requires but also invests the character with a sense of humour and humanity that emerges especially in his relationship with his daughter.
Kristin Scott Thomas was born to suffer on screen but there is a steeliness beneath her anguished features that conveys some of the fire in a woman who has finally found the moment to regain control of her life, whatever the price she might have to pay.
We seem to be witnessing the prime of Kristin Scott Thomas as French cinema offers her some of the most demanding roles of her career. Her emotional and physical commitment to Suzanne is why Leaving retains such a firm grip on the viewer even as we suspect exactly what is going to happen. On current form she is becoming one of the most dependable stars in the European firmament.
To sign up for Screen's weekly Reviews Newsletter with all the week's new releases, internationalopenings and full festival reviews delivered free to your mailbox every Friday, please click HERE
Production Companies
Pyramide Productions
Camera One
Solaire Production
VMP

International sales
Pyramide International
33 1 4296 0220
Producer
Fabienne Vonier
Screenplay
Catherine Corsini
Gaelle Mace

Cinematography
Agnes Godard

Production designer
Laurent Ott

Editor
Simon Jacquet
Main cast
Kristin Scott Thomas
Sergi Lopez
Yvan Attal