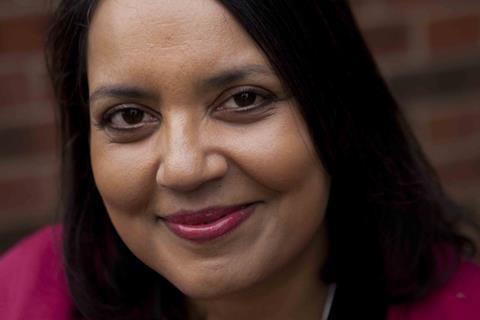 When Anu Giri joined the BFI festivals team as head of business and operations, she knew she will filling some pretty big shoes.
For the previous 10 years, former Bafta and Screen International executive Anne-Marie Flynn provided a firm hand at the tiller of the BFI London Film Festival (LFF) in her capacity as managing director. During that time, the festival went through some significant upheaval, including a major restructuring of the programme and venue footprint from festivals director Clare Stewart (2012-2017 tenure), as well as a bigger focus on serving audiences hitherto not engaged by the annual autumn event.
Giri joins from stints as the executive director of Dance Umbrella Festival and co-director of English National Ballet School – significant organisations within the dance world, but different in nature to the LFF, with its myriad relationships with major Hollywood studios, distribution companies, international sales agents, producers and filmmakers – to say nothing of the front-of-camera talent and their teams of agents and publicists.
Giri admits her first BFI meeting involved a lot of nodding along and asking questions later due to the profusion of acronyms particular to the film industry (PFM is Film London's Production Finance Market), it turns out). "After a couple of months, the language kicks in," she says. "Exhibitor equals venue. Fine."
Giri's status as an outsider to the film industry has had its upsides. "Anu comes from a super-experienced arts executive level background, but also not from film, from dance. It's really great to get that perspective on what we do," says festivals director Tricia Tuttle, who also takes the opportunity to pay tribute to the outgoing Flynn for her "rare combined skill and tremendous experience in both the cultural and business elements of the film industry".
Adds Giri, "You come in with an analytical view: what's working, what's not, can it be reframed? Our delegate offer: can it be better for delegates, and more cost-effective for us?"
This year, that delegate offer is being provided by the Vue Leicester Square – replacing Picturehouse Central, which for several years had proved a popular host venue for industry screenings and events. Giri and Tuttle do not discuss the intricacies of commercial negotiations with venues, but it's natural to assume there is a cost saving associated with the switch.
"My contact at Vue had already said to me in passing that they'd be really interested in having the press and industry screenings there," says Giri. "In earlier conversations it had come up: wouldn't it be great to have them all in one venue and right on Leicester Square, very central, so part of the decision was around it makes it very easy for delegates."
Because of the Odeon Leicester Square's closure for a major refit, and then the significant reduction in seating number at the newly reopened Odeon Luxe Leicester Square, both the 2018 and 2019 festivals have operated at a reduced capacity, a tighter programme of features and a lower budget. One upside of the contraction is a significant spike in seat occupancy achieved in 2018, and the goal is to match it this year.
Giri also joins at a tough time for sponsorship – Royal Bank of Canada, hitherto in equal fourth place (alongside American Airlines) in the sponsor tier, did not return as a partner this year. Renault is no longer an official partner, although Facebook is a welcome addition as a sponsor – and a welcome relationship with plenty of potential for the future.
"The climate for sponsorship is always tough," says Giri. "I don't think it's ever been any different. Thirty years working in arts and culture, I can't think of a time when there was ever a golden age. It continues to be a tough market, and a constant conversation and dialogue and partnership."
The LFF's position in the calendar as the launch of awards season for the UK industry brings a particular complexity to event logistics, with talent being shuttled from festival event to Bafta Q&A and industry shindig – a new experience for Giri. "Absolutely," she says. "In the performing arts world, you bring someone, you have them, you don't share them with someone else."
The BFI London Film Festival runs until October 13.