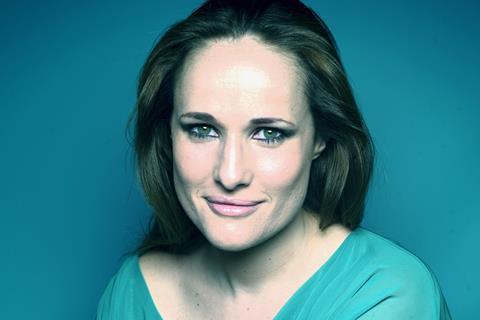 Set on the outskirts of London, Listen is the feature debut of Portuguese multi-hyphenate Ana Rocha de Sousa, a former actress who completed a film degree at the London Film School.
The film, which is premiering in Venice's Horizons section on September 8, was shot in the East End of London in summer 2019 and explores the subject of forced adoptions. It follows a Portuguese immigrant family struggling to stay together. Following a misunderstanding at their deaf daughter's school, the authorities seek to intervene. Lúcia Moniz and Ruben Garcia star in the film which was developed and is produced by writer-producers Paula Alvarez Vaccaro and Aaron Brookner of Pinball London with Rodrigo Areias of Portuguese outfit Bando a Parte. Magnolia Pictures International is handling world sales.
Why did you want to make this film?
I am not only interested in making films to express my art, as an artist – I am also interested in subjects relevant to people's lives. It became obvious to me that I wanted to make this film when I saw that this was happening. I am a mother. I look at forced adoptions. This is not based on a specific case. It does not need to be Portuguese but I heard about a Portuguese family going through this. A forced adoption takes place when a family does not consent to an adoption. When it is considered the child can be at risk of future possible emotional harm, a forced adoption can take place. When the law predicts something based on the future it becomes difficult. A mistake or error that takes place points in one direction. But sometimes things are not what they seem. That's what I wanted to look at.
How did it all come together?
This project started with the support of the Portuguese Institute of Cinema and Portuguese national television. It is a co-production between the UK's Pinball London and Portugal's Bando á Parte in Portugal.
What was the biggest challenge of the shoot?
I love to film with children. But we had a tight schedule so it was difficult to manage timewise with the rules in the UK.
How did you get into the film industry?
I started my career as an actor in Portugal. Along the way, I studied fine arts. I have a degree in painting. The best way for me to feel fulfilled was to combine all of my disciplines. I then went to London to study film but took a break when I became a mother in 2014.
How do you feel about being in Venice for the first physical festival for many months?
I have a specific point of view on this situation. I understand safety is important but at a certain point, I think the consequences of staying at home are more tragic than the virus. I am not worried about getting ill. It can happen anywhere. It can happen around the corner. The most that we can do is all that we have all been doing. After a certain amount of time, you have to get on with it. It is important to keep festivals like Venice up and running. The film industry has been united about this
How have you found the last few months of lockdown?
For a long time, I was isolated at home with my family. But it was special to be at home with my daughter. I had a chance to spend quality time with her. To develop new routines with her and to be even closer. The difficulty was that online living is not the same.
What are you working on now?
I am writing my next feature. Or what I think is my next feature, as I am developing several projects. It has an interesting subject that I prefer to keep under wraps for now. I am very focused on Listen and seeing this film fly.