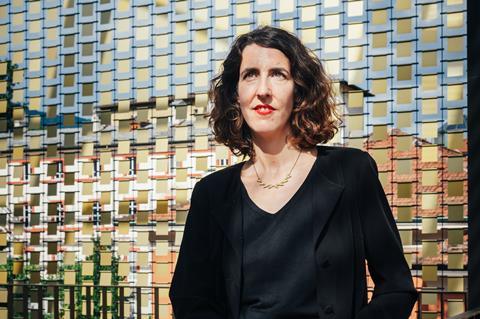 Locarno Film Festival will not be holding its trademark open air screenings in the iconic Piazza Grande this August, for the first time in nearly 50 years, following the physical cancellation of its 73rd edition due to the Covid‑19 pandemic.
The nightly screenings, which draw some 8,000 spectators, were inaugurated on August 6, 1971 with the Swiss premiere of Salvatore Samperi's Italian crime comedy Million Dollar Eel.
In the early 1970s, the creation of a large-scale, reusable temporary screen was an audacious operation in step with cutting-edge architectural thinking of the time. It is just one example of how the festival has innovated over its 72-year history and come out stronger.
Some 50 years later, the festival's programming team headed by artistic director Lili Hinstin is demonstrating similar out-of-the-box thinking. Rather than trying to replicate its normal structure online, they have instead developed a completely different hybrid iteration, bannered 'Locarno 2020 — For the Future of Films', which will run across the original dates of August 5-15.
Deeper reflection
"We have attempted to rethink the festival, both in response to the current circumstances as well as part of a deeper reflection about the longer-term future of the festival," says Hinstin. "It has made us think about what festivals are for, what our priorities are and how we can best help films. Usually we don't have the time to do this."
One of the biggest decisions as it became apparent in mid-April that the festival would not be able to go ahead in its usual form was whether to run the traditional competition strands online.
In the end, only the Leopards of Tomorrow (Pardi di Domani) contest, aimed at short and medium-length works, has remained intact — both physically and online. The sidebar marks its 30th edition this year (see box, right). "That was the big question for us," Hinstin reveals. "As well as thinking about what would best serve the films in the short term, we needed to also think about protecting the festival and the films in the long term.
"There are certain smaller films that would most definitely have benefitted from a Locarno label and special online screening, but we also believe these sorts of films benefit from the diversity of our programming and playing in juxtaposition with bigger titles, which would likely not have been the case with an online competition," she adds.
In a groundbreaking move, the festival has managed to muster $220,000 of prize money for its new special competitive event, bannered The Films After Tomorrow. This new initiative aims to support feature productions affected by the pandemic at any stage.
There are two strands, one is made up of 10 international titles, the other — the same number of Swiss productions, each coming with hefty $72,000 (chf70,000) cash awards for the main winners in each section.
The selected productions include upcoming films by international directors Lucrecia Martel, Lav Diaz and Lisandro Alonso and Swiss filmmakers Pierre-Francois Sauter and Anna Luif.
"Having never done something like this before, we had to set it up from scratch, deciding everything from the eligibility criteria, to whether to select projects via an open call, or run it by invitation, to what kind of material we might want them to submit," explains Hinstin.
In the end, the festival decided to keep the criteria very loose and the way in which the project is presented lies entirely in the hands of the filmmaker, in terms of the written material and images they share. Hinstin also emphasises it is not an industry-style co-financing event and does not involve presenting the projects to industry professionals.
Instead, there are two juries made up of filmmakers. The jury judging the international projects in the Films After Tomorrow section comprises Kelly Reichardt, whose First Cow opens the festival, Israel's Nadav Lapid, director of Berlinale Golden Bear winner Synonyms, and Lesotho screenwriter, director and cinematographer Lemohang Jeremiah Mosese, a Sundance 2019 prize winner for This Is Not A Burial, It's A Resurrection.
The jury for the Swiss section includes Swiss director Alina Marazzi (winner of a jury special mention at Locarno 2002 for Un'ora Sola Ti Vorrei), Argentinian director, writer and artist Matías Piñeiro (Hermia & Helena) and Iranian filmmaker Mohsen Makhmalbaf, whose 1996 Locarno title A Moment Of Innocence is one of the titles in this year's Journey Through Festival History classic titles strand. The winners will be announced on August 14.
"It was important for us to have a jury made up only of filmmakers. We felt it would generate a sense of solidarity," says Hinstin. "There are no stipulations on what the filmmakers need to show and they are even allowed to share different material with the jury from that which they have shown to us."
One sticking point was finding filmmakers available to participate in a jury. When the festival started trying to recruit jury members, many filmmakers were back to work as they reconfigured projects for the challenges of the Covid-19 era.
"We got lots of messages of support but many filmmakers were really busy," says Hinstin, who expresses satisfaction with the final set of jurors. "They are in line with our festival juries in that they combine filmmakers with different styles and backgrounds as well as levels of experience. The international jury features two established names and one emerging talent, which also reflects the selection."
On the ground
Not everything will take place online. Thanks to an improvement in the health situation in Switzerland, the festival is hoping to hold a compact screenings programme in three of its main venues: GranRex, PalaCinema 1 and Muralto PalaVideo. There will even be an opening film, which will be announced on July 29.
This programme revolves around four strands: the Leopards of Tomorrow competition; a selection of films drawn from the festival's 72-year history; 10 titles reflecting the previous 17 editions of the Open Doors initiative supporting cinema from the global south and east; and a carte blanche selection curated by Hinstin, which is being kept under wraps as a surprise for spectators.
The line-up exploring the festival's history going back to 1946 has been created from selections made by the filmmakers participating in The Films After Tomorrow, who combed a list of 1,400 past titles.
"It was very interesting because there were a number of films that came up two or three times in spite of the wide choice and diversity of filmmakers," reveals Hinstin. She cites Michael Haneke's The Seventh Continent(1989), Hugo Santiago's Invasion (1969), Glauber Rocha's Entranced Earth (1967) and Filipino drama Perfumed Nightmare (1977) by Kidlat Tahimik as popular selections.
Hinstin, who will spend the festival period in Locarno, is curious to see what kind of spectators will turn up for the screenings. "Even though the festival is not taking place, hotel occupancy rates are high, we believe because Swiss people are taking staycations this year. It means we could get a whole new public, which would be great."