This year's Industry Days (August 6-8) at Locarno Film Festival has a sharper focus on the market potential of films at script stage, finds Martin Blaney.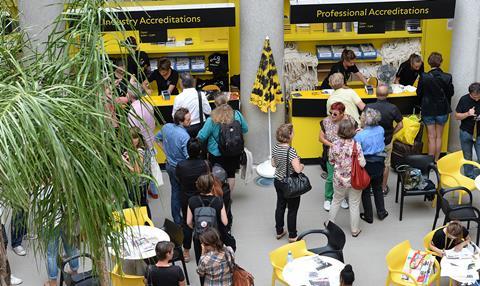 "A common thread of this year's Industry Days activities will see us thinking more about the market potential of film projects already at the script stage," explains Nadia Dresti, who launched Locarno Film Festival's Industry Days in 2010 and has been head of international since 2013, alongside her role as delegate of the artistic direction.
One area in which this particular strategy is being pursued is the Alliance For Development initiative (August 6-8), which was launched as a pilot project in 2015 with co-financing from three European film institutions: France's National Centre for Cinema and the Moving Image (CNC), the German Federal Film Board (FFA) and Italy's Ministry of Cultural Heritage and Activities and Tourism (MiBACT).
Each fund brings to Locarno three projects that have been supported by their bilateral co-development funds between France and Italy, Italy and Germany, and Germany and France, to test their market potential and find natural, organic opportunities for creative and financing partnerships at this early stage of development.
"It's a great opportunity for young film-makers to meet up with leading figures," Nadia Dresti, Industry Days
The selected projects for this year's Alliance For Development include Labyrinth Of Lies director Giulio Ricciarelli's latest project The Guard, which was supported by the FFA-MiBACT co-development fund; Kamila Kubiak's Genosse Stalin Saved My Life, backed by the FFA-CNC fund; and Guido Chiesa's Elisabeth, the development of which has been supported by the bilateral fund set up by CNC and MiBACT.
"[Industry Days] is conceived more as an annual rendezvous rather than as another co-production market," Dresti notes, pointing out that the 2016 event, supported by the Swiss Federal Office of Culture (FOC) within the framework of the MEDIA compensatory measures, will also include three Swiss 'special guest' projects looking to find international partners.
One of these projects is Taub by Tobias Noelle, a participant in the political sci-fi omnibus project Wonderland (Heimatland) that premiered at Locarno last year and whose debut feature Aloys won the Fipresci prize at the Berlinale's Panorama in February.
Natural partners
Dresti admits that opening up the alliance to Switzerland as the natural co-producing partner to Germany, France and Italy "could perhaps encourage the Swiss authorities to consider the idea of launching bilateral co-development funds with their neighbours".
"It is also a way of bringing Switzerland back into the rest of Europe and of giving Swiss professionals those all-important networking possibilities," she adds.
The alliance's three-day programme will also include a meeting with a number of international casting directors, who will be coming to Locarno this year for the staging of the inaugural best European casting director award in association with the International Casting Directors Network. "This will be an opportunity for the producers to gain a better understanding of the role of the casting director and what they can bring to a film project in development," Dresti says.
Meanwhile, the third edition of the StepIn.ch conference is likely to become something of a talking point during this year's Industry Days, with its focus on rethinking the whole production system in Switzerland and elsewhere. The event had originally appeared on the Industry Days calendar in 2014 in response to Switzerland's exit from the European Union's Creative Europe MEDIA sub-programme after the results of its immigration referendum, and last year saw a second edition focusing on the situation and potential for VoD platforms in Switzerland.
This year's conference will build on views expressed by International Film Festival Rotterdam's newly appointed general and artistic director Bero Beyer in an interview with Screen at the beginning of the year, in which he suggested that "some projects should be set aside even if a substantial amount of development money has gone into them."
"Anyone who can afford a smartphone and laptop can shoot, edit and upload their film," Beyer said at the time. "So selecting, curating and scouting in this oversupply of mostly mediocre filmish fare becomes an increasingly difficult challenge."
"People are always talking about the challenges facing distribution and exhibition, but the big problem often seems to be the system of production," Dresti adds. "There are just too many films being made. Distributors are trying to release as many films as possible, sales agents can't pick up all the films that are out there and, as a festival, we can't show all of the masterpieces that are being made. We can't really sustain all of those films being produced."
Industry Days is teaming up with Geneva International Film Festival Tous Ecrans to host a panel entitled 'Are our models of financing, producing and broadcasting Swiss films truly adapted to face contemporary challenges?'. The audience will comprise local Swiss distributors, producers, broadcasters, exhibitors and film-funding executives such as Laurent Steiert, deputy head of FOC's Cinema Section, film-makers Denis Rabaglia and Jacob Berger, distributor Vera Gilardoni of Pathé Films and distributor-exhibitor Laurent Dutoit.
In a round-table discussion to be chaired by Geneva International Film Festival Tous Ecrans' artistic director Emmanuel Cuénod, Telefilm Canada executive director Carolle Brabant will speak about her institution's successful micro-budget production funding scheme, while Beyer — with his former producer's hat on — will give an insight into the Dutch production and funding landscape, and Swiss film critic Christian Jungen will present a study on the current situation of Swiss cinema prepared for the film magazine Frame.
The Swiss film community will be provided with additional food for thought about the future development of their industry at an associated event on August 8 organised by the Swiss training programme FOCAL with the support of producer associations SFP, GARP and USF, and in partnership with MEDIA Desk Suisse — celebrating its 10th anniversary this year — along with the EAVE and ACE initiatives of Creative Europe.
FOCAL has invited Claus Ladegaard, head of film funding at the Danish Film Institute, to explain how the Danish industry flourished after abolishing automatic funding five years ago. This option was initially deplored by Danish producers, but the alternative scheme is now established as solidly market-oriented.
In addition, Per Neumann, founder and CEO of European Film Bonds, will speak at the event to shed light on how small countries can be attractive to co-productions.
First Look at Poland
After last year's arguably controversial choice of Israel as the focus of the First Look 'work in progress' showcase, at the same time as Open Doors was dedicated to the Maghreb region, this year's territory is Poland, in collaboration with the Polish Film Institute and Fundacja Polskie Centrum Audiowizualne.
Dresti stresses she is aware that new Polish feature projects at post-production stage are being presented at the annual Polish Days in Wroclaw's New Horizons International Film Festival just days before Locarno kicks off. "We wanted to make sure there isn't any clash with Polish Days," she says. "I met with Joanna [Lapinska] of New Horizons in Cannes to ensure we can work together, and she will attend Locarno.
"At Polish Days they show only around 10 minutes of the footage in their Works in Progress presentation, whereas we show much more as part of First Look. So, it would not be too much of a problem if we had a project that had already been at the Polish Days, but there will have been enough good projects coming out of Poland for us to find new ones for Locarno."
The Polish delegation will also be able to participate in the Match Me informal networking platform, which had been launched last year with Colombia, Mexico, Chile and Brazil, former focus countries of the Carte Blanche sidebar (now known as First Look).
"Mexico, Chile and Brazil will be back again in Locarno along with Israel, which was the focus country of First Look last year, and we will also be opening to Turkish producers as well," Dresti explains.
Thanks to the partnership with Cinema do Brasil, CinemaChile, IMCINE and New Turkish Films, up to three emerging producers from each country will be able to come to Locarno during Industry Days to pitch their projects to potential co-producers, funds or sales agents through a matchmaking service overseen by project manager Markus Duffner. There will also be a series of professional lunches with key industry figures.
"The lunches are being held in the space where Swiss Films was based last year [between the Industry Lounge and Kursaal], and each of the sponsoring institutions will host a table for their producers and invited guests, with Swiss Films having three tables and the Polish Film Institute also having a table for networking," says Dresti.
She points out that this year's First Look jury of three festival directors — Istanbul's Kerem Ayan, Toronto's Cameron Bailey and Rotterdam's Beyer — are likely to be much sought-after lunch-table conversation partners.
"It's a great opportunity for young film-makers to meet up with such leading figures in the international film business on an informal and personal level," she says.
Networking has always been writ large for Locarno's Industry Days, and the organisers plan to ensure a less cramped and hectic atmosphere for the daily 'happy hours' by making a change of venue to the Rotunda — located between the Piazza Grande and the FEVI cinema — where up to 500 accredited participants can be accommodated in a tent. "This should allow us to bring together all of the people attending the Industry Days initiatives," Dresti suggests.
Moreover, networking between the young generation of professionals and their more experienced colleagues is one of the goals of Locarno's Industry Academy training programme (August 3-9) for young professionals working in the fields of international sales, distribution, exhibition, VoD platforms, festivals and marketing.
"The participants learn a lot from one another during their time in Locarno as well as from the masterclasses that are given to them by leading industry figures," Dresti explains. "We also have them attending the StepIn conference to hear what the older generation of professionals are saying and see how they can contribute from their own perspectives."
Academy line-up
The line-up of participants for the Academy's second edition proper includes Rita Stanelyte of Vilnius International Film Festival Kino Pavasaris, Alberto Alvarez Aguilera of French sales company Reel Suspects, Simona Romang of Swiss distributor Cineworx, and Jordan Mattos of US DVD distributor and streaming service IndiePix Films.
Since the 2015 edition of the Industry Academy at Locarno, the training programme's concept has been repeated in international editions held at Morelia International Film Festival (FICM) in Mexico, at Cinema do Brasil's BOUTIQUE in Brazil and at the New Directors/New Films festival in New York in co-operation with the Film Society of Lincoln Center.
Meanwhile, exhibitors, distributors and sales agents of international auteur cinema will come together for two days of brainstorming in Locarno's StepIn think tank, which is dedicated to current issues of concern facing the international film industry.
This year the initiative will once more be organised in collaboration with Europa Distribution, Europa International and Europa Cinemas, and will address the challenges facing independent distribution with a special focus on Canada.
As in previous years, handpicked key industry players will meet in closed working sessions on August 6, and the results of their deliberations will be presented in a public wrap-up session on August 7.