The Latin American country's spectacular locations, film-friendly environment and cash rebate are helping to win over an increasing number of international film-makers.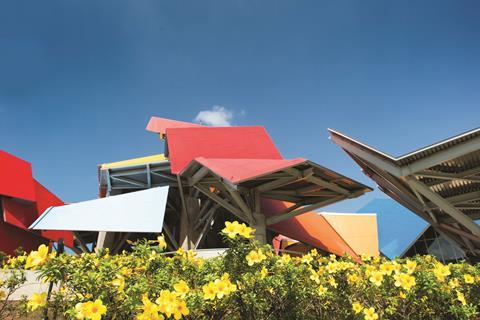 The much-heralded expansion of the Panama Canal is set to open this spring, reminding the world again of Panama's unique position as a link between oceans and continents.
Its exceptional geography is also a major selling point for international film shoots looking for a Latin American location. This tiny, strategically located country is home to rainforests, jungles, villages, cities and pristine beaches lining its coasts and many islands. You can drive from Atlantic to Pacific in an hour; from Panama City to the Costa Rican border is about eight hours by car.
Thanks to a 2012 film law, Panama now offers financial incentives for foreign shoots, and the Panama Film Commission helps with everything from permits and customs to finding locations, hiring crews and renting equipment.
Where Panama is still growing, in infrastructure and specialisation, the increase in demand from international shoots is having a noticeable effect.
Panama offers a 15% cash rebate for production costs incurred in the country. The full rebate can be escrowed up front with the bond company to cash flow the production, with a $3m minimum and $40m maximum spend and conditional approval based on an audit and certification of expenses by a locally based public accountant.
The incentive isn't as high as elsewhere in the region (Colombia has a 40% rebate for example) but Panama has other attractions — namely locations, size, safety and use of the US dollar, meaning currency exchange isn't a concern for American productions.
Bring heads of department
International crews must register with the commission and pay $150 per week of filming for services including a one-stop shop for permits, no taxes on bringing in registered equipment and assistance getting through customs by land or air.
Local technicians and crews are a growing body, thanks to the increase in demand. There are no unions and English is widely spoken. An industry database is available on the commission's website. Because the industry is small, producers recommend booking local crews early.
Most shoots bring in their own heads of department. "Panamanians are very qualified to handle the majority of small- and mid-sized productions that come to Panama, but where high-end features are concerned, you do need department heads for their experience or ways of working," says Alberto Serra, general manager of services and rental firm Windmill Productions and the production manager on the US horror film Indigenous, which shot entirely in Panama in 2013.
Indigenous director Alastair Orr agrees. "There is a lot of film servicing that happens in Panama so the guys have experience on big sets, but it's not in pivotal roles. We brought in make-up and a DoP. Everything else was sourced locally."
Orr, who is from South Africa, says the crews were more expensive than he expected. "Panama is on the US dollar and they charge US rates, so I didn't get to stretch the budget as far as I am used to."
Gabriel Padilla, international project manager at the Panama Film Commission, says the rates may seem high compared to other South American countries, but they are not for European and US production companies. As an example, he says a regular PA's rate could be around $150 per day.
When it comes to equipment, Serra's company has formed a partnership with a Colombian gear house to offer a wide range of equipment and cameras in Panama. Further options include Congo Films, a rental company with branches elsewhere in South America, which opened in Panama following the 2014 shoot of the upcoming US boxing drama Hands Of Stone starring Robert De Niro and Edgar Ramirez, and EFD (Equipment & Film Design) has offices in Panama as well as in Mexico and Los Angeles.
Find a fixer
It is a good idea for international productions to team with a local partner to help submit the appropriate paperwork to local city halls and environmental authorities to close down roads or shoot in national parks or local buildings.
"A qualified fixer is always going to help make the production go more smoothly, effectively and on time, with the capacity to quickly resolve any changes that come up," says Anel Moreno, CEO of Panama Films, who offers this service. Moreno worked as local production manager on Sony's Quantum Of Solace and provided production services on Contraband, starring Mark Wahlberg. "It's not that it's difficult without help, it's that the fixer knows how and with whom to get things done."
The Film Commission is now actively seeking investors to back the construction of a studio complex. "There's a lot of production coming to Panama right now, so it's the right time for investment in this," says Padilla.
The variety of locations is Panama's prime attraction. Panama has "amazing locations," says Ben Silverman of Fuego Films, which recreated New York City and New Orleans on Hands Of Stone. Quantum Of Solace used Panama to stand in for Haiti and Bolivia.
"You can be in a five-star Hilton or Trump Tower and you drive 35 minutes and you're in the middle of a jungle," says Maria Vergara, international project manager at the Panama Film Commission. "You drive an hour and you're in the middle of beautiful, pristine beaches."
Panama City's Tocumen International Airport has direct flights to and from Los Angeles, Miami and points in Europe, and serves as a hub for the rest of Latin America. The city offers an unusual combination of a colonial 'Old Town' just minutes away from a modern downtown crowded with skyscrapers. The spectacularly colourful Frank Gehry-designed Museum of Biodiversity perches near both areas.
Panama is largely untouched by the natural disasters that plague other parts of the region, but that doesn't mean the climate is perfect. "It's extremely humid, it rains a lot, there's very bad traffic and sometimes we encountered technical problems as a result," says Silverman.
Still, he says, "Panama City has great hotels and pricing is very affordable."
Occupancy is generally low, so there's usually a range of hotel options available for travelling crews.
Vergara also highlights safety in Panama City, which is home to a little under half of the country's less than four million inhabitants. "It's very safe, which you can't really say about other countries in the region. It's not unsafe to film at night." The city inaugurated a new subway nearly two years ago, with additional lines now under construction.
"Shooting films there is a novelty," says Orr. "You're able to gain access to pretty much any location you see."
This film-friendly environment can also make casting extras a breeze.
Orr has advice to film-makers considering Panama. "Make friends with the Panama Film Commission," he says. "They are the secret weapon to shooting in Panama. They have all the contacts you need and are lovely, helpful people."