As the London Film School plots its 2016 move to the Barbican, school director Ben Gibson tells Andreas Wiseman about the challenges ahead.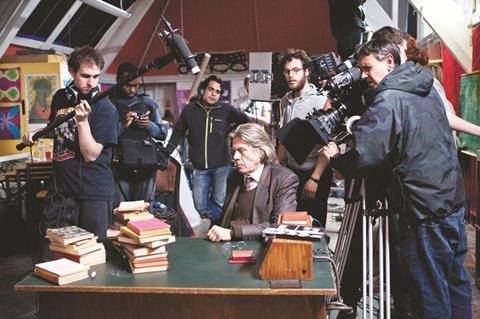 Last year was an amazing year for our film-makers," says London Film School (LFS) director Ben Gibson. "Our graduation films played at more than 100 festivals, winning dozens of first prizes, and we had films shortlisted for Bafta and student Oscar awards."
Founded in 1956, the celebrated training ground for the likes of Michael Mann, Mike Leigh, Duncan Jones and Tak Fujimoto continues to develop film-makers of global repute.
Recent notable alumni include Pedro Gonzalez-Rubio, Oliver Hermanus and Flora Lau, whose Bends played in Un Certain Regard at Cannes this year.
The internationally focused craft school now has a number of new courses in the works and is moving forward with its anticipated $22m (£14m) relocation to London's Barbican.
The 2016 relocation, expansion and upgrade forms the cornerstone of the school's next chapter.
After years of searching, the Covent Garden-based school has agreed a deal with the Corporation of London for a 50-year lease on Exhibition Hall 1, a 32,000 sq ft space in Golden Lane currently controlled by Barbican Arts Centre. "This is the first time we've found the right deal in the right place," says Gibson.
The current plan for the space will offer a 130-seat main cinema, two sound stages, seven large teaching rooms including a second screen, four seminar rooms and accommodation for technical departments and teachers.
The tech upgrade will include a digital production facility with green screen, and a digital silo server system covering post-production and film library services. Backing for the move comes from a Lottery grant, the BFI's capital fund for film schools, the school's own accrued capital, a bank facility, major donations and smaller gifts.
Course offerings
The MA in film-making remains the school's biggest draw, attracting more than 100 students each year. But it is developing new courses. Earlier in 2013, the school launched its MA in international film business. The one-year Masters programme offers a degree awarded by the University of Exeter.
Also gaining traction are the school's PhD Film by Practice programme, its workshops and summer schools.
In response to the rising consumer and industry demand for high-end TV production, the school last month launched its first post-graduate course in series formats development and production. Run in collaboration with the German Film and Television Academy (DFFB), the course will see 12 European writers and producers taught in Berlin, London and Cannes by the likes of Frank Spotnitz (The X-Files, Hunted) and Sven Clausen (The Killing, Borgen).
"Everyone's yearning to understand what's happening of quality in international television," acknowledges Gibson.
Challenge for foreign students
Yet despite expansion, LFS remains financially challenged. Last year, the school suffered a significant dip in admissions. Gibson blames the UK's tightening on visas for foreign migrants (including students) and a temporary delisting from the US federal student aid direct loan programme (the school has subsequently been relisted).
"We had a bad year last year. We ran a significant deficit… The value of post-graduate education in London has been attacked by government policies in relation to visas," says Gibson, who sees Conservative Party policies on immigration getting in the way of him being able to accept students with money to pay for courses that stimulate the economy in the short and long term.
"The point of London Film School is to be an international community of film artists and include people from all over the world," he continues. "If I need to recruit people from countries that are poorer countries where you can't work while you're studying, suddenly that mission is contradicted by core government policies. The London Film School is 75% non-UK, so there's a big challenge in maintaining that model."
Support from the likes of Creative Skillset, the BFI and patrons, as well as government recognition, remain fundamental to its future. And all the while it is in competition with other UK film schools, most notably the National Film and Television School, for resources. But it is a healthy competition, insists Gibson.
"There's a big misconception in the industry about the relationship between the London Film School and the National Film School. There are no students saying, 'Shall I go to the National or London Film School?' The programmes and priorities are different. We're both trying to enshrine that complementarity and work in parallel, to create an infrastructure that works."