French star talks reincarnating Jean-Luc Godard on the big screen.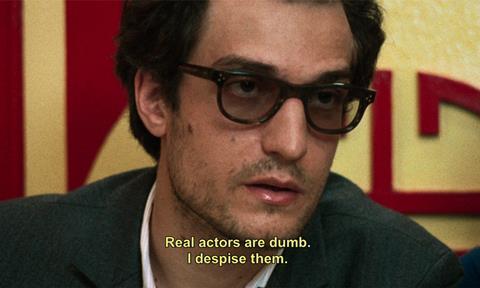 French actor Louis Garrel tells Screen about his wariness of playing such a revered cinematic figure in Redoubtable, Michel Hazanavicius's Jean-Luc Godard biopic which premiered in competition at this year's Cannes Film Festival. The film is set to open the 2017 Jerusalem Film Festival tonight (July 13).
What drew you to playing Jean-Luc Godard?
Both the cinema and the personality of Jean-Luc Godard have always interested me, but when Michel first talked to me about the role I wasn't that keen.
I was wary of playing a figure with such a high public profile. But then he sent me the script. I liked the combination of love story and comedy that also captured an important period in recent French history, as well as a key moment in the life of an artist.
It's a complex role in which Godard is at once cruel and comic. Was it difficult to bring these two elements together?
I played the character written by Michel. In the film, Godard is someone who wants to go in a certain direction but those around him won't let him go there. It's not that he is necessarily mean.
He met the woman he loved under a different set of circumstances but as he goes through this period of change, this creates a tension.
The story is a bit like a Russian doll, if you like. You have the backdrop of a country in crisis, in which Godard is an artist in crisis, that in turn creates tension in his personal relationship, so you then have a couple in crisis.
This is not the first time you have starred in a film set against the backdrop of 1968. Is it a period of French history that interests you?
When I was a high-school student, I would get involved in demonstrations — it's a sort of rite of passage in France and a mark of becoming a citizen.
We'd look on the students of 1968 with a mix of admiration and envy for the way in which they brought the country to a halt. We were fascinated by what they'd done. It was an obstacle too because we didn't want to simply imitate a past generation.
One of my first roles was in [Bernardo] Bertolucci's The Dreamers, which takes place against the backdrop of the 1968 protests, and then I played in my father Philippe Garrel's film Regular Lovers, which is again set then.
After that, one of my own shorts featured a scene capturing the shoot of a film set in '68, and then Michel approached me with this role. It's got to the point where characters from the different films are beginning to bump into one another at demonstrations. It's as if my fascination with the period has trapped me in some way [laughs].
What are you working on now?
I am currently on the set of Pierre Schoeller's Un Peuple Et Son Roi, about the French Revolution. I am playing Robespierre, another highly political figure but this time not treated in a comic manner.