Dir/scr. Jessica Hausner. Austria/France/Germany, 2009. 99 minutes.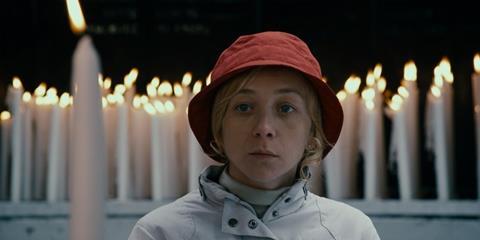 A cool and firmly ambitious film from Austria's Jessica Hausner, Lourdes is an accomplished work which radiates intelligence. Setting her story on a religious pilgrimage to the French Catholic shrine sets many expectations, but Hausner neither belittles nor reveres her subjects, and as a result Lourdes could be looking at a wider commercial reach. After Hotel and Lovely Rita, Hausner certainly confirms herself here as an original voice.
The performances here are uniformly good, led by Testud but extending to smaller cameos
While its tone, slowish pacing and general approach is art-house, there is much in here to attract a wider, even religious crowd, and Lourdes will have screenings at Lourdes itself, where it was shot, and a place Hausner approaches, crab-like, from the safety of the formica-table-topped, marble-floored hotel where her pilgrims are staying.
Opening slowly and formally as waitresses set the canteen tables to the strains of a distant Ave Maria, Lourdes shows the pilgrims slowly entering the room to eat, some on wheelchairs, accompanied by officers and volunteers of the Order of Malta. (Around 1.5 million people visit the Marian shrine every year, many disabled, nearly all looking for a miracle).
But wheelchair-bound Christine (Testud), a rigid MS sufferer, is here "because it's the only way I get out," she confesses to young volunteer Maria (Lea Seydoux). They both notice Order of Malta officer Kuno (Bruno Todeschini), and are in turn all noticed by strict, otherworldly head nun Cecile (Elina Lowensohn).
Christine shares a room with the solitary, devoted Catholic Madame Hartl (Linde Prelog), who comes to view the young girl as her own mission, as, to a certain extent, does Sister Cecile.
As they approach Lourdes, which Hausner films in a straightforward, restrained, manner, the film begins to circle more and more directly the subject of miracles and faith. Hausner tackles a heavy subject in a delicate manner, and there's a comic vein running through Lourdes which is rewarding, adding greatly to the overall experience. Ultimately, the obvious questions – what is a miracle? Why him and not me? – are tackled unexpectedly with all Hausner's characters performing an intricate dance.
The performances here are uniformly good, led by Testud but extending to smaller cameos from two gossipy women, the priest, the volunteers and the little cabal of team leaders who meet every evening to play cards and drink wine and joke about Jesus.
Hausner with DoP Martin Gschlacht (also producing) displays a sure visual sensibility, with sparse framing and a pared-back, restrained approach. Nothing in Lourdes, from the souvenir shop to the stations of the cross and the candlelit Masses, is presented as you might expect. There is no real soundtrack, apart from the odd devotional him, a small jolt of Bach and the final, unforgettable, pilgrims farewell dance.
To sign up for Screen's weekly Reviews Newsletter with all the week's new releases, international openings and full festival reviews delivered free to your mailbox every Friday, please click HERE
Production companies
Coop 99
Parisienne de Production
Essential Coproduktion
International sales
The Coproduction Office
+ 33 (1) 5602 6000
Producers
Martin Gschlacht
Philippe Bober
Susanne Marian
Cinematography
Martin Gschlacht
Editor
Karina Ressler
Production design
Katharina Woppermann
Main cast:
Sylvie Testud
Lea Seydoux
Bruno Todeschini
Elina Lowensohn
Gerhard Liebmann
Linde Prelog