Oscar hopeful Ruth Negga tells Elbert Wyche why she was born to play real-life Virginia woman Mildred Loving, who was prosecuted by the state for marrying a white man in 1958.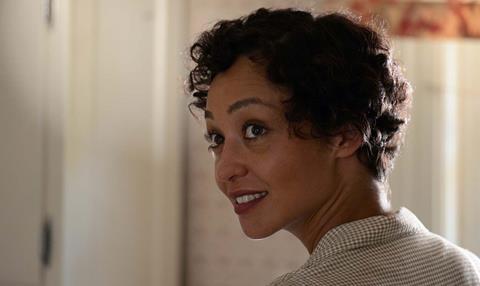 In director Jeff Nichols' Loving, Ruth Negga plays real-life Virginia resident Mildred Loving, who as a black woman in 1958 was unable to marry her white partner Richard (played by Joel Edgerton) because of state laws prohibiting the act. The pair travelled to Washington DC to wed but, on returning to their Virginia home, were arrested and forced to choose between prison or banishment from the state.
Their plight was discovered by the American Civil Liberties Union (ACLU) and taken through the US judicial system up to the Supreme Court, in an effort to end anti-miscegenation laws across the nation.
Long before her involvement with Loving - a Raindog and Big Beach production that was released in the US by Focus Features and will receive UK distribution from Universal in February - Negga had a keen interest in American racial history, in particular black women who played integral roles in the civil rights movement of the 1950s and '60s.
"A lot of women of colour's stories from that era have been sidelined," says the actress. "It's time for a renaissance, truly, of a celebration of their contribution. There were a lot of black women involved in the civil rights struggle, in a very active way. There are many individual stories that are fascinating. Mildred's is just one of them."
The perfect role
It was prolific casting director Francine Maisler who suggested Negga to Nichols and his producing partner Sarah Green. After she successfully auditioned for the role, Nichols sent Negga excerpts of his yet-to-be-finished screenplay and a copy of Nancy Buirski's HBO documentary The Loving Story, and Negga immersed herself in the life and era of the woman she would be portraying.
"It was a gift to have that access to this couple and their life," she says. "I know the Loving story is studied in law school and has been mentioned in regards to California's Proposition 8, which sought to ban same-sex marriage. That said, the Loving name is not one that trips off the tongue. They should be brought into the canon of heroes of the civil rights struggle."
Negga knew immediately that she wanted to play this role, and not just because of its cultural significance. "I was just so taken aback by the power of their love," she says. "We think of love as this thing that's quite gentle and soft. It's a feeling. Yet, here I saw this love being so powerful and so tight; so strong and intact and kind and respectful and powerful enough to take on the American legal system. That sort of floored me."
Nichols invited Negga and co-star Edgerton to Virginia for two weeks before filming to prepare for the shoot, and they spent most of that time just "hanging out". She took advantage of the time to get to know her on-screen husband, and to feel closer to the place Mildred called home. "I just wanted to absorb Virginia," she says.
"The concept of home and the concept of belonging play a vital role in this film. Virginia was her lifeblood, essentially. So for her and her family to be banished from there was possibly the worst thing that could happen to her besides death or harm coming to one of her children. It was important for us to absorb the energy of that place."
Negga had the opportunity to meet with Peggy Loving, Mildred and Richard's only surviving child; their chat, however, was very short. She explains, "I didn't want to intrude on her family. I didn't want to intrude on her memories. I had a lot of things to go on from the documentary. It wasn't necessary for me to acquire any knowledge, just because I'm playing her mum. Most important for me was to be respectful of her and her memory."
During the two weeks prior to shooting, Negga also got in touch with the physicality of the role. The actress believes the exterior plays just as much a part in creating a character as the internal, and used the time leading up to the shoot to work closely with the hair, make-up and wardrobe departments.
"A wardrobe is so significant. It's a sort of known psychology, the way you dress is going to affect the way you feel. The way she walks, her gait. Clothing affects the way we carry ourselves," she says.
"It was the most collaborative experience, in terms of hair and make-up, that I've ever had. We were finding our Mildred. It was just so key and important to track her through the evolution of Mildred. It was definitely an artistic collaboration."
Attention to detail
Production on Loving began two years after Negga's audition, and the film shot in Virginia for eight weeks. Negga says she really enjoyed her time on set with Nichols. "Jeff works in a way that I really appreciate. It's the prep, the detail and the hard work that went into pre-production. When you come to the filming bit, it's made as easy as possible."
Nichols works with a core group of behind-the-camera talent and, for Negga, that bodes well for both the energy on set and the confidence of actors. "It's like entering into a family. It's entering into a situation where people have a shorthand with one another. That makes such a difference. You feel very minded; in turn that makes you mindful. It felt like a collaboration of artists at work.
"Jeff does nothing textbook," Negga adds. "He is an artist and his film-making reflects his style of storytelling, which is not paint-by-numbers. It doesn't involve swelling scores. It doesn't involve, 'Now we need something really bloody and horrific to happen to keep people's attention.' The beats are his own. I crave film-making like that as a viewer. Jeff doesn't make films to grab awards. He makes films for, and about, ordinary people doing extraordinary things, or that extraordinary things happen to."
Loving does find an ordinary couple in the shadow of momentous social change, but the Supreme Court case is primarily unobserved in the film. Nichols instead focuses on the effects of the case on the couple.
The on-screen chemistry between Negga and Edgerton is palpable. "We both wanted to do this couple justice," the actress explains. "With that knowledge, and the knowledge that we wanted to actually enjoy working with each other, it was an unspoken chemistry. It reflected the few words of this couple.
"It was just a natural, organic symbiosis, which helped our performances because that's exactly the nature of the energy between Mildred and Richard," she adds.
"Essentially, Loving is about a relationship. A beautiful relationship that survives this tumultuous nine years that are really quite taxing to this couple. It's a celebration of the simple connections that are really quite profound. It may be a quiet film but it speaks volumes about tenacity in the face of bullying; in the face of being told by the status quo that you can't do something which should be your human right. At the same time, [Nichols] is able to bring out the really delicate, human story. Having played Mildred, having met her in this way, I want to be a better person."
Negga remembers a moment in the preparation for her role that sums up her experience of working on Loving. It came during her brief encounter with Peggy Loving. "When I was leaving her house she said, 'You have a good spirit.' I interpreted that - hopefully correctly - as her saying, 'I think you'll play my mum well.' I took that responsibility very seriously. I know that Joel did and I know that Jeff did. I think that was very present in the shooting of this film. Everyone involved felt that it was a lovely mantle to carry, to be blessed with. We were very cognisant of that."