First optioned 10 years ago, André Aciman's romantic novel Call Me By Your Name had a bumpy journey to the screen before being triumphantly realised by filmmaker Luca Guadagnino.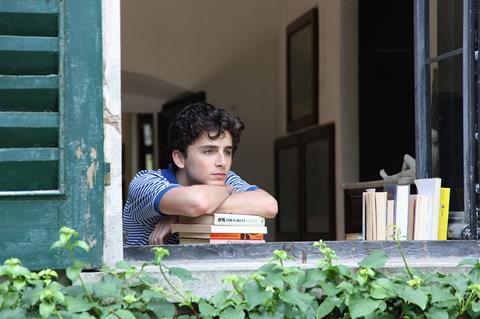 He now seems a perfect fit, with the benefit of hindsight, but it was not Luca Guadagnino's directing talent that got him involved in Call Me By Your Name. The Italian helmer of sun-drenched Lampedusa-set romantic drama A Bigger Splash and the simmering Milanese high-society story I Am Love originally boarded the project as a location consultant.
US producers Peter Spears and Howard Rosenman had optioned André Aciman's well-received debut novel — which chronicles a 17-year-old's sexual awakening after he meets a 24-year-old student at his family's Italian holiday home — prior to its publication in 2007. After several failed attempts to get the project off the ground with a variety of directors, the producers enlisted James Ivory — the three-time Oscar-nominated US director of The Remains Of The Day and A Room With A View — to work on the development of the film.
By this point, Guadagnino was also involved on the project as a producer, and he invited Ivory, whom he refers to as "the godfather" of the film, to his home in Crema, Lombardy, to develop the script and brainstorm ideas. After a long discussion over several evenings, the pair concluded that together they could produce a new version of the script that would match their "version of the book". After a year of moonlighting, working between Italy and New York, they delivered a screenplay to the producers, who in turn asked Ivory if he would now consider directing the film.
"The kind of movie James would have directed would have been amazing, I'm sure, but it didn't get to the finish line because we couldn't get it financed," recalls Guadagnino, who was then asked if he would co-direct the project with Ivory. "We tried and tried," says the Italian. "Eventually, people were saying, 'If Luca does it, we can do it.'"
This was in 2015 and Guadagnino was riding high after premiering A Bigger Splash — starring regular collaborator Tilda Swinton alongside Ralph Fiennes, Dakota Johnson and Matthias Schoenaerts — in competition at Venice Film Festival. While Ivory may have had the pedigree, his star had faded somewhat and he had only directed one feature in the previous decade (2009's The City Of Your Final Destination). In contrast, Guadagnino was a hot property in Europe, and it had become apparent that his name would need to have top billing in order to attract finance.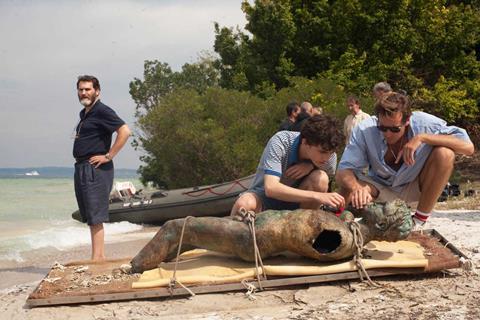 The director says he was "very sorry and sad" that Ivory's version could not gain traction, and that he does not necessarily endorse the decision of the financiers, but he adds that Ivory "blessed" him to take the project forward. Despite Guadagnino being enough of a name to attract production finance, the reality was that the budget remained tight. Money raised from La Cinéfacture (France), Frenesy Film Company (Italy), RT Features (Brazil), MYRA Entertainment (Germany) and the Italian Ministry of Cultural Heritage amounted to a "tiny $3.4m", says the director. Rodrigo Teixeira, CEO of RT Features, recalls he was first approached about the project when Guadagnino was attached as a producer. "After one year, they came back with Luca attached to direct. I'm a big fan. The screenplay was difficult but I knew Luca would make it a good one. I had no doubts," Teixeira says.
RT Features put in $900,000 of the budget — Teixeira acknowledges that the overall amount was "tight", but says he knew the creative team could make the film happen. "I always use my heart to pick projects. I'm a cinephile and Call Me By Your Name was a film I wanted to see in theatres," he adds.
"I'm a veteran of small films," says Guadagnino when asked how he managed to make Call Me By Your Name for its relatively minimal budget. "I've never allowed myself to indulge in the mediocrity of making films that are bound by their budget. I don't care about budget, a movie's a movie."
Guadagnino admits that the production had to make compromises. He says his crew and cast worked "almost for free" throughout the shoot. "This is a movie that is testament to the generosity of a community of people who decided to make this movie happen because they believed in it."
Local colour
Key to the shoot was the grand house that acted as the family's Italian holiday home. In the novel, the building is situated on the coast, but Guadagnino opted to move the setting inland, near his residence in Crema, for two reasons. First, basing the entire production in one locale, near his home, would offer everyone simplicity and comfort, and second, he would be able to shoot in his more desired scenery, making the most of the "laziness of the countryside".
Guadagnino had visited the house that would stand in for the holiday home a few years previously and had fallen in love with it, daydreaming of living there himself. It was an uninhabited building in nearby Moscazzano, only a few minutes' drive from Crema. While it would be too expensive for him to live there permanently, the film offered him the opportunity to "indulge" in the surroundings.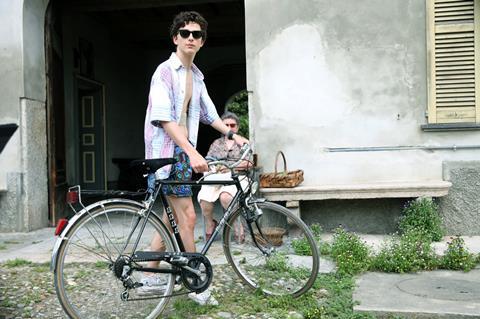 As the production settled in Crema, the art department, led by production designer Samuel Deshors, began dressing the house, incorporating props from Guadagnino's own home. The first cast arrival was the young male lead, Timothée Chalamet. The US actor, who had previously appeared in Interstellar and TV series Homeland, turned up five weeks early to prepare for his part, a process that involved daily lessons in Italian, piano and guitar — his character, 17-year-old Elio, is fluent in all three. Guadagnino had cast Chalamet after being introduced to him by UTA agent Brian Swardstrom, the husband of Call Me By Your Name producer Spears, who told the director that the young actor would be perfect for the role. After meeting him, Guadagnino agreed.
Armie Hammer had been on Guadagnino's radar since impressing the director in The Social Network, and he had been determined to cast the American ever since. "He's a wonderful actor, and such a beautiful, tormented person," the director says. Hammer has revealed that he initially jumped at the opportunity to work with Guadagnino but became reluctant after reading the script, which contained a large amount of intimacy and nudity. The director was finally able to convince Hammer to play the student character Oliver with an impassioned speech.
"[I said to him that] fear is the sister and brother of desire. If you fear something, you may ask yourself if maybe you desire something," the director recalls. "That triggered a reflection within him and he agreed to do it." Guadagnino says Hammer eventually "let himself free in front of the camera" — viewers of the film may recall a particular dance sequence — and that the end result was "beautiful".
Considering the budgetary constraints, it may seem surprising that Guadagnino only considered shooting on 35mm celluloid film. He dismisses this as a false premise. "It's an ideological lie of the industry today to say that shooting on film is more expensive than digital; it's ridiculous and it makes me furious. Film is what cinema is meant to be and digital is a completely different experience," he asserts.
Why does Guadagnino think digital has become so prolific if it is a fallacy that shooting on celluloid costs so much more than digital? "I think it's laziness," the director responds. "It's fast, you need less light, you can film forever. I think it's about control and it's a misunderstanding of what it means to shoot a movie. The limitation of the reel is what makes characters come alive on screen through the performance."
Into the edit
After a five-week shoot, Guadagnino headed to the editing room with regular editor Walter Fasano, who has worked with the filmmaker since his 1999 debut feature The Protagonists. The initial assembly, at nearly four hours, was clearly too long but Guadagnino says the shape was already visible. He eventually delivered a final cut of 132 minutes, saying he "didn't want to indulge".
Call Me By Your Name premiered at Sundance in January before travelling the festival circuit, securing further major berths in Berlin and Toronto. Sales agent Memento Films International scored a world rights deal with Sony Pictures Classics ahead of Sundance. The distributor released in the UK in late October and in the US in late November. It is now building up serious awards momentum, winning best picture, best director and best actor (for Chalamet) from the Los Angeles Film Critics Association and earning three Golden Globes nominations.
After I Am Love and A Bigger Splash, Call Me By Your Name now closes Guadagnino's trilogy of "films on desire". Next up for the director will be a thematic departure, with his remake of Dario Argento's Suspiria now in post-production — expect a high-profile festival berth in 2018. "I want that movie to encompass an allure, an attraction. But I think we should indulge in one another's company when the time is ready to talk about Suspiria."