Lucy Fisher is the former vice-chairman of Columbia Tri-Star Motion Picture Group and evp of worldwide production at Warner Bros and runs Red Wagon Entertainment with husband and business partner Doug Wick.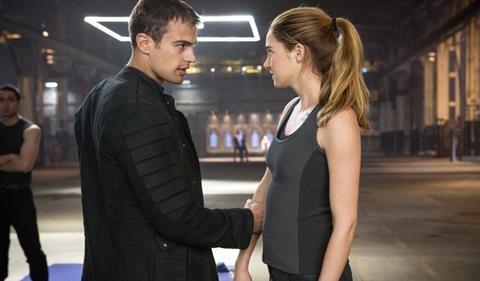 The pair recently produced The Great Gatsby and were behind Red Wagon productions such as Jarhead and Memoirs Of A Geisha. At Tri-Star and Warners her credits included Men In Black, Jerry Maguire, The Color Purple and The Witches Of Eastwick.
But now all eyes are on Divergent, Red Wagon and Summit Entertainment's adaptation of the bestselling Young Adult novel by Veronica Roth that stars Shailene Woodley and Theo James. Fisher (pictured with Wick) talks about championing little-known talent and climbing ferris wheels in the Windy City. Lionsgate releases Divergent in North America on March 21 with the bulk of international markets to follow in the coming weeks.
Cast your mind back to when this all started
It wasn't that long ago. We read a manuscript in 2011 by an unknown author [Roth] and we really responded to it. It was unpublished so there was no phenomenon yet. It was really interesting and with great characters. We took it to Summit and got busy developing it. After the first draft the studio really liked it and by then the first book had been published and it was an immediate success. We were at about two million copies [sold] when they greenlit the movie and we're at 16m for the series now.
Who is Veronica Roth?
Veronica was 21 years old when she wrote the book. She's a beautiful, wonderful, intelligent, brilliant young woman and she was writing about stuff she was living, so it had a real honesty to it. The second one came out and was a hit and then the third one came out when we were shooting. This thing continues to snowball. People start reading it and really like it and it's a readership that's broader than teenage girls.
This is the first big studio role for Shailene Woodley, who broke out as George Clooney's daughter in The Descendants
She's such an everywoman with relatability and honesty. She's grounded. It reminds me of Doug's [Wick] first movie Working Girl, when people fell in love with Melanie Griffith. We think Shai has everything.
Did it take long to cast the lead Tris?
We thought we were going to do a big search around the world and meet every cute young actress. We'd seen Shailene in The Descendants and met with her and 10 minutes into the meeting we looked at each other and thought, 'We're done!' She told us she was going off to an urban survival weekend where you have to have to shoot guns. So there she was, this unassuming open, loving girl who looked like Abnegation [the self-denying faction in Divergent] and 10 minutes into the meeting was also Dauntless [the warrior faction]. She's very strong-willed and knows how she wants to live her life. We were completely enamoured. She had a moment of doubt about how her life would change because she's [only] done these smaller independent movies and then she agreed to do it and everything was fine.
How was the casting of the male lead, Four?
We set out to look for Four and thought now we're going to meet every talented young actor –and we did. We tested Shai and she was so enthusiastic and read with probably about 20 people and she would bring her full passion to every reading. She seemed like such a racehorse next to them and the actors seemed so young next to her. We got looking and were getting a bit scared because we had a start date looming. Four is an old-fashioned man who has a masculinity and yet a sensitive and soulful [side]. And then we [found him]. Theo's name came up when somebody said Mr Pamuk [James' role in Downton Abbey]. He came in and we put him up against Shailene and they did a screen test and they blew us away. We showed them to Lionsgate and they were thrilled.
Our biggest hurdle was showing him to Veronica because we wanted her blessing. We were in Chicago and took our screen test with us and she was nervous and we put on the DVD and she was watching and at one point Theo started improvising and Veronica shouted, 'Go! Go!'
Miles [Teller] auditioned for the role of Four and we were such huge fans so we backed him to play Peter the villain. He had acted with Shailene in The Spectacular Now and when we told him he gets to hit Shailene he said he could do that.
The ensemble is pretty eye-catching
One of the things we're most proud of in the movie is the cast, especially because we got this ensemble of kids. Shailene's name was a little bit known but not necessarily the others and now more than half of them are going to become leads in their own movies. I cannot think of the last time an ensemble from a new generation [provoked this response.]
A lot of these kids were completely unknown. There's Ansel [Elgort, who plays Woodley's brother Caleb and switches gears drastically in his starring role opposite Woodley in the upcoming Fox romance The Fault In Our Stars] and Jai Courtney [the Australian actor who plays Dauntless senior member Eric and will star as Kyle Reese in 2015 release Terminator: Genesis] – the problem is going to be scheduling all these guys into the sequels. Zoe Kravitz was perfect and then there's Ben Lloyd-Hughes who is another Brit like Theo and who has just been in a play with Jude Law [Henry V at the Noel Coward Theatre] and Christian Madsen, the son of Michael Madsen. It was a wonderful ensemble and they all lived together in the same apartment building. They became the Dauntless crew.
The adult cast are no slouches, either
We were very lucky with the adults. We knew Kate [Winslet] from working with her then husband Sam Mendes on Jarhead. She'd never done a franchise movie or played a villain. We gave her the book and as soon as she read it she said she was in. She's been a fantastic mentor for Shai as she was exactly the same age when she did Titanic. Her career also went from being in smaller independent films to someone who went into a big movie.
Ashley [Judd] was a funny piece of casting. We were struggling to find that part too [Tris' mother] because that actress had to come and shoot several times in several chunks. I was reading she had dropped out of the Senate race [for Kentucky, in March 2013] so literally we went to her that day. She loved being with the kids too and the chemistry is great. Her character's spirit will live on in the other films in the franchise.
When did production take place?
Principal photography started in April 2013. We shot mostly in Chicago because the book is set in Chicago and we wanted to use the landmarks. We shot from April to August, so we went from the freezing to boiling hot. Shai and Theo rehearsed the ferris wheel scene in 26-degree weather [Fahrenheit] and they climbed it themselves. Shailene wore no gloves. When we filmed the take, it was in the 50s. The ferris was built for the World Fair in 1893. A lot of the interiors except for the Pit [Dauntless headquarters] were old beautiful abandoned buildings. The Erudite headquarters is the University Of Chicago library. It's a city known for its architecture.
Inevitably there will be comparisons with The Hunger Games: young girl rises up from humble origins to lead fight against totalitarian regime
We're flattered to be compared to The Hunger Games and we don't have the same flag planted as they do, but it's nice to be compared. Shailene [Woodley] wasn't as well known as Jennifer Lawrence when Jennifer started in The Hunger Games, either.
The only part we're scared of is the inevitable comparison of box office. The only thing you can say is we're glad it happened [the commercial success of The Hunger Games] because it makes people want to see these types of movies. But Tris' journey is very different – she is a girl who isn't even allowed to see herself in the mirror but finds the strength to be the person she had no idea she could be. Katniss [Everdeen, of The Hunger Games] was strong from the start. Their story takes place in fantastical cities but ours takes place in a real city. We don't think the stories are that similar.
The sequel Insurgent is expected in spring 2015 so when does it shoot?
We'll start shooting in Atlanta after Memorial Day [May 26.]