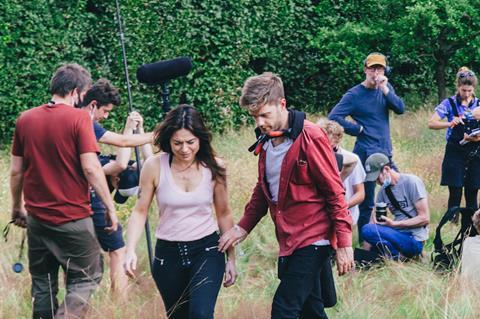 Girl director Lukas Dhont is bringing early footage of his much-anticipated second feature, Close to Re>Connext. Dhont has re-teamed with close friend and co-writer Angelo Tijssens and producers Dirk Impens of Belgian production company Menuet and is working with his brother Michiel Dhont for the first time as producer.
The feature is set up as a co-production with Diaphana (France), Topkapi Films (Netherlands) and Versus Productions (Belgium) with support from The Flanders Audiovisual Fund (BE), the Belgian Federal Government's Tax Shelter Programme, Eurimages, the Netherlands Film Fund (NL) Le Centre du Cinéma et de l'Audiovisuel de la Fédération Wallonie-Bruxelles (BE) VTM and RTBF.
Close details the story of two 13-year-old boys who have always been close but drift apart after their relationship is questioned by schoolmates. When tragedy strikes, one is forced to confront why he distanced himself from his closest friend. Budgeted at €3.5m ($4.1m), the film teams unknown young actors with Belgo-French actress Emilie Dequenne and French actress Léa Drucker.
As with Girl, The Match Factory has international sales while Lumière Publishing (Benelux) and Diaphana Distribution (FR) will distribute in their respective territories.
The brothers talk to Screen about their first collaboration on Close, second film pressures and why working together can be challenging.
Michiel, how did you come aboard Close as producer?
Michiel Dhont: After Girl, Lukas was really thinking about which story he wanted to tell. With Close, we found a story and a project that's very close to both our hearts. I started talking with [veteran producer Dirk Impens) about a potential collaboration, since it's always been my passion to produce, and Lukas and I always talked about having a future working together.
Lukas Dhont: Dirk Impens was about to retire after Girl but then decided that he wanted to make another film with me. But at the same time, he didn't really want to be in the front line, so I saw a great opportunity for my brother to step in and work together with my former producer to produce Close.
How is the experience of working together so far?
MD: Lukas and I are very close. Since we're brothers, it's not always the easiest way, because every discussion is more emotional. Lucas and I have found a very healthy balance between the fact that I'm the producer and he's the director. Every decision that we make is made from a very high level of trust since we've known each other for 28 years.
LD: As a director you really try to get as much of the elements on script to a as high as possible artistic level on screen and sometimes that makes you ask for things that are at the limit of what is possible. I'm also learning my limits and I'm seeing much more of the other side of the process. Michiel is my producer and he's also my little brother so in many ways I have a little bit of protectiveness over him.
Did you find the path to financing easier in the wake of the success of Girl?
MD: During the writing of Close it was always clear we wanted to work with most of the same partners so therefore it became a little less complex to finance it. Our level of trust with our partners was set during Girl.
How important has Connext and now Re>Connext been to your filmmaking journey?
LD: The first image we showed of Girl was at Connext four years ago, it was the first time that we presented anything from this film to the industry. It's a special place for me because normally it takes place in Ghent, which is my hometown with a lot of my colleagues who also present their images and pitch their films. Everyone knows everyone in the Flemish film industry. With Close it's the first time we will show footage from the film and talk about the film. It's also nerve wracking in a way because this film is very intimate and, again, I think it's a part of me. The first time that you show something that you've created, it is always a very fragile position because you don't know how people will respond.
Lukas, are you feeling the pressure of making a second film after the festival success of Girl?
LD: I travelled with Girl everywhere. I really had to step back into the shadows, into the silence and into a sort of loneliness, to start working on Close and leave Girl behind. There's a lot of people around me now that I love to work with who trust me and who I trust. I have a lot of artistic collaborators, and also people from the industry, distributors who want to distribute the film. But,energy-wise, you also have this voice in your head, which is very difficult to turn off, when you make a second film that says 'I'm going to disappoint people'. There are moments when that voice pops up, and then for me at least it's about telling myself that what I want to do is really start from something that feels very important to me, then let's see if it's important to other people.