Screen talks to actor in Cannes about his latest project, survival thriller Arctic.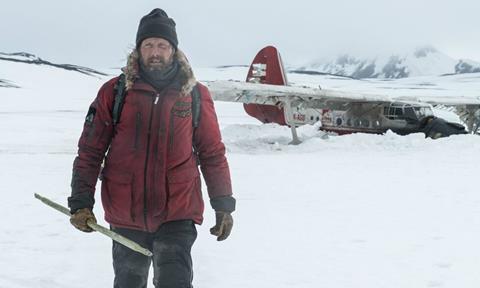 Attending Cannes this year to talk up survival thriller Arctic – the Armory Film production which is in post and is being shopped by XYZ Films in the market – Screen finds Danish superstar Mads Mikkelsen in a reflective mood.
The Casino Royale, Doctor Strange, and Rogue One actor has come a long way since he attended the festival in 1999 with his compatriot Nicolas Winding Refn, when the pair tried to drum up attention for their second film collaboration, Bleeder.
"I hadn't ever heard of Cannes and I didn't know what a film review was," recalls Mikkelsen, "We were standing on the Croisette, handing out DVDs saying, 'do you want to watch this film?' We had no idea how it worked. I was wearing big woollen socks, it was 35 degrees, it wasn't working."
A decade later, the pair would be Cannes royalty. Refn took the festival by storm in 2011 with his Ryan Gosling career-maker Drive, which won him best director, and in 2012 Mikkelsen picked up the festival's best actor award for Thomas Vinterberg's The Hunt.
Last year, he was invited to be on the festival's Competition jury, a role which he relished.
"I watched all these wonderful films and met all these fantastic people. We were very proud of the films we awarded," he says, adding that getting the inside track was an enlightening experience, "There were times when we, as a jury, didn't get a film at all, but the crowds and critics loved it, it's crazy how it works."
Arctic was an exciting proposition for Mikkelsen. Coming off the back of two major Hollywood blockbusters – Marvel's Doctor Strange and Star Wars spin-off Rogue One – he fancied a different kind of challenge. "I was reading through some different scripts and they were quite repetitive," he recalls, "When I read this one, it turned the pages itself, it was unlike anything I've seen coming out of America. It was radical and I was intrigued."
After expressing his interest, the actor called director Joe Penna on Skype and the two bonded immediately. "We got going immediately. They finished the script and I said 'let's do it', we did it the next month," comments Mikkelsen on the rapid move into production.
The shoot itself was rough and ready, with constant blizzards and snow storms battering the location shooting in Iceland. "It was beyond anything I've done before," says the actor, "It was very rock and roll, it took me back to my early days with Nicolas Winding Refn. We shot it fast, it was exhausting, I was 180 years old when we finished. It was super tough but very fulfilling."
Mikkelsen is selective with the film roles he takes on, and he puts this down to experience. "I did a few things in my early career that I didn't really like, it was such a battle uphill for me personally," he remembers, "[Now] it needs to be something I click with. I have to look forward to it every day."
As for the rest of the year, he isn't sweating on finding his next film project any time soon, "There are a few things I'm reading now, hopefully one of them will fall into my interests. If not, I'll have a great long vacation."