Mads Mikkelsen is winning accolades for his gently inebriated role in Another Round — but can he score at Oscar and Bafta with a foreign-language film? Screen talks to Danish acting royalty.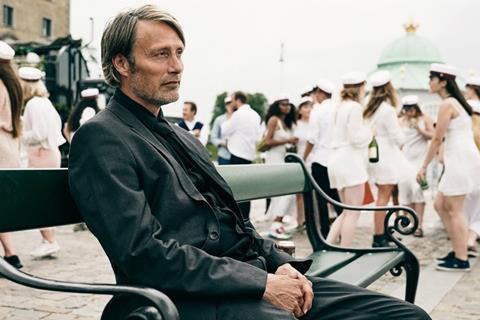 One of the most lauded final film scenes in years — Mads Mikkelsen's magnificent dance at the end of Thomas Vinterberg's Another Round — was a literal leap of faith.
Mikkelsen trained as a dancer decades ago but he took some convincing from his friend and collaborator Vinterberg that it was the right way to end the film, which is about four middle-aged teachers who decide to shake up their lives by experimenting with alcohol.
Vinterberg had called it a way of pushing Mikkelsen out onto the meta­phorical "thin ice" — and Mikkelsen agrees it felt risky. "The thin ice for me was that I was reluctant because this is a realistic film, and this scene of dancing could have been pretentious," says the actor on a Zoom call in December. "We did have a lot of back and forth about it… and now I can say he was absolutely right. It's a beautiful, beautiful ending. I'm not sure I would have done it with another director."
While that final scene is a joy to watch, it also has an emotional punch because the audience is unsure what that moment means for the future of his character Martin — will he lose his family if he is drinking again? "This is a man who wants to fly and he wants to drown, at the same time," says Mikkelsen. "Thomas wanted to reflect that. So it's not so much about the aesthetics of dancing, it was more about the inner journey he was on."
Opening round
It is a journey the creative team had travelled for nearly seven years. Vinterberg and his screenwriting partner Tobias Lindholm, who worked with Mikkelsen on 2012's The Hunt, started thinking about the film back in 2013, and spoke to Mikkelsen during those early stages. At first they thought the character might be an air-traffic controller; later, of course, Martin became a high-school teacher. As the development progressed, Mikkelsen thought it became a more "life-affirming film".
The basic concept — four middle-aged friends testing out a real theory that keeping a constant, moderate level of alcohol in the system can improve your professional and personal life — "just made me smile… obviously I can relate to this phenomenon of spending your life with two drinks in your body, that would be a magic zone. Creativity rises, bravery rises. You just might get the backbone to pick up the phone and make that call that you haven't done. We can all relate to that." He adds, quickly: "Then that becomes 20 drinks a day and we're in a completely different scenario."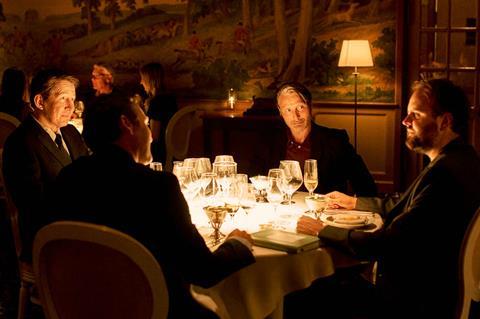 Mikkelsen relished the opportunity to work closely with his three co-stars, Thomas Bo Larsen, Magnus Millang and Lars Ranthe (they shared the acting award presented by San Sebastian's jury last September).
Vinterberg worked with them as a unit, taking part in what Mikkelsen calls a "boot camp" to see how they responded to alcohol. The intention was to avoid some of the acting clichés all too often seen in drinking scenes. "We were just testing out what happens to the speech, what happens to the way we move with our blood alcohol at 0.5, 0.8, etc," Mikkelsen recalls. "And we watched a hell of a lot of YouTube videos — predominantly of Russian people — who were extremely drunk."
On set, the actors could use each other as "an energy battery-charger" when they had lively scenes together.
It was also this group of four actors who came together when Vinterberg's daughter Ida, 19, died suddenly in a car accident in May 2019, during the shoot. "We had a few meetings, just about how we could be supportive in the best way possible," says Mikkelsen. After a short break, Vinterberg decided he was strong enough to continue shooting the film, which he wanted to complete as a tribute to his daughter.
Shooting in a real high school — the school Ida Vinterberg attended — also fed into the mood on set. "It's just wonderful to see those young faces and that sheer energy," recalls Mikkelsen. "Thomas cast some really cool kids and they were so good to work with and ping-pong off me."
Mikkelsen is likewise proud of the scenes with Maria Bonnevie, who plays Martin's wife Anika, who is understandably frustrated by his behaviour. "She managed to come in and portray a life we understood. It's quite a tricky thing to do. By playing these moments, we understand what their entire life is."
The actor has finished another Danish-language film, Rotterdam 2021 opener Riders Of Justice directed by Anders Thomas Jensen, another frequent collaborator with Mikkelsen after Flickering Lights, The Green Butchers, Adam's Apples and Men & Chicken. He is proud of shooting two back-to-back projects in Denmark. "Obviously I've gotten used to working in English or sometimes in French or German, but there's a different identity in your language," Mikkelsen explains. Although, he adds with a laugh: "I actually tend to mumble more in Danish than in English."
He is back to English for the third Fantastic Beasts film, replacing Johnny Depp as dark wizard Gellert Grindelwald, for director David Yates and Warner Bros. Despite the unusual circumstances of Warner Bros asking Depp to leave the project, Mikkelsen was excited to step in, even without much prep time. "I haven't been working since March because of lockdown. All of a sudden this came along and I thought it was perfect," he says. His daughter is a longtime fan of the Harry Potter films and, he adds, "I like that universe."
One for the road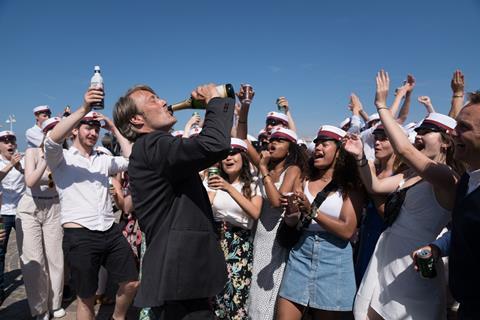 Another Round has enjoyed critical, awards and commercial success following its premiere at Toronto last September. It won four prizes at the European Film Awards in December: film, director, screenwriter and Mikkelsen as actor. Nordisk's Danish release between lockdowns saw it become the top box-office hit of 2020 in Denmark, achieving more than 800,000 admissions. Samuel Goldwyn released into select US cinemas and on VoD in December.
"It is a life-embracing film. Even though there's a lot of sadness in it, everywhere in this film is a sense of life," the actor explains, with regard to Another Round's connection with audiences. "The film is not only about drinking. It's about not looking into the future constantly and not regretting your past constantly. It's about trying to live in the present, trying to embrace what you have."