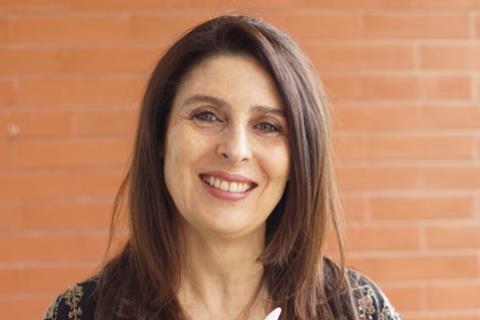 Palestinian filmmaker Mai Masri has been at IDFA this week with her new film, Beirut: Eye Of The Storm, screening in IDFA Masters. She also gave a talk about her 30-year career which has seen her making many films both in Beirut (where she is based) and in Palestine.
"Since 1982, that's when I started," Masri says of her filmmaking in Beirut. "That was during the invasion of Lebanon by Israel, three months under siege and starvation of the country, 30,000 people killed. It was overwhelming. That was an apocalypse. I felt I was being baptised [as a filmmaker] by war. It really prepared me for everything that came afterwards."
As Masri tells Screen, she has lived through periods of enormous upheaval in the Middle East. Even by past standards, Lebanon currently is in a very tough financial situation. Nonetheless, she sees reasons for optimism in the emergence of filmmakers and artists (many of them women) who've managed to continue making exceptional work in adverse circumstances.
Netflix recently launched a collection of 32 Palestinian films – and Masri's work features prominently with Children Of Shatila, Frontiers Of Dreams And Fears and 3000 Nights all included.
What is the situation currently for filmmakers and artists in Beirut?
I've been living in Beirut since my childhood. I've documented and made so many films about Lebanon, seven since 1982. I've seen it [the city] in civil wars and being destroyed and reconstructed so many times. Since making Beirut: Eye Of The Storm, which a few months ago I completed, there was the big blast in the port. I've been always there in these dramatic and incredibly difficult times because this small country has been exposed to unbelievable war, invasions and all kinds of suffering. But what we are witnessing now since completing the film is that the situation has deteriorated even more. This is new for Lebanon because we have seen war, but we haven't seen a complete economic collapse that has affected all sectors of society including electricity, fuel and medicine [shortages]. What is amazing is that the country continues and the people are still resilient. This is what I am interested in, and what is the centre of my work.
How do you finance your films?
In the past, I've worked with different broadcasters and producers. I've made films with the BBC and Channel 4. But when I feel passionately about a subject, I don't have the luxury or time to go to look for funding, especially with a documentary. With fiction, it is different. With this last film, Eye Of The Storm, I just launched myself into filming without looking for funding. I funded it myself and then started looking for aid here and there.
How do you feel your filmmaking approach has changed since your career started in the 80s?
Each film takes on a different form. I feel I have to say something in a new way in film language. That is always a challenge for me. In this last film, I tried to see Beirut through the prism of women artists. I am trying to find a creative and artistic way of processing all these very dramatic and life-threatening situations. This is my challenge.
Is the work often dangerous?
You feel empowered when you have a camera and you are doing something meaningful and so you do take a lot of risks. It's normal. Most of my friends have either been wounded, shot or arrested. There is fear but there is something even stronger than fear which is the drive to say something which is worthwhile and meaningful. It gives me strength and also channels my anger.
How did you find and choose the female artists in Eye Of The Storm?
There are four female artists. Two of them are known in the youth scene in Lebanon. They're very iconic songwriters, multi-talented - two sisters, Noel and Michelle. They're like a voice of their generation. The other two [journalist Hanne and camerawoman Lujain] I met as I was preparing the film. I wanted to have four different women from different backgrounds because in Lebanon there are different communities.
Female filmmakers seem to be flourishing in the Middle East. Why do you think that is?
I think the reason is first of all that we have so much to say. We don't have an established industry. In big industries like Hollywood and Bollywood, there is a lot of business and funding involved. That is where women are usually pushed aside. In countries where there is no established industry, it is hard for everyone, whether they men or women - so it's kind of equal. I think women are very empowered in our part of the world because there are so many struggles. It makes you strong!