For his first animated feature, Guillermo del Toro turned to a story that had inspired him since childhood. The Mexican filmmaker and his co-director Mark Gustafson tell Screen about Pinocchio's eventful 15-year journey to the screen.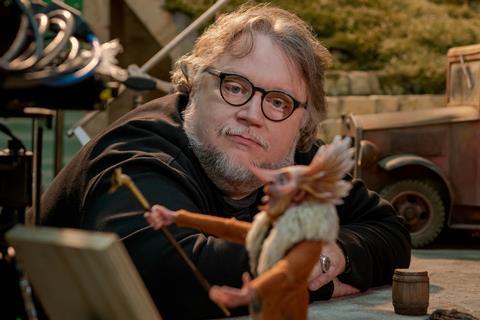 Early on in Guillermo Del Toro's Pinocchio, the elderly carpenter Geppetto advises his high-­spirited and tragically short-lived son Carlo that "all good things require patience". That is certainly true of the medium chosen by Del Toro for his adaptation of Carlo Collodi's 1883 novel The Adventures Of Pinocchio; stop-motion animation is a craft where every scene represents weeks of painstaking effort. And it is true, also, of Del Toro's own relationship with this story.
The 58-year-old Mexican writer/director/producer has a lifelong personal connection with Pinocchio. "It is one of the two essential fables that define my childhood," he states, explaining that the other is Mary Shelley's Frankenstein. "This may tell you something about my relationship with my dad!" Pinocchio is, Del Toro asserts, one of only a handful of characters in the history of storytelling that he considers universal and endlessly adaptable.
"Even if you haven't read the story, you know the story — or you think you know the story," he says. "Therefore you can use these characters as metaphors for many things. So when I started this process [of making Pinocchio] about 15 years ago, I thought it could be a great tool to talk about how precious and fragile we are as humans, and how much we need each other. And to tell that story in a way that was new."
Choosing traditional stop-motion to do this may not feel very 'new'. Yet it was so integral to his conception that Del Toro refused to tell the story any other way, even if that meant turning down potential funding. "Many times studios pitched back to us to do it in CG that looked like stop-motion," Del Toro reveals when we meet him with co-director Mark Gustafson during the BFI London Film Festival, just a few days before the film's world premiere. "I said no."
Partly it was a matter of "keeping the art form alive". (Del Toro wryly describes stop-motion as being "in a perpetual state of extinction".) But mostly it was because, in his richly imaginative mind, it was folded into the film's very soul. "Pinocchio had to be stop-motion because I thought that levels the ground between the human characters and the puppet, to co-exist in world in the same frame," he explains. Besides, what could be more appropriate to tell the story of a puppet brought to life than by using an art form in which puppets are brought to life?
Del Toro is by no means a dilettante in this arena. He actually started out in stop-motion, back when he was a teenager in Guadalajara. "My first shorts were stop-motion, and before I made Cronos [in 1992] I wanted to make a full feature in claymation. My partner and I built over 100 puppets, and we had a couple of Mitchell cameras. But unfortunately, one night we went out to watch Viridiana [Luis Buñuel's Cannes 1961 Palme d'Or winner] and somebody burglarised our studio and destroyed the puppets. Then I said, 'I guess I want to start with live-action,'" he chuckles. Even so, he sees Pinocchio as the culmination of "the journey of a lifetime".
Finding inspiration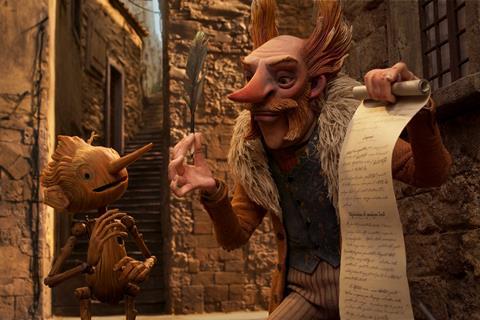 The odyssey began with its greatest creative challenge: how to visualise the lead character. "I could never solve the design," Del Toro confesses. Then one day in 2008, he discovered Gris Grimly's illustrations for an edition of Collodi's Pinocchio published in 2002, which depicted the wooden child as far less polished than previous versions, and far more impish. "It was perfect," says Del Toro. So he pitched his idea to Grimly and proposed the artist (who had recently made the live-action short Cannibal Flesh Riot) co-direct with Gustafson, whose work as animation director on Wes Anderson's Fantastic Mr. Fox Del Toro had so admired.
"When the phone rings and it's Guillermo del Toro and he asks you to come and work on a film with him, you say yes," says Gustafson. "But our instincts are very similar. It's great working with someone who truly understands the process the way he does, down to the minutiae."
Lisa Henson of the Jim Henson Company agreed to finance the development of a screenplay, which was co-written by Del Toro with Matthew Robbins, his collaborator on Mimic and Crimson Peak. In this script, he developed the concept of Pinocchio as the product of Geppetto's grief on losing a child, and intriguingly set the story in fascist-era Italy, finding a more dramatically compelling second act than Collodi's surreal source material offers. However, it was "impossible to finance", he says.
So Del Toro "restarted from zero", stepping in to replace Grimly as Gustafson's co-director and writing a new script "which kept the tenets of the story" with Patrick McHale, best known as a writer on animated TV series Adventure Time. "We ran into exactly the same degree of failure," Del Toro laughs. Until, that is, he took a meeting with Ted Sarandos at Netflix, with whom he had enjoyed "a mutual trust" through his CG-­animated series Trollhunters.
"I told him, 'This Pinocchio is not a movie for kids, but kids can watch it. It's of a piece with The Devil's Backbone and Pan's Labyrinth, so it is more of a personal film and more of an artistic film. Pinocchio is not going to skateboard and say "Whoa!" It's not gonna be homogenised and pasteurised, and he's not gonna pander or seek coolness or hipness. It's a staggering work of heartbreaking beauty and that is what's made it difficult to finance.' Ted said yes in the room."
Partnering up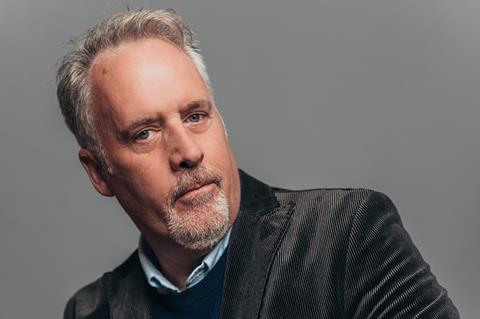 Del Toro regards Netflix as being a "revolutionary" force in animation. "We believe animation is not a genre, it's a medium — and we can explore deeper, more emotional things with it," he says. "I think there was a willingness [at Netflix] to push this."
However, despite the production's vast scope, taking more than 1,000 days to make, with more than 60 units divided between Portland in Oregon, Manchester in England and — representing Del Toro's commitment to the craftspeople in his hometown — Guadalajara in Mexico, it did not demand as big a financial commitment by the streamer as might be expected. Pinocchio cost "roughly half what one of the large ones costs", says Del Toro, with a budget of "about $50m". The characters largely utilised 3D-printed metal mechanical parts coated with handcrafted resin, and painted — to look like wood in Pinocchio's case.
How did they manage to achieve so much on relatively so little? "We didn't start shooting without having our story," says Gustafson. "A lot of films suffer from doing that. So we didn't go down a lot of dead ends."
It also helped immeasurably that they had "a magician" overseeing their scheduling in the form of first assistant director Jared Bumgarner, Gustafson adds. "He was just a brilliant mind. Because you come with a plan, by the end of the day it's completely exploded, and you need to create a new plan. And that just ripples down, 'Oh, this puppet isn't available for this. This set isn't ready.' It's so complicated. But the guy is brilliant."
Finally, explains Del Toro: "On the first days of production I spoke to the entire crew and promised them I would personally shield them from any creative interference. And it happened. We had no notes that we had to address. We had no test screenings. We had the integrity of a personal film and that bound everyone into taking risks and giving their all."
Pinocchio extends Del Toro's collaboration with composer Alexandre Desplat (see below), who composed the film's score as well as its original songs. For the film's voice cast, Del Toro recruited Ewan McGregor to play Sebastian J Cricket, who lives inside Pinocchio (though he is not so much his conscience in this version); David Bradley as Geppetto ("I worked with him on The Strain and Trollhunters and I think he's one of the great, malleable, mercurial actors," says Del Toro); Christoph Waltz as wily villain Volpe; Tilda Swinton as the wood sprite who brings Pinocchio to life; and Cate Blanchett as… a monkey.
"We were finishing Nightmare Alley and Cate said, 'I want to work with you again.' I said, 'That's great, but I'm doing Pinocchio and the only part that's left is the monkey.' And she said, 'Well then, I'll play the monkey,'" recalls Del Toro. "She was serious, and she proceeded to do it with absolute commitment."
Meanwhile, finding young actor Gregory Mann for the role of the mischievous Pinocchio (and Geppetto's son Carlo, briefly) was "the usual search", Del Toro says: "Hundreds of kids. One is right." He could even sing, though nobody — except Del Toro, who had an inkling of Mann's "A-to-Z" talent — knew it at the time.
Del Toro is immeasurably proud of his achievement with Pinocchio. He describes the film as "hand-made", with "a profound humanity and the fallibility of a hand-carved piece of craftsmanship", that takes inspiration from Anderson's Fantastic Mr. Fox and the work of Japanese animator Hayao Miyazaki. "He [Miyazaki] said very pointedly, 'If you animate the ordinary, it will become extraordinary.' We embraced that wholeheartedly. We said, 'Let's embrace failed acts and micro-­gestures.' This makes a difference."
"We approached the film more like live-action than you would typically," adds Gustafson. "Obviously we don't shoot coverage like in live-action, but with coverage you get certain things, certain choices we can't have. So we had to think hard about using reaction shots, and showing somebody listening, which is so important."
Close collaboration
Del Toro says he has never collaborated with anybody so closely as he has with Gustafson on this movie. "It's never happened before in my life, that somebody comes with an idea and I say yes immediately," he admits. "It's very moving." Which begs the question of whether they'll collaborate again.
"I think Mark is directing solo next," replies Del Toro.
"Well, I have a couple of projects," confirms Gustafson. "One is live-­action with some animation in it, and another is fully stop-motion."
"And I'm doing a live-action next," Del Toro continues. "Which I cannot talk about. But I do have another stop-motion, hopefully. I would hope that happens in the next 10 years," he laughs — meaning that anyone looking forward to Del Toro's next stop-motion adventure will just have to exercise a little patience.
Composing the music for 'Pinocchio'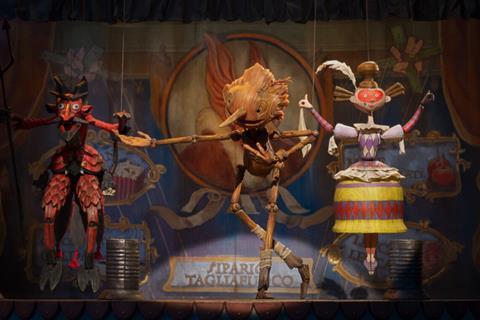 Composer Alexandre Desplat looked to the film's 1930s setting and Pinocchio's traditional wooden material for musical inspiration
As one of the world's most prolific composers, it should come as no surprise that Alexandre Desplat has experience scoring for animation. Indeed, one of the French-Greek artist's earliest assignments was on 130-episode cartoon show Spiff And Hercules in 1989. Since then, he has scored the likes of Illumination's The Secret Life Of Pets and Wes Anderson's stop-motion confections Fantastic Mr. Fox and Isle Of Dogs. But Guillermo Del Toro's Pinocchio, Desplat says, feels different.
"Very early on I forgot that it was puppets," he reveals. "They are so human. The way they move, the details of fingers doing little things, or the eyes. The expressions they deliver are so vast in terms of nuances that it was like scoring a live-action."
This film marks his third collaboration with Del Toro, a director he describes as "very emotional, very sensitive to music", and who evidently never ceases to surprise him.
Desplat remembers when they met to discuss their first feature collaboration The Shape Of Water. "He said, 'Would you like to do a movie about a mute woman who falls in love with a fish?' It's the kind of statement that takes you back a bit," Desplat laughs. "Until you read the script and understand that it's a beautiful love story." One that earned Desplat his second Oscar (his first came in 2015 for The Grand Budapest Hotel in 2015).
Now he is in contention for another, as 'Ciao Papa', one of eight songs from Pinocchio, co-written with Robin Katz and Del Toro himself, is being submitted in the best song category.
"It is a heartfelt, emotional song," Desplat explains of the choice. "It's the moment Pinocchio leaves Geppetto to go to war. When we played it to people, they all cried. There's something about the words, 'Ciao Papa, Ciao Papa, it is time to say farewell.' Which of course, have many meanings."
Impressively, it is sung by Gregory Mann, the young, virtually unknown actor who voices Pinocchio — though this was not originally Desplat's intention. "When Guillermo said to me that Gregory would sing it, I was not sure. I said, 'We should have a singer who's maybe in a choir.' And he said, 'No, you'll see. He's got a lot of talents.' So I had an audition with Gregory over Zoom and I was stunned. He sung in tune; he had a great range of expression. He was fun, he worked very hard. Guillermo was right."
With the film located in 1930s fascist Italy, Desplat drew inspiration from contemporary composers such as George Gershwin and Cole Porter. "We didn't want to have any anachronism," he says. "In some movies you could throw in a pop song and it would be fine. But this one was too delicate."
He also elected to write the score for wooden instruments only (though the songs use a full orchestra). "I said to Guillermo, 'We must find a colour for Pinocchio, something different.' After a while, I just thought, 'Pinocchio is made of wood. How about I try to use only wooden instruments?' It gives you a very different sense, I think."
Desplat forms strong bonds with his directors, many of whom return to him again and again. This year will see his second score for Greta Gerwig, Barbie ("It's very funny and visually inventive"); his sixth for Roman Polanski, The Palace ("Roman uses few words — he trusts his collaborators"); and his sixth for Wes Anderson, Asteroid City. "It's both a play and a story set in the desert where a meteorite landed long ago," Desplat reveals. "The music is extremely pure. It's not jaunty."
At this point, there is no planned reunion with Del Toro — but it is easy to imagine them collaborating again. "I can always feel his excitement when I sit with him and I play," Desplat smiles. "I can feel right away when he's happy. Often I'm too shy and he pushes me to show off a bit more."