For the team adapting Mohamedou Ould Slahi's Guantanamo prison memoir for the screen, the challenge was always to make a film about his triumphant spirit and not the misery of his incarceration. Screen talks to the filmmakers about the long road to The Mauritanian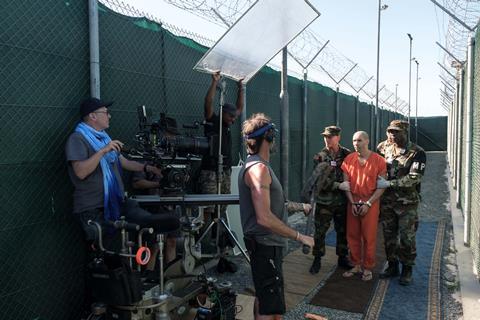 The five-year journey to make feature film The Mauritanian began, separately, on both sides of the Atlantic. In the US, Lloyd Levin and his producing partner and wife Beatriz Levin were driving when they heard terror suspect Mohamedou Ould Slahi's defence lawyer Nancy Hollander being interviewed on National Public Radio about her client's memoir Guantanamo Diary. They rushed out to buy a copy.
Meanwhile in London, Benedict Cumberbatch's production company SunnyMarch became interested after Guantanamo Diary's UK publisher — Jamie Byng at Canongate — invited the actor to participate in readings at the UK book launch. This was in 2015, prior to the release of Slahi, who was detained without charge in the US military prison camp at Guantanamo Bay, Cuba, from 2002-16.
Having recently returned from a long trip to Morocco, the Levins were hooked by Slahi's story, and by his voice. "He is so witty, and wise and poetic," says Lloyd Levin. "This seemed to us like an opportunity to portray a Muslim man that was closer to our own experience."
The producer pair recruited Michael Bronner, with whom Lloyd Levin had worked on Paul Greengrass features United 93 and Green Zone, and who has a background in journalism and documentary. Together, the trio travelled to Hollander's legal practice in Albuquerque, New Mexico to secure the rights, which Bronner would adapt into a screenplay. Initially, Bronner's drafts were financed by Convergent Media, brought on board by producer pair Mark and Christine Holder, who had also partnered on the project.
"The notion early on was that this would not be the easiest film to get made," explains Lloyd Levin with regard to the quickly snowballing roster of producers. "We felt that to have others involved who were passionate about getting it made would be helpful."
The challenge, as seen by Lloyd Levin, was that Slahi had been arrested in his home country of Mauritania on suspicion of involvement in the September 11, 2001 terror attacks — and any film based on his memoir would be sympathetic to a Guantanamo Bay inmate. "The feelings about 9/11 are strongly held, and it's hard for a lot of people to see any kind of nuance in that story," he explains.
The producer team expanded further in 2016 when SunnyMarch — which had already been collaborating with the Levins on another project — also boarded. The first task was to attach a filmmaker who could steer the ship creatively, and Sunny­March managing director Adam Ackland turned to Kevin Macdonald, whose Bafta and Oscar-winning work spans documentary (One Day In September, Touching The Void) and fiction (The Last King Of Scotland).
Like Levin, Ackland identified Slahi's personality — "his charm and his character" — as the project's ace card, and so they needed a director capable of delivering that to the viewer. But none of the producers felt the audience should be locked up in Guantanamo for the duration of the film, so Slahi's story should be balanced by the efforts of Hollander to free him, and also by the perspective of military prosecutor Lieutenant Colonel Stuart Couch (played by Cumberbatch), who is one of the characters most changed by the events of the film.
Macdonald picks up the story: "When I got involved, there was a first-draft script, and also the book, and I read them both. And I thought, 'It's an amazing testimony from inside Guantanamo, but I don't know what this is, as a film.'"
Sensing his hesitation, the producers encouraged the filmmaker to speak to Slahi, which he duly did, via Skype. "I expected somebody who is angry and really obviously damaged and resentful," says Macdonald. "Instead, you get somebody who is what you see in the film — a man of great intellect, incredible frame of reference, very funny and warm and forgiving. He was so surprising to me and such a great person to talk to. I thought, 'I want to make a film about this guy.'"
Macdonald worked with Bronner on further drafts of the script, which were also guided by Leah Clarke, who joined SunnyMarch as head of film from her development executive role at UK production company DNA Films (coincidentally co-run by Kevin Macdonald's brother Andrew).
Populating the roles
When it came to casting, the filmmakers faced a number of challenges. To play Slahi, they wanted an actor who would be authentic in the role — rather than, say, a US star with Middle Eastern heritage. Macdonald quickly turned to French actor Tahar Rahim, who had played a supporting role in The Eagle, and whose parents are from Algeria, which borders Mauritania.
Despite Rahim's respected status arising from the role that launched him as a film actor — Jacques Audiard's A Prophet — and his subsequent body of work, his name would not be particularly meaningful to a global financier, and nor would any other actor who might be credibly cast as Slahi. The Mauritanian, as the project became known, did have the benefit of Cumberbatch as Couch, but the team felt it would be preferable — and possibly essential — to land a major star to play Nancy Hollander.
"We were anxious. We knew we needed someone super-special to play Nancy," explains Clarke. "You can imagine that list from a financier's perspective is short. Because she has to be of a certain age, you want it to be somebody who you feel has been at the coalface fighting for people for decades. That's the reality of who Nancy is. And there are only a handful of actresses who fit that demographic and are considered financeable."
The solution was to revisit the script, and SunnyMarch hired two female writers specifically to beef up Hollander's role. The irony is that when the revised screenplay landed with Jodie Foster, she read right past the scenes that had been added to entice her.
Explains Macdonald, "I think it was indicative of how she is as a person and a filmmaker and an actress that she said to me, 'If I do this, it's not because I want to be in an amazing part. I want to do this because this is an amazing story. My character needs to serve the story.' It's the opposite of what actors normally say."
Foster did not need the scenes fleshing out the backstory and personal life of her character, explaining to Macdonald, "I'm going to be able to communicate that with two lines."
"We literally went through it, we cut out all that stuff, and left the tiniest little hints as to who this woman is," continues the director. "And Jodie's like, 'That's all I need. People are going to know who I am.'"
To get the screenplay across the finish line, the team turned to Los Angeles-based writers Rory Haines and Sohrab Noshirvani — who originally hail respectively from the UK and Iran, and who had been writing together since meeting at film school in New York in 2008. They were the suggestion of BBC Film director Rose Garnett, after it boarded the project in 2019, who knew their work from BBC TV series Informer.
"Our show Informer took a different perspective on the war on terror than had been seen in the likes of 24 or Homeland," says Haines, explaining how the project landed in the lap of two writers who at that point had several feature film screenplays under their belt, including 2013 Black List entry From Here To Albion, but none that had been made.
"It's really daunting," says Noshirvani of the challenges presented by The Mauritanian. "There's a 15-year timeline, three big characters who rarely spend time together, and a lot of very complicated legalese. The American justice system is confusing, and then to put on top of that the military justice system, it's more confusing. It's hard to shake that into a story that's cohesive and has a real strong spine throughout."
Adds Haines, who shares final credit on the screenplay with Noshirvani and original writer Bronner, "You had such disparate stories that we wanted to provide more dramatic unity, and tie these characters together in more ways than just through convenience of plot, but also that you feel they're all variations on a theme that reflects what Mohamedou is going through."
The film's original producer Lloyd Levin views that thematic unity in religious terms, with a trio of people from different faiths — Jewish (Hollander), Christian (Couch) and Muslim (Slahi) — breaking through the barriers that divide. "Three people who come from very different religious backgrounds, that are often portrayed in conflict, find common ground together. That was the thing that unlocked this as a movie."
Late dramas
With backing from Divergent Media, Great Point Media, 30West, Topic Studios, BBC Film and STX Entertainment (which released in the US in February and sold via STX International), The Mauritanian eyed a 2019 shoot in South Africa, doubling for the US, Germany and Guantanamo Bay, and in Mauritania. But the film nearly lost its lead actor when Rahim committed to BBC/Netflix miniseries The Serpent.
"We were meant to go before The Serpent," explains Macdonald. "And then he was like, 'Well, I have to take a job.' He had been waiting for the goddamned film for so long."
Macdonald and casting director Nina Gold did consider alternatives to play Slahi, but none came close to Rahim's suitability for the role. "He has that charisma, warmth and charm the real Mohamedou has," says the director. "They are so like each other."
Luckily Foster and co-star Shailene Woodley, who was cast as Hollander's legal partner Teri Duncan, were flexible on dates. Cumberbatch was less so — he needed to wrap filming by the end of 2019 in order to shoot The Power Of The Dog for Jane Campion in New Zealand — but his character Couch shared no scenes with Slahi, and could be shot prior to Rahim's arrival on set, which was in January 2020.
While the film was in post-production, the producers returned to the knotty topic of the film's title, which had always remained an issue. Initially, the film was named for Slahi's memoir, Guantanamo Diary, a title unlikely to appeal to financiers. It was then given the working title of The Mauritanian, before transitioning to Prisoner 760 — Slahi's assigned number at Guantanamo.
"We always liked The Mauritanian," explains Ackland, who produces the film alongside Clarke, Cumberbatch, Lloyd and Beatriz Levin, Mark and Christine Holder, screenwriter Bronner and Branwen Prestwood Smith. "But then there was a lot of talk that it would be difficult and confusing to a lot of parts of the world that didn't necessarily know where it was, and wouldn't even be able to pronounce it. We thought this was odd but we kind of went along with it. Prisoner 760, we were like, 'Well, we'll just use it as a beat. And then we'll get the proper title.' And then it kind of stuck, but nobody ever liked it."
"The reason we liked the title The Mauritanian, even though it's a bit of a mouthful," adds his colleague Clarke, "is because we wanted to make sure this is a film about a man and his identity, rather than a film about a prison. This is hopefully an uplifting film about endurance and the human spirit and about how truth and justice matter. It was tough to find a title that honoured all of those things."
Salvation for SunnyMarch's preferred title came from the unlikeliest of quarters: the arrival of a certain franchise extension for Disney's Star Wars property.
"We suddenly were like, 'Look at this massive thing called The Mandalorian,'" says Clarke. "'Nobody knows what that means.'"
"It's the most popular Disney TV show," adds Ackland. "If they can do it, surely we can as well."