An improved film rebate and renowned water facilities make Malta a big draw. Melanie Goodfellow reports.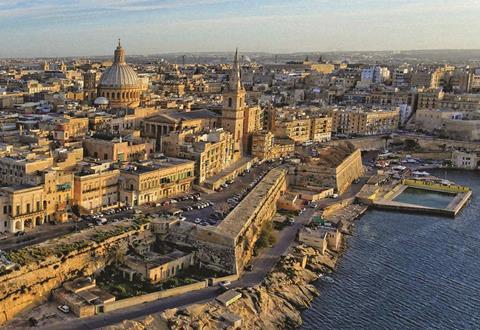 Malta is fast becoming one of the world's most attractive international locations hubs for high-budget feature films following the introduction of an improved film rebate in April 2014. Under the initiative, approved visiting productions will benefit from a basic 25% rebate, with an additional 2% if they feature Maltese cultural elements.
Further enhancements include the inclusion of eligible post-production costs up to $208,000 (€150,000) and the extension of the incentives to TV and transmedia productions.
Alongside the improved financial measures aimed at attracting foreign productions, Malta Film Commission (MFC) is also keen to bolster the indigenous film-making community. The island is planning to launch a $1.4m (€1m) co-production fund aimed at encouraging collaboration between Maltese and international companies to produce films and TV series for global distribution. The island also has treaties with a number of European countries and Canada.
"We're continuing to invest in servicing but we also want to invest in the indigenous industry… both in terms of training and giving them the right tools to access the international market. Often the problem for local companies is that they don't have the financial muscle to partner with foreign companies to work together on a project," says MFC chief Engelbert Grech. "It's early days but we're seeing increasing numbers of local line producers moving over into producing."
Other measures include a $680,000 (€500,000) investment in training courses for some 150 people working in the local industry, run in conjunction with a number of international institutions including the UK's National Film and Television School.
"Since 1925, Malta has provided a magnificent backdrop to some of the world's best producers. Film is part of our culture. The Maltese are driven by the passion and love for films, not to mention their expertise that they have skilfully gained throughout the years," Grech adds.

Ancient meets modern
As well as doubling for Ancient Rome, Troy and Alexandria, Malta is adept at housing contemporary dramas.
Shoots over the past few years have included the Gaza-set Pigs Have Wings, as well as Marc Forster's zombie thriller World War Z produced by Brad Pitt's Plan B for Paramount Pictures, in which the island doubled for modern-day Israel. HBO's TV fantasy drama Game Of Thrones has also shot on the island.
Over the years, facilities and a pool of qualified crew have developed in Malta. Locals are often willingly utilised in mass crowd scenes, with some productions employing as many as 2,000 at a time. Average pay rates for extras are around $85-$100 (€60-€70) a day, including food allowance. The country has also provided secondary actors. Camera, audio, lighting and grip equipment can easily be sourced. However, post-production facilities for film are limited in the region.
One of Malta's main draws are the water tanks at Mediterranean Film Studios. Indeed, Malta was a pioneer in the water-shooting business, constructing one of the world's first surface-water tanks, known as the shallow tank, in 1964, followed by a larger tank, the deep tank, in 1979, which gave the island its unique selling point. A third indoor tank was built in 1996 for Michel Gondry's award-winning Levi's jeans commercial, featuring a drowning fisherman being rescued by mermaids.
Most recently, the tanks have played host to the shoots of Asterix & Obelix, Universal's Captain Phillips and RPC's Kon-Tiki, as well as earlier films such as Troy, Swept Away and U-571.
On dry land, the 17th century Fort Ricasoli is a popular backdrop. A huge fake amphitheatre set, used by productions including Gladiator and Troy, stands within its walls. The site was recently shut to the public due to damage caused by sea erosion, but MFC, which manages the site, confirms it is still open for shooting. Alongside the sets, there is space for all other film departments.
Beyond the water tanks and fortress, Malta's towns and natural landscapes have also provided locations. The Maltese capital Valletta, boasting a mixture of architectural styles, has been the backdrop for The Devil's Double, Midnight Express, Munich and Kon-Tiki.
Gozo, Malta's sister island, is also a popular destination. Productions on Gozo include Sinbad and Game Of Thrones.
The Lowdown On Malta
Which TV productions and commercials have shot recently in Malta?
In addition to HBO's Game Of Thrones, all 12 episodes of Impossible Pictures' Sinbad shot in Malta. Stylewar/Stink's Volvo — Command The Extreme commercial was shot in the tank facility in 2012.
What financial incentives are available?
Malta offers a 27% rebate on eligible costs, subject to state approval. The basic rate is 25% plus an additional 2% for productions with a Maltese element. The incentives take the form of a cash grant given to eligible productions on qualifying expenditure incurred in Malta.
Post-production has recently been added as an eligible cost, to a cap of $208,000 (€150,000). The island has also launched a co-production fund aimed at encouraging local production companies to become involved in international projects, offering development and production grants.

Is there a minimum spend requirement?
No.

Are the incentives easy to combine with those in other territories?
Yes, they take the form of a cash rebate on qualifying costs incurred in Malta.

Can incoming TV productions and commercials access the incentives?
TV productions, mini-series, animation and documentaries are all eligible, provided they are partially produced in Malta.

What are the major film studios in the territory?
Mediterranean Film Studios, which houses the water tanks.

What are the key locations?
The water tanks facility is regarded by many as the best in the world, in addition to the surrounding clear blue sea.

Do incoming productions need to bring their own crew to Malta?
No, just heads of departments (if required) as Malta boasts a large, highly trained workforce with experience throughout various film departments.

Do crews speak English?
Everyone in Malta speaks English along with a good level of Italian. Productions from France, Germany and Russia have also filmed locally with ease.

First point of contact
Malta Film Commission www.mfc.com.mt