Arts Alliance CEO Mark Foster talks to Andreas Wiseman about the company's diverse arts event cinema offerings, from opera to a One Direction concert film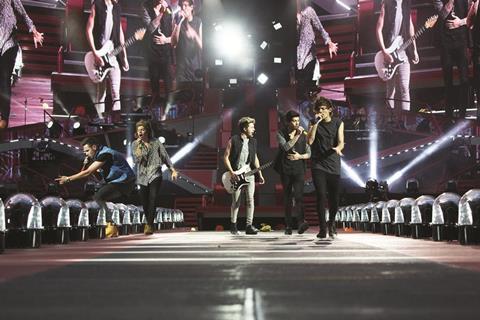 Without a doubt, 2014 was a boom year for event cinema and UK distributor and marketing specialists Arts Alliance were among the busiest players in the burgeoning sector.
Arts Alliance Limited was formed in June 2014 after Arts Alliance Media's (AAM) distribution arm merged with AAM-backed production outfit Mr Wolf; digital projection specialist AAM continues to be owned by investor and entrepreneur Thomas Hoegh.
During the summer, Hoegh drafted in former Deezer CEO Mark Foster to lead the event cinema company, which specialises in distributing live opera, ballet and art exhibition events. In September the outfit also acquired revered UK classics distributor Park Circus, based in Glasgow.
"We've set out our stall to be an arts events cinema company and that's what I'm most passionate about," says Foster. "There's a terrific opportunity for us to be the leader in that field and I think we're achieving that goal. We have a fantastic portfolio of content on the classical and arts side. When it comes to opera, we're the best in class."
'We are starting to hit some pretty big numbers'

Mark Foster, Arts Alliance
The London-based outfit, which has a staff of around 20 at its HQ, distributed 11 Royal Opera House shows last year, sending live streams to almost 50 countries.
The viewing experience is novel and enriching, says Foster: "For opera L'Elisir D'Amore, for example, the audience got a live streamed interview with one of the world's best opera singers — Bryn Terfel — five minutes before he was about to go on stage. That kind of exclusive access means audiences get so much more."
According to Foster, the talent themselves are generally enthusiastic about the process. "The conductor of the same opera — Daniele Rustioni — gave a live interview during the intermission. The interval bell was going off so the interviewer asked, 'Shouldn't you be getting back?' to which the conductor replied, 'No, this is great! This way I can talk to my family back in Italy who are all watching at the cinema.'"
Most importantly, distributors and exhibitors are seeing real commercial returns from the niche market. "We are starting to hit some pretty big numbers," says Foster. "The Royal Opera House's ballet series Alice's Adventures In Wonderland took nearly $1.5m (£1m) at the UK box office alone. That was the week before Christmas, which is a pretty extraordinary feat for a one-off ballet."
The multi-year deal with the Royal Opera House is the company's flagship partnership. However, Foster and Mister Wolf's music industry backgrounds are helping to forge new alliances.
The outfit's concert film One Direction: Where We Are raked in about $15m worldwide for the company in the autumn.
"One Direction was the largest distribution we've done, released in 78 countries. We were either delivering direct to exhibitors or through sub-distributors in certain markets," says Foster.

Pop art
After that high-profile success, the company is now locking in a number of headline rock and pop acts for 2015.
Does Foster see gaps in the market? "A lot of people, particularly in the US, are coming to us suggesting sports or evangelical and political shows, but my head says concentrate on the arts market because that's what the company was set up to do."
Understanding the event cinema audience will be key to growing it. "That is paramount. We're not going to have studio-sized marketing budgets. The revenues aren't there to generate that kind of expenditure, so we have to do smart marketing, which is very targeted, high return on investment and aimed at very identifiable consumer groups.
"But in the arts that's relatively easy," he continues. "If you're working with the Tate Modern or the Museum of Modern Art, they have their databases so we work in partnership with them. The same goes for rock and pop groups. They have their fan clubs, Facebook pages, Twitter feeds, etc, so you can engage with those communities quite easily. The trick is to then amplify that conversation so it's not just the core fanbase or opera fanatic that you're talking to."
Growth is firmly on the company's agenda for 2015. "The budget this year is going to be about twice as big as last year," says Foster. "The owners are putting their money where their mouth is."
That growth includes opening a Los Angeles office and growing the London ranks. "The One Direction movie played on close to 700 screens in the US. A significant strategic objective for us this year will be to build our US footprint.
"We have also secured new partners in Japan and South Korea, and we've just closed a deal with new partners in Sweden."
The company recently added staff in London including former Curzon executive Ross Fitzsimons, who joined as head of sales and marketing. It is also exploring opportunities for event screenings of Park Circus titles.
Vertical integration, including production and home entertainment distribution is the ultimate goal. "The idea is to be a one-stop shop for producers of arts content — whatever genre it's in — who know we can offer finance, production, marketing, distribution and downstream sales; and for exhibitors at the other end of the value chain, who are looking for content for their screens at quieter times."
He sees growth ahead not just from technology but from audience engagement with content. "The key point is that arts content can become much more engaging when it's not just about the content but also about the environment. There's a shared and interactive experience to be had."