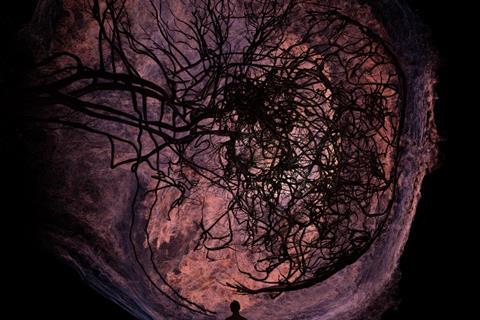 The European debut of virtual reality event Evolver has become one of the hottest tickets in town at this year's Geneva International Film Festival (GIFF), with its scheduled nine days of shows selling out within hours of its first audiences emerging onto the avenues of the Swiss town.
Staged in a tailored dark space within GIFF's prestigious Maison Communale de PlainPalais, the immersive installation marries serious independent filmmaking pedigree with state -of -the- art craft from UK- based VR pioneers Marshmallow Laser Feast, in line with GIFF's focus on the exploration of the evolution of stories and the innovations in the way they are told.
The 24-minute installation is produced by Edward. R. Pressman, a renowned supporter of innovative independent filmmaking, and his long-time collaborator Terrence Malick, along with Dirty Films and French studio Atlas V. It is backed by Nicole Shanahan's Bia-Echo Foundation, digital medical giant Fraunhofer MEVIS and French telecoms banner Orange.
Evolver takes the viewer on a journey through the human body and follows the flow of oxygen from first intake of breath, around a human's inner ecosystem, through to its origin, a single "breathing" cell. It unfolds with narration from Cate Blanchett and a score boasting music from Jon Hopkins, Jonny Greenwood, Meredith Monk and Hildur Guðnadótti, among others.
Ersin Han Ersin, one of Marshmallow Laser Feast's trio of co-founders (alongside Robin McNicholas and Barnaby Steel), believes Evolver illustrates how film and TV can come together "Evolver comes from a filmic world," he says. "Film producers, actresses, script writers, deploying their voices, and then using music written for films."
Malick's interest in the project, according to Ersin, was sparked at the Cannes Film Festival a few years ago when the cult US director saw an early Marshmallow work – "a baked animation," as Ersin puts it, "where there was no interaction, narration or meditate moment".
Evolver's inclusion in GIFF's Territoires Virtuels, an out-of-competition sidebar featuring immersive works, follows its world debut at Tribeca Immersive, part of the New York's Tribeca Festival. "Geneva International Film Festival is highly respected and is not so large that you get lost in a mass of shows," notes Ersin. "It allows us to bring the project to Europe and to a festival with influence and interested audiences."
Marshmallow Laser Feast is in Geneva to talk to potential partners about taking the show to more audiences after GIFF in Europe and Asia. "This is not cinema that we can show to hundreds, thousands of people in every session," Ersin says. "For us [at Marshmallow], being able to find a new home to the project is going to be very crucial."
Evolver represents an interesting moment in the developing relationship between cinema and all things VR and extended reality (XR). Ersin believes the possibilities offered to filmmakers by VR and XR are piquing more interest than ever. "There is a great opportunity for us to employ certain techniques and methodologies that are known to cinema and explore through a new lens as experiential pieces where a voiceover can guide you through an actual space, or we can build those spaces with an architecture in mind, rather than just the script."
There may be a tipping point once the size, weight and costs of VR headsets reduce, he says, but until then film festivals are helping to shape public opinion on emerging technologies and techniques.
"The film festivals picked up VR early on, brought it into their realm and gave it a legitimacy and a platform to engage with both the public and the press at the same time," says Ersin. "When the home user starts actually acquiring these VR technologies for their home entertainment it becomes a new realm where filmmakers can deploy their vision not to a theatre or cinema but to 10 million people or 100 million people in their homes."
"VR's actual premise is a filmmaking lens. When the home users starts actually acquiring these technologies for their home entertainment it becomes a new realm where filmmakers can deploy their vision not to a theatre or cinema but to 10 million people or 100 million people in their homes."
GIFF runs until November 13.