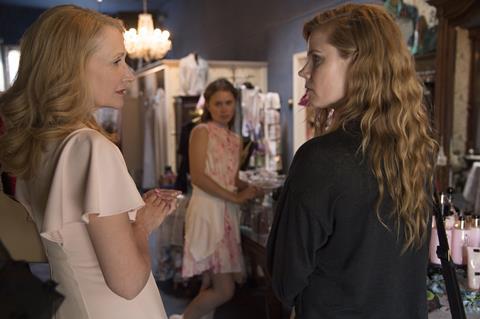 With two series on air and two more making their debuts this summer, Marti Noxon has plenty to keep her busy.
But not so long ago the television business was a challenge for the American writer-producer-director, even with her track record of work on such hot ticket shows as Buffy The Vampire Slayer, Grey's Anatomy, Mad Men and Glee.
"For a long time I had a point of view that wasn't considered very commercial," explains Noxon, recently best known as creator of cable dramedy Girlfriends' Guide to Divorce and co-creator of award-winning drama UnREAL. "I was interested in telling stories about anti-hero women, and those were really a hard sell.
"Then TV became kind of an open border - for stories about women in particular. And now I'm really just interested in writing about anybody who doesn't have a voice. That's my particular area of interest."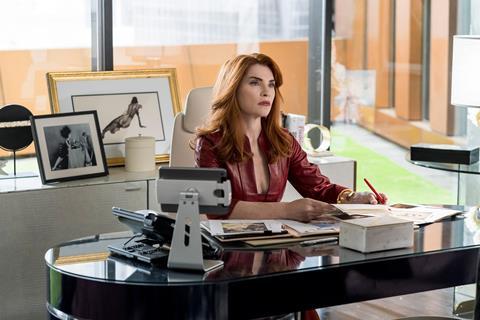 Dietland
A case in point is Dietland, the satirical dramedy that began its US run last month on AMC with Noxon as executive producer, writer and showrunner. Centering on a lowly scribe at a New York fashion magazine and dealing with issues like self-image, misogyny, rape culture and unrealistic beauty standards, the series certainly sounds like a tricky sell.
Yet according to Noxon, "People were hungry for something that felt this unexpected. A show with a 300-pound protagonist who goes on this journey to become kind of a radical - there's nothing like that on TV. We actually had quite a few people coming after us."
Noxon – who in 2016 made her feature directing debut with anorexia drama To The Bone, which screened at Sundance and was sold to Netflix for a reported $8m – also directed three of Dietland's ten episodes, spending more time behind the camera than she has on any previous series.
In spite of her experience as a showrunner (a role she also fills on both Girlfriends and UnREAL), AMC was, she says, "a little dubious" about letting her take the director's chair on Dietland. However, "after they saw To The Bone they knew I had a vision for [the series]. I convinced them it was worth taking a shot on me. And they've been incredibly supportive."
Sharp Objects
Noxon's second summer debut is limited series Sharp Objects, which she created and wrote with Gillian Flynn, whose novel about a troubled reporter covering the murder of two preteen girls in her parochial hometown is the source material.
The upcoming HBO series (produced by Entertainment One and Blumhouse Television) was never a tough sell, thanks to its pairing of Noxon (who also serves as showrunner and an executive producer) with box office star Amy Adams and in-demand (thanks most recently to Big Little Lies) director Jean-Marc Vallee. It was, though, something that fell squarely into the area of interest that now defines Noxon's work.
"For me it has so much to do with anger," Noxon says of the story's take on the psychological puzzle surrounding the central character and her family. "I said to Gillian early on that this felt like a real examination of anger through three generations of women and what happens when women don't have agency over those feelings - and are even told they're not supposed to have them. It makes people sick in their heads and sick in their bodies."
"I thought that was so relevant to today and some of the things that I struggle with - trying to find a way to make my anger productive and not self-destructive."
Working on the series with a single director was an adjustment for Noxon, who is more used to the central tone-setting role that a showrunner takes on a typical multi-director US series.
"It was a little bit of a rude awakening for me," she concedes. "I came in like, 'I'm in charge, right?' And Jean Marc came in like, 'I'm in charge, right?' There were some power struggles, but I think when all is said and done we made a good team."
Gender equality
TV directing is one field in which creatives like Noxon have, of course, been pushing hard for more gender equality, fostering a change in the industry that, as New Zealand filmmaker Jane Campion recently put it, "feels like the Berlin Wall coming down."
Noxon's Hollywood perspective is slightly more cautious.
"The wall has come down far enough that you can scramble over it," is how she sees it. As a showrunner responsible for scouting and recommending directors for series, "people used to get on me about not hiring more female directors. They would say, 'But we're everywhere.' And I could not get them approved by the studios. I would try and try and try.
"So I'm happy to say that the people I was trying to get TV gigs three or four years ago are now unavailable. There's been a big change and now there really is a focus on it. But the kind of self-imposed snobbery about who can do what is still a hurdle."
Future plans
Directing from her own scripts, as she did on To The Bone, is certainly part of Noxon's plan for the future, now that Girlfriends' Guide to Divorce is about to reach the end of its five-season run and the fourth - and "possibly" final - season of UnREAL is in the can.
"My next goal is definitely to direct something that feels like a prestige project," she says, revealing that she has turned down some feature opportunities because the directing chair was not on offer. "Once you experience that level of engagement with the material it's hard to go back," she notes.
Two projects – one a feature, the other a series – are top of her agenda, and she reports that she just secured the life rights for Lucy McBath, a Georgia gun reform activist currently running for the US Congress six years after her son was shot and killed because of an argument over the music playing in his car.
"Instead of a 'great man' movie it could be a 'great woman' movie," Noxon suggests of the McBath story.
New production company deal
Also on the agenda is the future of Noxon's production company, Tiny Pyro, which currently has a development deal with Skydance Television (producer of Dietland with AMC Studios) that expires next January.
Noxon confirms that there have been "some inquiries" regarding a new deal for the company, and it's likely that at least one or two have come from the streaming services – Netflix, Amazon and Apple chief among them - presently in fierce competition to sign up top US TV writing and producing talents.
Considering whether a deal with an end user like an SVOD service should be her next move, Noxon says her experience with Netflix on To The Bone showed her that while a streamer may not provide its producers with the kind of ratings information that a cable network would, it does present the possibility of reaching a much bigger audience through on-demand viewing.
"The reach of that service is incredible," she says of working with Netflix, "but they hold their information really close to their vests. So you don't feel particularly empowered as an individual.
"But on the other hand I think my work does better on streaming services because it appeals to people who don't watch television generally when it's on TV."
For someone who relatively recently felt at odds with the commercial imperatives of the US television industry, being pursued by outlets with that kind of reach and audience diversity must be gratifying.
And Noxon, not surprisingly, is enjoying the attention. "It's nice to be considered worthy of the chase," she says.