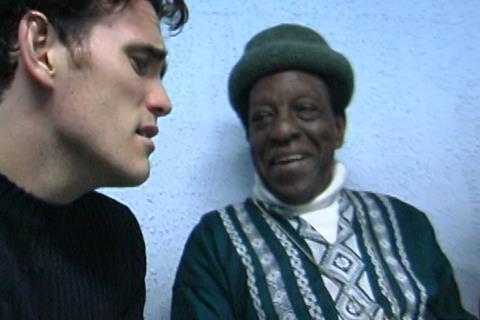 Matt Dillon is finally seeing the fruition of a project he started more than two decades ago. He directs the music documentary El Gran Fellove, which has its world premiere in San Sebastian today, September 21. UTA is handling sales.
He discovered the music of Cuban singer Francisco Fellove Valdés' when visiting Havana in the 1990s and later introduced his friend Joey Altruda to the singer's work. Altruda is a musician, bandleader and producer and he went on to recordFellove's final album in 1999. Dillon went to Mexico City to document the recording.
"It wasn't a planned thing to go make this great documentary," Dillon says of the origins of the project, some two decades ago. "In the years since, the movie idea stayed with me, and my interest in Fellove and that music never waned.
A conversation with Mexican producer Carlos Sosa at the Guadalajara Film Festival in 2010 spurred him to renews his idea of a film about Fellove that would be produced by Sosa.
El Gran Fellove is Dillon's second directorial project after his 2002 Cambodia-set drama City Of Ghosts. The documentary is a Mexico-Cuba-US co-production, produced by Sosa with Cristina Velasco, Zara Duffy, Fisher Stevens, Demet Öger and Jonathan Gray.
An obsessive music fan, Dillon also appears in the film as chronicles his own discovery of Fellove and other Cuban musicians. Whether to put himself ons screen or not was a decision with which the director says he struggled.
"I had no intentions of putting myself in the movie, my ego goes the opposite direction, I don't want to be in it!" he says. "But people said this whole story with me and Joey was great. I accepted that I am part of the story."
El Gran Fellove includes the verite footage from the album recording in Mexico City in 1999, plenty of archive footage, as well as new interviews and reflections and the music of Fellove and other Cuban musicians. But Dillon was keen for the film to be about more than just Fellove's singular career as scat singer and showman.
"I realised his story was the story of other musicians too," says Dillon., "That was a big revelation."
The film examines the influence of Cuban artists and musicians in 1950s and 1960s Mexico, and features musicians including Alfredo "Chocolate" Armenteros, Dandy Beltrán, Celio Gonzáles and Bobby Carcassés.
Fellove's manager and his family helped to provide some rich archive material, and fellow musicians including Silvia Cuesta and Beltrán offered old photos and memorabilia. "The personal archives are far greater than the institutional archives," Dillon suggests. He was also able to draw heavily on Mexican TV footage from the 1950s and beyond to show Fellove's range of performing styles.
Dillon wanted to ensure the film was alive with emotion, not just a history lesson. "information is cool but it's secondary to the emotional pull," he says.
Fellove's album recorded in 1999 is now likely to be released finally in 2021. "With this film I wanted to say something, and let other people have a voice about this music and these times," says. Dillon. "My hope for it is people will be moved by it and people will learn something from it. It's such great music."
Festival return
Dillon has a long affinity with San. Sebastian and was presented with the festival's Donostia award in 2006. "It's a particularly good festival for this film," he says "The Spanish have that connection with Cuba and music from the past."
Dillon llives in Rome and served on the main jury at Venice a few weeks ago. "I commend Alberto [Barbera] that he went ahead with it," he says of the experience. "What I took away from it is that 'we're going to do this again'. It was beautiful to be in the cinema to see these great films, to see the excitement of audiences watching films.
"It's not to say you can't experience a film on the small screen but it's not the same kind of magic that you find in the cinemas. Festivals are a great part of our culture."